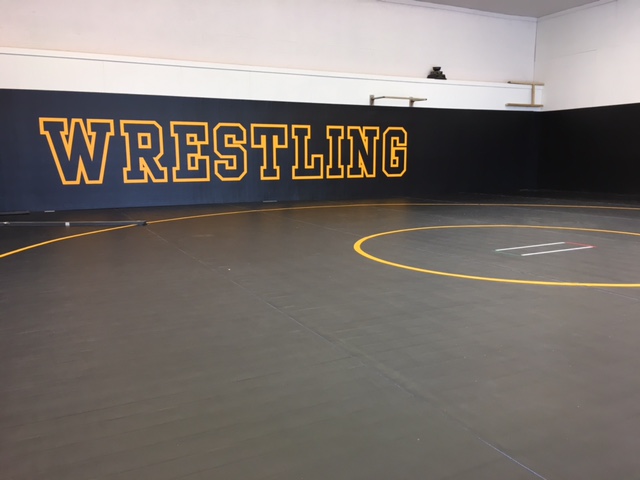 It was a big night on the mats Thursday for the Berea-Midpark Titans, as the the Titans wrestling squad bested both the Amherst Comets and Westlake Demons to sweep through Thursday's Southwestern Conference Double Dual.
The Titans outscored their in-conference competition 82-59, topping Amherst 46-25 and Westlake 36-34.
Seven of the Titan's 15 victories were accompanied by bonus points including four pins. Berea-Midpark also recorded one tech fall and two major decisions.
Here's the results of the SWC Double Dual:
Berea-Midpark 46, Amherst 25
106 lbs. | Brian Kennedy (BMHS) def. Joxa Padilla (ASHS) | Pin 4:40
113 lbs. | Pino Dippiero (BMHS) def. – (ASHS) | Forfeit
120 lbs. | Shane Heil (BMHS) def. – (ASHS) | Forfeit
126 lbs. | Caden Wendling (BMHS) def. Brandon Bratovich (ASHS) | Pin 3:19
132 lbs. | Zach Machesky (ASHS) def. Zach Hoessle (BMHS) | D 7-1
138 lbs. | Tim Carrion (ASHS) def. Craig Miller (BMHS) | MD 16-2
145 lbs. | Spencer Reardon (BMHS) def. Sabeion Aponte (ASHS) | MD 10-0
152 lbs. | Xavier Rivers (ASHS) def. Luke Yates (BMHS) | TF 2:45
160 lbs. | Jon West (ASHS) def. Cam Lashock (BMHS) | Pin 1:06
170 lbs. | Jimmy Paletta (BMHS) def. – (ASHS) | Forfeit
182 lbs. | Ronald Williams (BMHS) def. – (ASHS) | Forfeit
195 lbs. | Clay Carpenter (ASHS) def. Zach Porch (BMHS) | D 5-3
220 lbs. | Russell Hellinger (ASHS) def. Daniel Yu (BMHS) | MD 15-1
285 lbs. | Jack Chapman (BMHS) def. – (ASHS) | Forfeit
Berea-Midpark 36, Westlake 34
113 lbs. | Pino Dippiero (BMHS) def. – (WHS) | Forfeit
120 lbs. | Shane Heil (BMHS) def. Patrick Hartup (WHS) | TF 5:21
126 lbs. | Caden Wendling (BMHS) def. Tyler Thomas (WHS) | Pin 2:17
132 lbs. | Aiden Ashburn (WHS) def. Zach Hoessle (BMHS) | Pin 3:11
138 lbs. | Mohammed Ali (WHS) def. Craig Miller (BMHS) | MD 15-5
145 lbs. | Isaac Carmichael (WHS) def. Spencer Reardon (BMHS) | D 4-1
152 lbs. | Hunter Ashburn (WHS) def. Luke Yates (BMHS) | Pin 0:41
160 lbs. | Liam Kruger (WHS) def. Cam Lashock (BMHS) | Pin 0:26
170 lbs. | Jimmy Paletta (BMHS) def. Fares Zayed (WHS) | Pin 2:25
182 lbs. | Moe Zayed (WHS) def. Ronald Williams (BMHS) | D 9-6
195 lbs. | Zach Porch (BMHS) def. Connor Gregory (WHS) | D 11-7
220 lbs. | Gaven Carmichael (WHS) def. Daniel Yu (BMHS) | Pin 3:23
285 lbs. | Jack Chapman (BMHS) def. – (WHS) | Forfeit
106 lbs. | Brian Kennedy (BMHS) def. Cole Yuhas (WHS) | MD 9-1