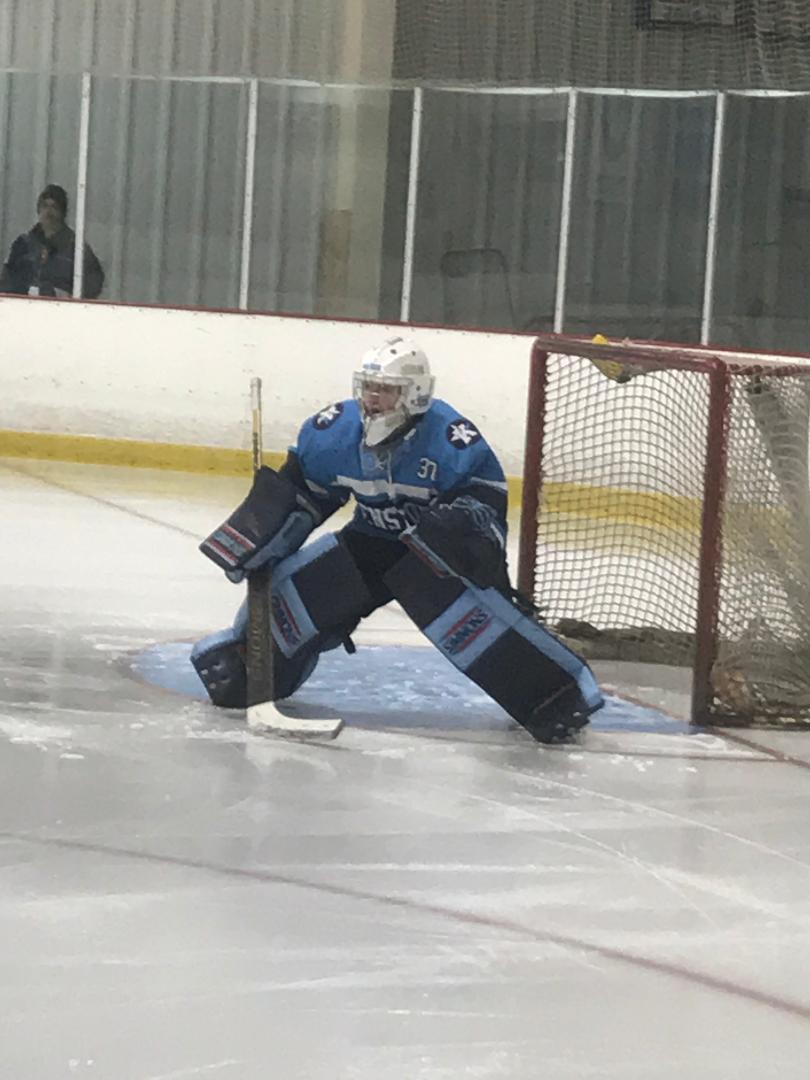 By Anthony Alandt
CHAGRIN FALLS, OHIO – The Kenston Bombers won a hard-fought hockey match in overtime 2-1 against the Strongsville Mustangs Sunday evening.
The two teams faced off for the second time in as many days, as Strongsville pulled out the 4-2 win Saturday night over the Bombers.
Strongsville jumped out to an early 1-0 lead after a goal by sophomore forward Kyle Czworkowski a little more than two minutes into the game.
Kenston was unable to counter with a goal of their own, but maintained possession of the puck throughout the majority of the first 15 minutes and made the Mustang defense work.
From the initial puck drop to the buzzer signaling the end of the first period, the Bombers kept their foot firmly on the gas pedal.
Kenston's aggressive approach in the first period was outmatched by senior goalie Luke Bell, who kept Kenston scoreless and amassed 12 saves.
When the Mustangs were able to flip possession, they took advantage of their opportunities and shot a flurry of times at Kenston goalie Jason Hildebran, who saved 20 of the 21 shots at him.
Junior Valentino Carriero was able to tie up the game for the Bombers at 1 after 1:33 of play in the second period off an assist from senior Tanner Mulhern.
Strongsville had many more attempts to score in the second period, but Hildebran staved off every chance with impeccable blocking and saves.
Both power play opportunities that came in the second period were unable to be capitalized on, as neither squad could muster a goal while it was 5 on 4. Bell, the goalie for Strongsville, finished by saving 27 of 29 shots on goal.
Regulation ended with the score at 1-1 after a very defensive-heavy third period. Both the Mustangs and the Bombers had trouble getting anything to materialize and when they found some path to the goal, neither team was able to slip one by the goalies.
With all the fans in attendance on their feet and the clock ticking down towards 4 minutes in the overtime, Carriero came through with his second goal of the game, winning it for the Bombers. Carriero picked up his 32nd and 33rd goal of the season, while Mulhern added his 9th assist of the year.
Kenston remains atop the Red Central division as they improve to 6-1 in league play. They face off next at Rocky River on Friday.
Strongsville falls to 5-3 in league play and stay behind the Bombers in second place in the Red Central division. The Mustangs will play at Benedictine on Friday for their next game.

NEO Sports Insiders Newsletter
Sign up to receive our NEOSI newsletter, and keep up to date with all the latest Cleveland sports news.