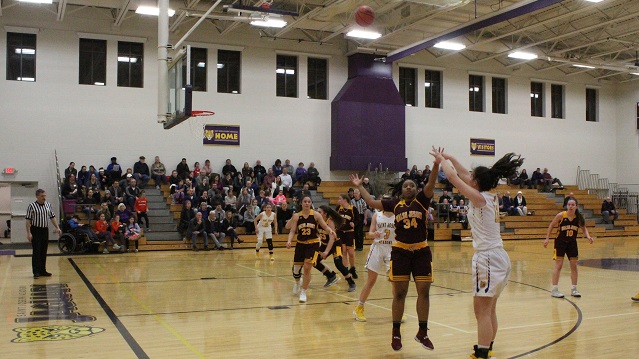 The Saint Joseph Academy lady Jaguars moved to 9-5 overall and 5-2 in North Coast League play Wednesday night, rallying for a 54-52 win over Walsh Jesuit.
The lady Jaguars hit two big shots down the stretch put them in position to win the close knit contest.
With 26.4 seconds left, sophomore Gabbie Schafer hit a three-pointer to pull SJA within one point at 52-51. Then with 9.9 seconds left it was freshman Lizzy Lenahan who buried the game-winning three-pointer.
Lenahan finished with 12 points while fellow freshman Ella Neitzel added 12 of her own. SJA was led in scoring by sophomore guard Charlotte Adler with 13 points.
The lady Warriors were led by senior captain Alainia Alessio, who popped in 10 points in the setback.
Sophomore Maddie Pietrowski and senior Sloane Sapp each scored eight points for Walsh Jesuit.
The loss puts the lady Warriors at 7-8 on the year, 4-2 in North Coast League play.
Walsh Jesuit will be back on the court on Saturday night as they will take on Gilmour at 7:30pm.
Saint Joseph Academy will be on the road on Saturday as they will take on the Padua Bruins at 2pm.