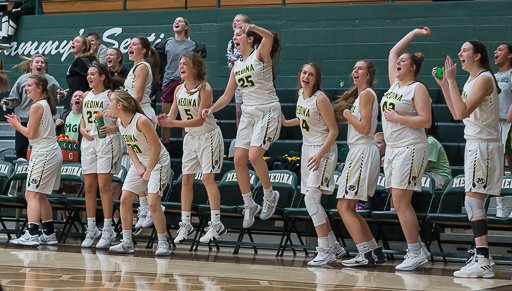 The Medina Bees disrupted the Strongsville Mustangs on nearly every play in the opening quarter, forcing 16 turnovers and jumping out to a 20-2 lead in the GCC opener. Medina was led by Lindsey Linard's double-double of 15 points, 10 rebounds and Madison Luthy's terrific all-around night with 10 points, 7 steals, 5 rebounds, 1 assist. Elizabeth Stuart tallied 11 points, including back-to-back three's int he second quarter.
Abby McMullen added 5 points, 6 steals, 4 assists while Alexa Nau and Mia Buzelli each posted 5 points.
Medina (2-0, 1-0) will travel to Keystone on Monday for a non-league game.
(photo by Russ Gifford)
Away
Home
Strongsville High School
vs
Medina High School
36
55
1
2
20
2
13
16
3
8
11
4
13
8