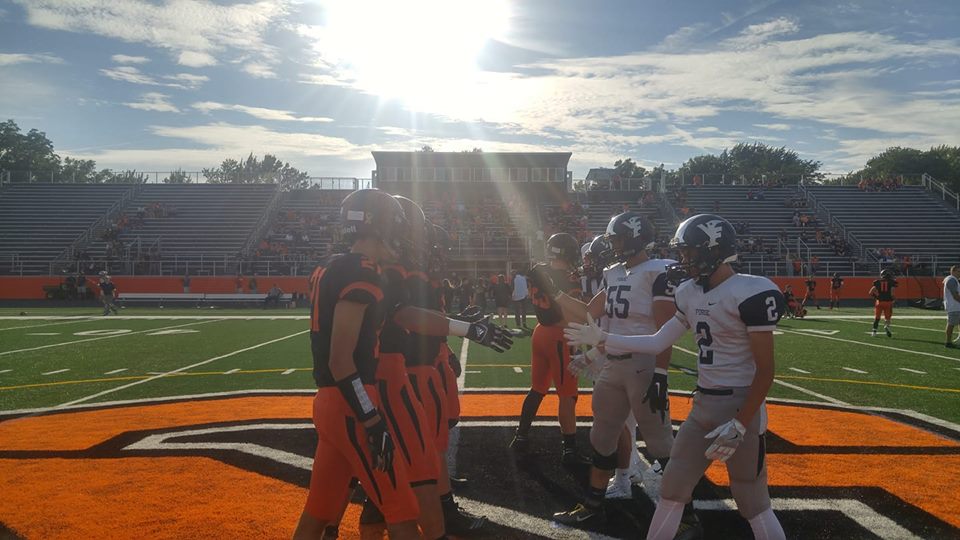 NORTH OLMSTED, OHIO– After two years of playing all road games, the North Olmsted Eagles finally got to open up their new stadium in front of a packed house tonight.  After a slow start, they kicked things into gear and gave the fans plenty to cheer about with a 28-20 victory. 
This game recap is brought to you by Frankie's Italian Cuisine.  Present this article for 10 percent off your next purchase.
It was a wild game that saw a combined five blocked punts– although three of those five punts never got off, as Valley Forge blew the snap all together on those occasions.  Forge also missed a late first half field goal and a late second half extra-point attempt.  The Eagles cashed in for the win.
North Olmsted head coach Tim Brediger spoke after the game about what it takes for his team to win close games such as this one as well as how great it felt to play their first home stadium game in two seasons.
"The biggest thing is senior leadership from the kids who have been on the field for a few years playing and staying composed in a close game," he said. "It is great, it's a shot in the arm for our community who really needed it.  I know our kids are just grateful to have the chance to play at home."
After a scoreless first quarter for the Eagles, they turned to starting quarterback Liam Fay to get them kickstarted, and he didn't disappointment.  The Eagles would score 28 points over the next 24 minutes of football behind Fays leadership.
Fay finished the night with 81 yards on 13 carries with two touchdowns.  He also threw for 81 yards including a big 65-yard strike to Nate Eyerman.
The Eagles needed the big night from him as the Patriot defense held BGSU commit Darren Anders to 78 yards on 16 carries.  Anders made those 16 carries count however as he also found the end zone.  Anders was also the ultimate "Iron Man" tonight, punting and playing defense.  He sacked opposing quarterback Nick Kugler four times.
Valley Forge switched to a no-huddle offense on their second drive and it worked brilliantly as they marched down the field.  Mike Pappas did the bulk of the work with five carries for 50 yards.  The drive was capped off with a beautiful over-the-shoulder touchdown pass from Kugler to Matt Strachan.  Kugler put it right on the money in a spot only his receiver could catch it.  It was a picture-perfect pass and catch.
A blocked punt gave the Eagles the ball at the Patriots 27-yard line to start a drive at the 7-minute mark of the second quarter.  The Eagles would capitalize on the turnover as Liam Fay scrambled it in a few plays later for an 8-yard touchdown run to tie the game.
A few moments later, it was the exact same script yet again.  A bungled punt by Valley Forge led to a short field for the Eagles.  It didn't take many plays later for Liam Fay to bolt in the end zone again, this time from 30 yards out.  The Eagles would take the 14-7 lead into half.
The Eagles started the second half off with a 65-yard bomb from Fay to Nate Eyerman to move down the field quickly. Nate Eyerman is one to watch this season as he plays both sides of the ball very well.  Eyerman used fancy footwork and incredible speed to get wide open down the field.   A few plays later it was Darren Anders punching it in to put North Olmsted up 21-7.
Less than a minute after that, it was the same old story as another bumbled snap on a punt, gave the Eagles the ball deep in Patriot territory.  Anders made them pay on a 6-yard touchdown run to blow the game open up at 28-7.  The Patriots managed to cut into the lead late third quarter with a 2-yard touchdown run by Mathias Chmielewski and make the score 28-14.
A special teams play went in the favor of Valley Forge in the middle of the fourth quarter as they returned a block punt by Strachan 40 yards for a touchdown.  This cut the score to 28-20 as they missed their extra point.   A three and out would give the ball back to the Patriots at the 4:38 mark with a chance to tie but they couldn't cash in. The Eagles hung on for the 28-20 victory.
Player of the game: Darren Anders with 78 yards rushing, 1 TD and 4 sacks.
Click through below for a full photo gallery of Friday night's action.

NEO Sports Insiders Newsletter
Sign up to receive our NEOSI newsletter, and keep up to date with all the latest Cleveland sports news.