PARMA, OHIO – Last season ended early for Normandy Invaders junior Matt Ashe, a player who was having a solid season as both a receiver and a cornerback.
This year he is the Invaders starting quarterback, and all he did in his first game under center was throw for three touchdowns, run in two more (two were called back by penalty) and pick off a pass that could have went for another touchdown if not for a penalty, as Normandy ran over Wellington to kickoff the season 48-14 at Byers Field.
Ashe ended the night 7-for-12 passing for 229 yards with three touchdown passes, all of them big plays, covering 89, 54 and 28 yards.
His touchdown runs went for 65 and 33 yards, as he ended the affair with 158 yards on nine carries with two rushing scores.
"Matt Ashe for us last season was our starting receiver, because we had a good starting quarterback, so before he got hurt week six, he had 10 all-purpose touchdowns by then," Invaders coach Brian Darden said after the win.
"He was one of the best lock down corners in our league last year, I don't think he gave up any passes until he got hurt, so this year he came in and we knew the type of athlete we were working with, so our plan was this offseason was build our offense around what he does best, and what he does best is be a playmaker."
Building the offense looks like a winning formula for the Invaders, who last season won their first three games, but then dropped their final seven to end the year 3-7.
They started slow against Wellington, who have now dropped 12 straight dating back to 2016, but once the Dukes scored it woke up the Invaders, who scored twice in 63 seconds in the second quarter to turn a 6-0 deficit into a 16-6 lead.
"We just had to get in the mode, we started out kind of slow, kind of sluggish, it was a tight camp this year, so we had to get kind of in the mode," Darden said.
"Once we got going we were ready, we just didn't come out of the gate fast, that's all."
The Dukes were led by senior quarterback Ben Higgins, who went 13-for-24 for 143 yards with two touchdown in the setback.
After a scoreless first quarter, the Dukes broke the scoreless tie, as midway through the second quarter they started a drive at their 42, and the big play was Higgins hitting Parker Adler with a 37-yard pass to get them down to the Invaders nine.
Three plays later it was the same combo, as Higgins found Adler with a pinpoint pass from eight yards out to make it a 6-0 game after the PAT was blocked with 5:11 to play in the first half.
Darden said that score was what got the Invaders attention and turned the game around.
"What got us was them scoring, it got us to be like 'oh snap we're in a fight,' so then they started doing what they do best which is make big plays," Darden said.
The Invaders needed all of one play and 17 seconds to take the lead right back.
Ashe got loose down the right sideline, and raced 65 yards for a score that tied the game at six. He then ran in the two-point conversion to make it an 8-6 Normandy lead with 1:57 left in the half.
The Dukes on their next possession went three plays and out, and the Invaders struck again to make it a 10-point lead.
This time the big play came on the arm of Ashe, who threw long and got senior wide out Corey Penney loose, and he sprinted 89 yards for the score to make it 14-6.
The Invaders used a little trickery on the two-point conversion with a pass to convert to make it a 16-6 game with 40 seconds left in the half.
At half Ashe led the Invaders throwing for 127 yards, and he also led the team with 85 yards on five carries.
The second half was all Invaders, as Ashe hit Justin Haverdill with a 54-yard score to extend the lead to 22-6. They pushed it to 30-6 when freshmen running back Kahlil Rahim went seven yards for a touchdown.
A strip and defensive touchdown by Invaders senior DE/OLB Darion Greene put them up 36-6 late in the third quarter.
The Dukes only second half score came with 8:50 to play, as Higgins hit workhorse running back Mason McClellan with a 5-yard score to make it 36-14.
Ashe finished the scoring with a 28-yard pitch and catch to wide out Tommy Sullivan, and then ran 33 yards for the final score to end the night with the Invaders taking home a 48-14 win.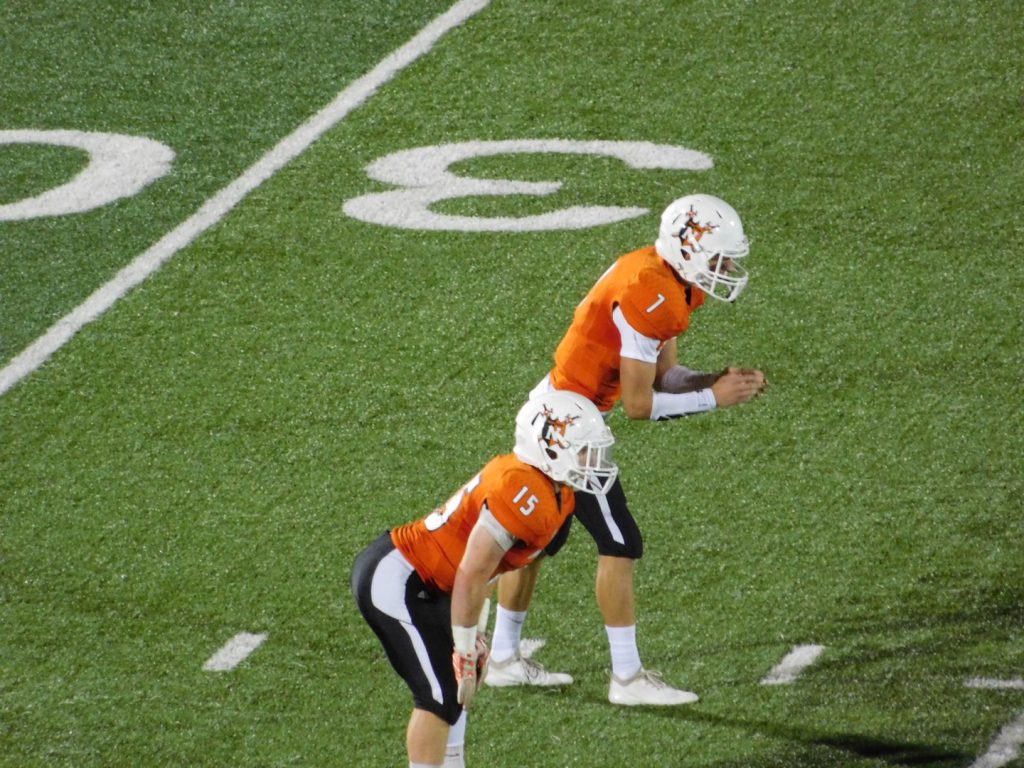 Player of the Game:
Normandy Senior QB Matt Ashe
While it took the Invaders offense some time to get going on Friday night in their win over Wellington, once they did they did a lot of their damage thanks to the arm and legs of senior QB Matt Ashe.
Ashe led the way with a 65-yard TD run, three touchdown passes (54, 89 and 28 yards), and his legs kept the Dukes defense on their heels all night.
As if that wasn't enough, after the Invaders built a 42-14 lead with less than five minutes to play, Ashe picked off a Ben Higgins pass, and if it wasn't for a block in the back he would have scored a touchdown on defense as well.
Click the Next Page to see Photos from the Invaders and Dukes

NEO Sports Insiders Newsletter
Sign up to receive our NEOSI newsletter, and keep up to date with all the latest Cleveland sports news.