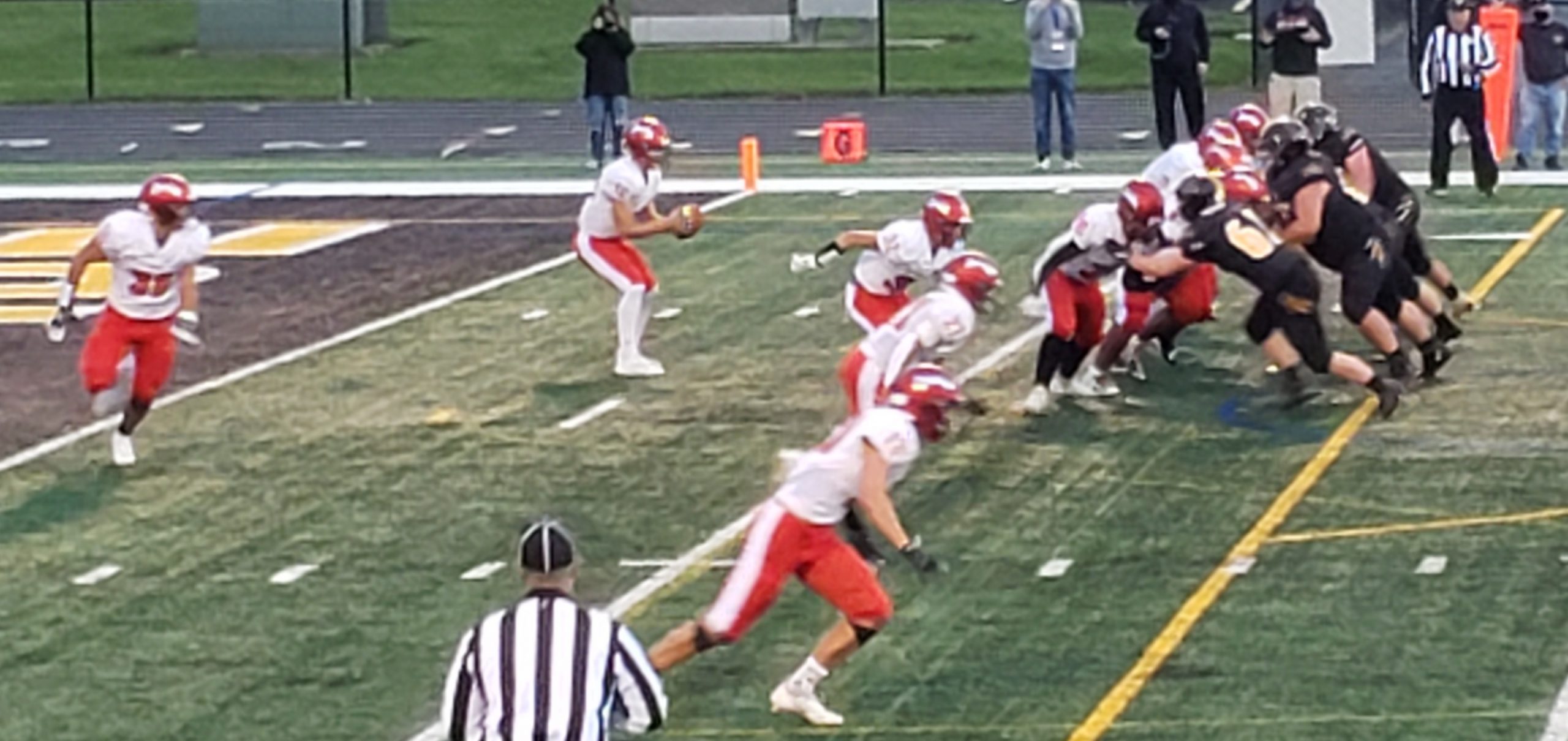 By Chad Bryan
PAINESVILLE, OHIO – They say football games are won in the trenches. On Friday night the Hilltoppers' front seven was too much for Riverside's offense and the running attack slowly chipped away at the Beavers until there just wasn't enough left in the tank.
Riverside, who battled the whole way, trailed just 7-0 at the half. The second half, however, would belong to Chardon and they wasted little time asserting their dominance after stepping out of the locker room.
A James Pettyjohn 2-yard plunge had given the Hilltoppers the slim lead at the half and the running game had been effective enough to move the ball consistently.
On the second play of the third quarter Chardon made a huge dent. Quarterback Drew Fetchik dropped back and tossed back to Blake Barker on a backwards lateral, making it a rushing attempt. Regardless, Barker knew what to do with the ball, sprinting 69 yards for the score to make it 14-0 after the extra point and the momentum was squarely with the Hilltoppers.
They would add another touchdown by Pettyjohn, this one from 4 yards out with 5:40 remaining in the third quarter to take a 21-0 lead. He would finish with 105 yards and 2 touchdowns on 12 carries.
Down three scores, Riverside was forced to throw probably a bit more than they wanted to in the second half, leading to a few late turnovers. One in particular felt like the final crushing blow. Early in the fourth quarter Riverside Quarterback Domenic Lulow had a receiver streaking open near the goal line and threw a ball that appeared to be in line with his man.
Chardon Senior Defensive Back Brady Toth seemed to glide to the spot and somehow come up with the interception.
Chardon held a 35-0 lead in the fourth quarter when Riverside found a little rhythm on offense late with a Lulow pass going to Matthew Spofford for a 15 yard score to get on the board.
Riverside played right with Chardon for two quarters of football. In the end, however, the Hilltoppers were just too much on defense and put enough pressure on Lulow to force him into three interceptions with two of those coming on back to back possessions in the third quarter.
Lulow completed 17 passes for 185 yards and the one touchdown in the contest.
Chardon rushed for 374 yards in the game. Along with Pettyjohn's effort, they got 77 yards from Fetchik and 74 from Barker with the bulk coming on his 69-yard touchdown scamper.
Chardon improves to 4 – 0 on the season and will take on Mayfield next Friday at home.
Riverside suffers their first defeat of 2020 and is 3 – 1. They will head to Madison next Friday.

NEO Sports Insiders Newsletter
Sign up to receive our NEOSI newsletter, and keep up to date with all the latest Cleveland sports news.