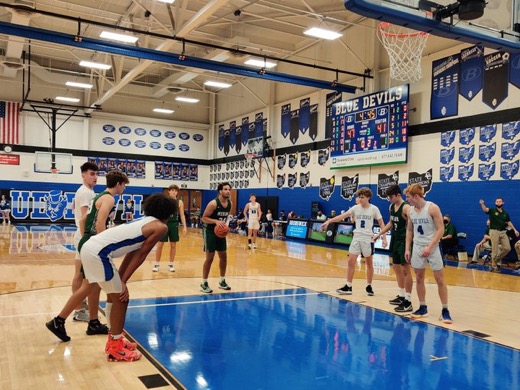 BRUNSWICK, OHIO – Medina and Brunswick, two juggernaut teams in Medina County and Greater Cleveland Conference rivals squared off against each other at Brunswick High School.
The thrilling contest finished off with a deep 3-point shot from Medina's Junior guard Jajuan Jackson at the buzzer to give the Bees a 78-75 win over the Blue Devils.
Ballgame! Jackson nails a deep 3-pointer to win it for Medina!

Final:@medinaathletics 78@BHSGoBigBlue 75 pic.twitter.com/mULztEJBiu

— Mark Perez-Krywany (@MarkPerezK10) December 19, 2020
"We don't give up on each other," Jackson said after the win.
"We play as a team; we lose as a team. We just like to play together."
The Bees' trailed 56-54 at the start of the fourth quarter. The game was close and went down to the wire. They conceded an 8-2 run to start and had to hustle their way back in starring Senior's Corey Tripp, Christian Howard, and Jackson.
Tripp made two pairs of free-throws. Jackson scored off an offensive rebound to make it a 4-point game.
With less than a minute remaining, Jackson dove on the floor to steal the ball, and score on the other end after Howard grabbed an offensive rebound off a missed shot.
Medina (2-1, 1-0 in GCC) had to endure adversity. They trailed for most of the game. They had the lead three times. Jackson's buzzer-beater, Jackson's two made free-throws in the beginning of the fourth quarter and Bees' Senior Tripp making the teams opening basket for a 2-1 lead at the start of the game.
After trailing 20-15 at the beginning of the first quarter, Brunswick (2-1, 0-1 in GCC) extended their lead to 45-35 at halftime. The Blue Devils were on fire making shots from all over the court. They started an 8-2 run in the beginning of the quarter.
End of Q1. Blue Devils lead.@medinaathletics 15@BHSGoBigBlue 20 pic.twitter.com/fyNdyIPxcg

— Mark Perez-Krywany (@MarkPerezK10) December 19, 2020
Despite their run, Medina countered with a 8-2 run of their own. Brunswick immediately retaliated with an 11-0 run.
"We challenged our Seniors (Howard, Tripp, and Geschke) to step up and be leaders," Bees' coach Chriss Hassinger said.
"I've never had three kids in a pressure situation, demand stuff out of (other) kids more than those three tonight."
Those Seniors and the team responded with a 10-2 run at the start of the second half. It played vital to reduce the Blue Devils lead to 56-54 at the end of the fourth quarter
Howard made a lot of plays in the paint as he scored 19 points and grabbed eight rebounds for Medina.
(Howard) is a warrior," Hassinger said.
"We haven't really used him much this year [on offense], because he doesn't demand the ball and we have a lot of kids that like to score from the perimeter. That was one of our keys tonight. Get the ball inside. Tonight, Chris (Howard) had it going and we fed him the ball."
Tripp was the lead scorer with 27 points with his smooth mid-range jumper, and making 7-of-7 free-throws.
Multiple Brunswick players had stellar games. Marquis Barnett (24 points, 11 rebounds, five assists) and Trey Massey (24 points, three rebounds) were their leading scorers.
Scorebook for Medina 78-75 win over Brunswick. pic.twitter.com/dScceTD7t8

— Mark Perez-Krywany (@MarkPerezK10) December 19, 2020
Both teams will play their next games on Tuesday, Dec. 22nd as Medina will host Olmsted Falls and Brunswick wil host Solon.

NEO Sports Insiders Newsletter
Sign up to receive our NEOSI newsletter, and keep up to date with all the latest Cleveland sports news.