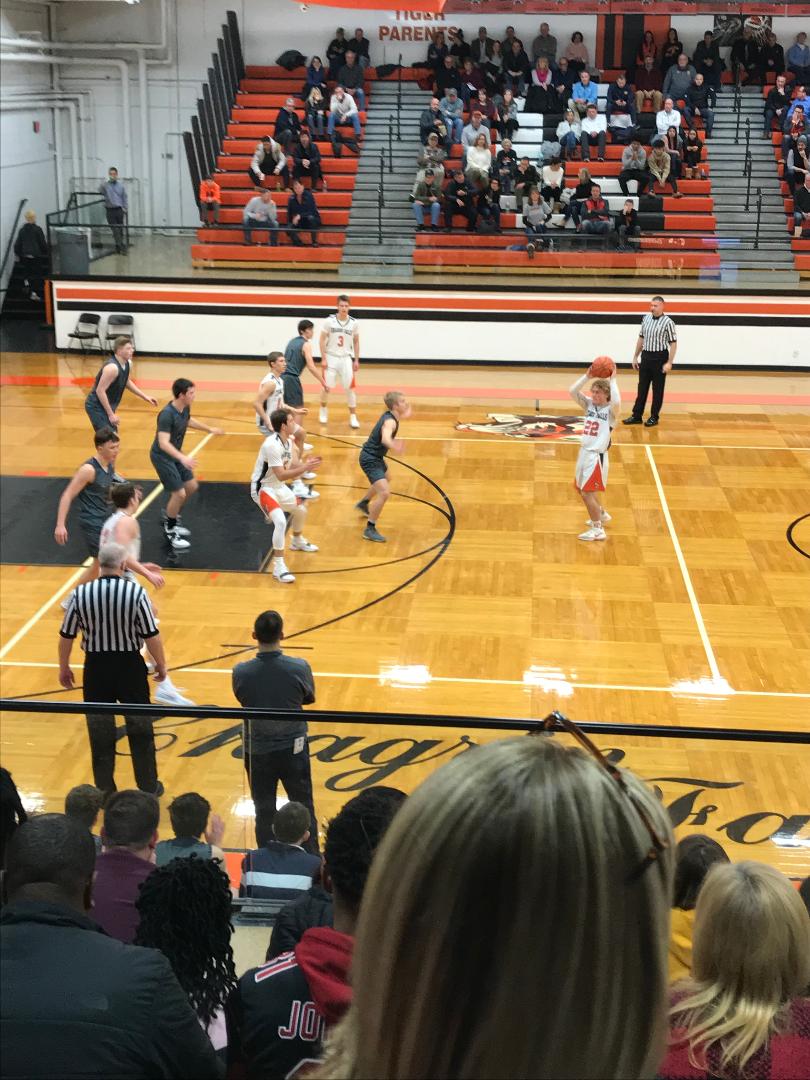 By Anthony Alandt
The Chagrin Falls boys basketball team beat the West Geauga Wolverines 56-43 at the Quesinberry Gymnasium on Military Appreciation night Friday night.
The 5th and 7th ranked CVC teams faced off in what turned out to be a pretty even matchup, with Chagrin never pulling ahead by more than 13.
West Geauga made sure that, even when reeling and with the crowd against them, they kept pressure on the Tiger's players.
Chagrin lifted their Chagrin Valley Conference record to above .500, situated now at 5-4 in conference play and 7-5 overall. They snapped their two-game losing streak against a Wolverine team that came into tonight on fire.
West Geauga had their 4-game win streak snapped tonight, falling to 3-7 in conference play and dropping their 10th game on the season.
The overall tempo of the game was incredibly upbeat and fast paced, with both teams deciding to use the man-to-man defensive strategy to shut down their opponent.
Chagrin tried their best to slow down the cadence of the game whenever they could by spreading the floor and setting up detailed plays before executing.
Chagrin put their pass-first offense on display, resulting in some winded Wolverine defenders and a fair amount of wide open shots leading to points.
The Tigers were led by sophomore Josh Norton who went for 17 points. Senior F Cole Weiss also added in another 13 points for the team, who ended the first quarter up 16-9.
West Geauga, meanwhile, could not get a shot to fall if they paid for it.
The Wolverines did not find any luck from behind the arc until the second quarter with 3:20 to go. They were out hustled overall and out rebounded on the defensive end, leading to many second chance opportunities for Chagrin shooters.
The Wolverines were able to get some shots to fall in the second quarter and pulled within just a few points of the Tigers, but ended down 12 at halftime.
Sophomore bigman Josh Irwin found his first shot from behind the arc in these second 8 minutes, ending the game with a 2-7 line from deep and a team leading 16 points. Junior Peyton Bissler also chipped in with 11 points for West Geauga.
West Geauga tried their best to get aggressive, especially inside the paint, but to no avail as mid range shot after floater after layup rolled in and out of the basket.
While the officials typically don't dictate the outcome of a game, Wolverine fans were definitely getting more and more hostile as the game progressed and the large swath of calls went against them.
The fourth quarter was much of the same, as West Geauga tried to get open looks, only to have the ball be just slightly off target.
Chagrin continued to have meaningful, long, and well thought out possessions that ended in made baskets or a trip to the freethrow line.
Chagrin now looks to make it 2 in a row in conference games, as they play Tuesday at Hawken.
Meanwhile, the 5-10 Wolverines move on to play Geneva, yet another CVC opponent, at home next Tuesday.

NEO Sports Insiders Newsletter
Sign up to receive our NEOSI newsletter, and keep up to date with all the latest Cleveland sports news.