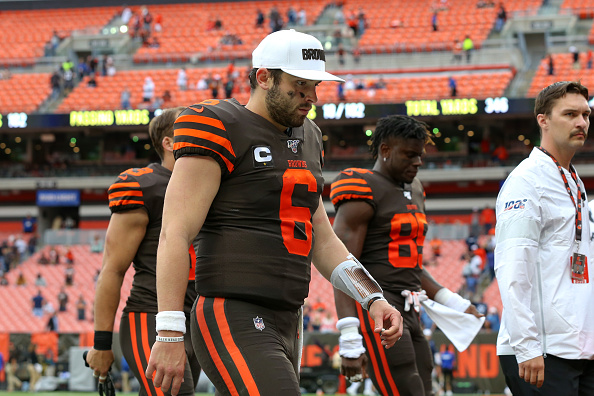 The list of things which went right for the Cleveland Browns in their season-opener is astoundingly short.
The team showed up on time, and everyone appeared to be wearing the right uniform. Outside of that, it was a hot mess.
It was also the kind of hot mess that could end up defining the Browns' season. This may sound a little dramatic considering we're only at Week 2, but how they respond to their season-opening flop will have a huge impact on where the team goes from here.
Consider the situation surrounding Cleveland's 30-point drubbing from last Sunday.
It came after months of endless hype, which the Browns claimed they were tuning out. It occurred in front of a deafening home crowd, made up of fans who were told by these players things would be different this year.
This was supposed to be the first step in ultimately rewarding a down-trodden fan-base for its dedication through years of garbage football.
Instead, garbage football was all anyone saw. The Browns looked distracted and unprepared, as if they didn't take their opponent seriously. Ice that cake with tight end Delanie Walker proudly noting the Titans were eager to prove the hype surrounding Cleveland was misplaced, and you complete the recipe for a full-scale disaster.
The Browns should be in much better shape this week, and if you check for a fanduel offer you should for sure play a few players off their roster against the Jets.
Titans TE Delanie Walker wasn't impressed by the Browns after the Titans beat them by 30:

"They were who we thought they were" 😳

(via @TDavenport_NFL)pic.twitter.com/9DfkVK8AZQ

— Bleacher Report (@BleacherReport) September 8, 2019
The bottom line is Sunday's game was a humbling. It was proof the Browns haven't earned anything yet, that being labeled a contender means nothing once you take the field.
This loss should also serve as a reality check. What occurred Sunday is essentially what Cleveland should expect for the rest of the year.
Nobody is going easy on the Browns anymore.  No opponent is half-heartedly taking the field thinking it can beat Cleveland on cruise control. Based on Walker's comments alone, it sure seems like the league is tired of hearing about the Browns and wants to prove the idea of their being a contender is a false narrative.
We know how Cleveland handled its first serving of humble pie. We now need to find out how the team reacts to it moving forward.
One would hope a loss like Sunday's helps them understand games aren't won just by showing up, that you don't automatically come out on top because everyone thinks you're good now. The Browns are in a place where they can take their Week 1 defeat on the chin, refocus and realize any cockiness they carried into the season needs to be shelved.
One would think rebounding from last week was made easier by today's news that their Week 2 opponent – the New York Jets – will be playing without starting quarterback Sam Darnold. If you ask me, said update just makes the idea of tabling arrogance even more difficult.
Again, what was the biggest problem for the Browns last Sunday? Taking the field looking unprepared, but assuming they'd win anyway.
As a result, hearing they'll be taking on Trevor Siemian instead of Darnold doesn't serve as good news, but instead makes me wonder if Cleveland will once again ease up on game-prep under the assumption a win is already in the books.
This is why the Browns' next game will have a major impact on the rest of their season.
Last Sunday should serve as proof this team should resist any urge to feel over-confident. It should be seen as an example of what happens if you take the field unprepared for your opponents, no matter how short-handed they appear.
The key word, obviously, is "should." The Browns can claim they've learned from last week's errors, but we won't know for sure until we see them take the field this Monday.
Make no mistake, while a win over the Trevor Siemian-led Jets won't save Cleveland's season, a loss to said team sure as hell could derail it. If the Browns think the fallout from last week was rough, just wait to see what happens if they can't pull off a victory this week.
Ensuring that doesn't happen looks like an easy task on paper. Of course, so did beating the Titans in Week 1. I'd like to think the Browns have learned enough from that game to know nothing is guaranteed.
If they have, this season could get right back on track. If they haven't, things are going to get ugly in a hurry.

NEO Sports Insiders Newsletter
Sign up to receive our NEOSI newsletter, and keep up to date with all the latest Cleveland sports news.