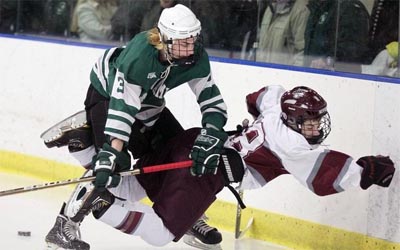 #4 Rocky River faced off with #5 Holy Name in the OHSAA Hockey Sectionals in the Brooklyn region on Thursday night at the John M. Coyne Recreation Center.
It was a packed house for the quarterfinal matchup, as the winner looked to advance to the District Semi-Finals.
The crowd was not disappointed. It was a lively contest from start to finish, with a wild start, and an action-packed third period. Holy Name overcame an early 1-0 deficit and held onto win 3-2 in a nailbiter.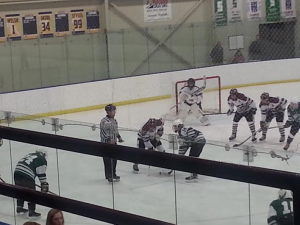 10 seconds into the game Rocky River jumped on the board with a quick goal from Austin Weaver to take a 1-0 lead.
The next 14:50 were scoreless, as goaltenders on both sides made one beautiful save after another and the Pirates entered the first intermission leading the Green Wave by one.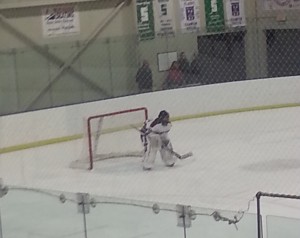 Holy Name tied it up at the 7:45 mark of the second period as Tyler Martin crossed up goaltender Ryan Dunning to end the shutout.
The Green Wave kept rolling, as two minutes later Sean Bauchens came through with the go-ahead goal on the power play to make it 2-1 with five minutes left in the second period.
Holy Name netminder C.J. Balodis held the Pirates scoreless in the frame and the Green Wave entered the final period leading 2-1.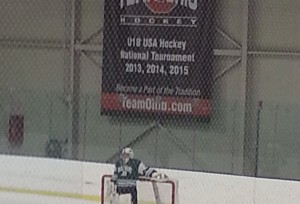 It was a physical contest for the first two periods, but the intensity picked up dramatically in the third, as one hard hit escalated into the next, despite no penalties being called for more than half of the period.
Holy Name added some cushion to their lead at the 7:55 mark of the final frame, as Tyler Guarniere made it 3-1 and the Pirates had seven minutes to try to come back.
Rocky River struck back one minute later to get it back to a one-goal game, thanks to a big goal from Ian Herrmann.
The playoff atmosphere only picked up, as Holy Name was called for a big penalty right after the goal, and it was a 5-on-4 Rocky River advantage for two minutes with only 5:39 left on the clock.
Holy Name killed the penalty and the Pirates had three and a half minutes to try to rally back.
The Pirates surprisingly did not pull their goaltender until there was just over 20 seconds to play. Both teams got into some extra-curricular activities and one player from each side was sent to the penalty box.
It was 4-on-4 for the final 19 seconds and Holy Name held off the Pirates to win 3-2.
Rocky River's impressive season comes to an end with a record of 23-11-1.
Holy Name advances to face the winner of Saturday afternoon's matchup between #1 St. Ignatius and #9 Midview in the District Semi-Final on Tuesday, March 1st.