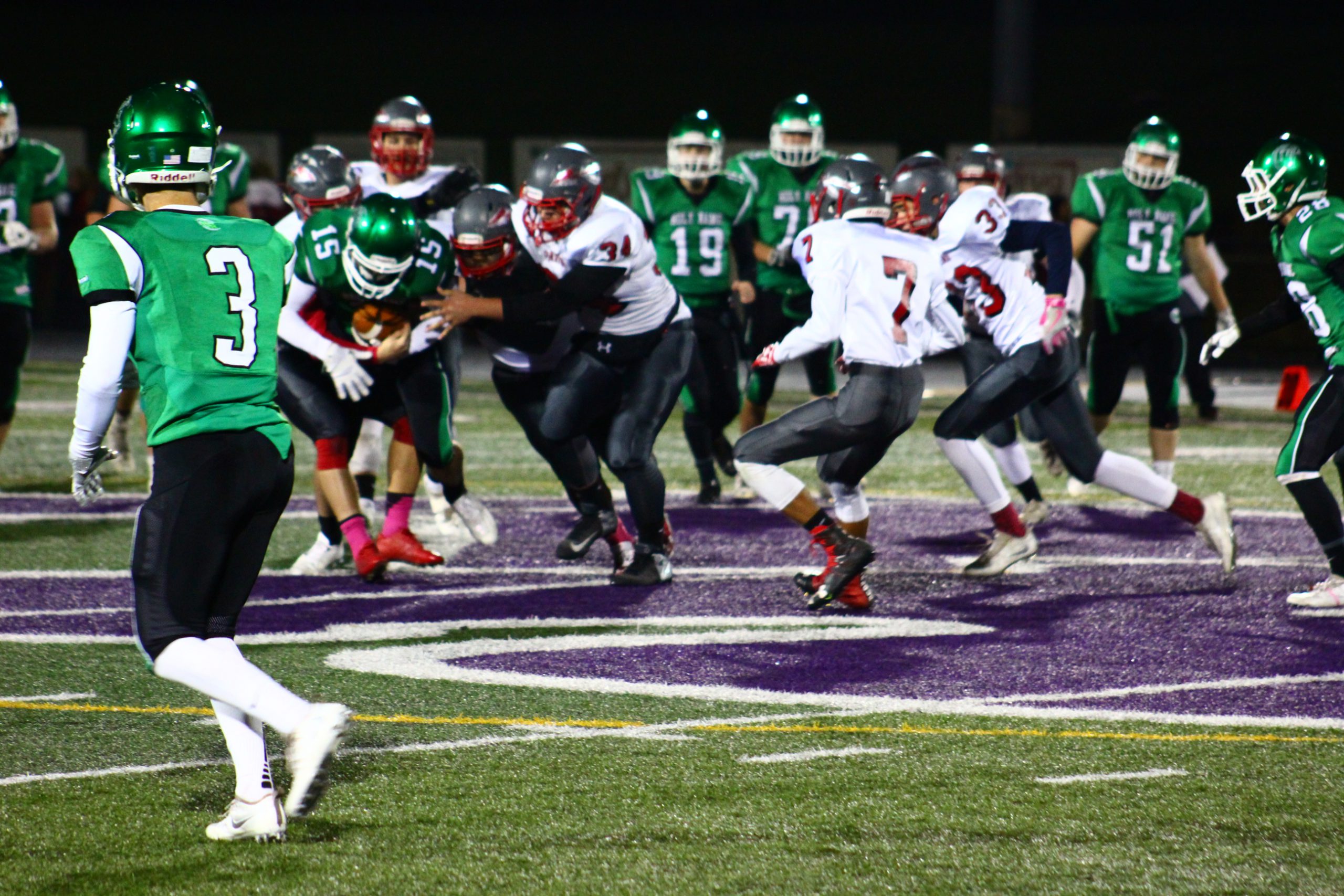 This article is presented by The Book Shelf LLC.
NORTH ROYALTON, Ohio – The Holy Name Green Wave came into tonight's contest at 5-3 and Number 12 in Division I, Region 13. The top 8 in each region make the playoffs.
They control their own destiny to get in or be on the outside looking in. All they can do is handle their business andeverything else will take care of itself. Tonight they did just that, winning 7-0 over Division I Parma Redmen who in Region 2 were sitting at Number 11.
Much like Holy Name, The Parma Redmen had the same record. This is a Great Lakes League fight for the title night.
---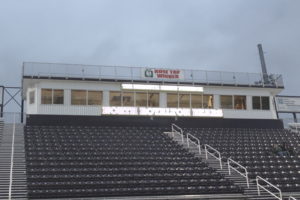 ---
The Green Wave is coming off a victory last week against Valley Forge 35-25, while on the other side of the coin is Parma that got beat up both on the scoreboard and physically, losing to Rocky River 31-13.
Parma was without 6 starters tonight as they squared off in grid iron action with a healthy, senior stacked team as the scene was set for a show down.
The weather would prove to be a factor in both passing and kicking games. Strong winds would send the ball way off course and almost blow kicks back to the line of scrimmage if you were going into the wind.
Game being played between the 5 yd lines. Back and forth no change in score 7-0 @HNGreenwave @NEOSportsInside @3HSsports @FOX8FNTD 4th qtr

— David Sprouse (@NEOSI_Sprouse) October 22, 2016
It was a cold, wet and windy night at Seperntini Stadium in North Royalton; but that just forced Holy Name to use a committee of running backs that they have at their disposal.
In the first quarter Marques Thompson got the bulk of the work racking up 53 yards rushing on 9 carries, and 1 reception for 15 yards before he fumbled the ball.
Parma performed well on defense tonight under the lead of Seniors Collin Leyden, Vinny Livdur and Theo Melendez.
---
---
It was a defensive battle moving from end to end of the field with neither team being able to produce much as the wind played a factor throughout the evening.
Parma was without six starters tonight. Plagued by injuries, Redmen Head Coach Bruce Saban remarked on his team being hit with seven injuries in their game last week against Rocky River. Some of them won't be back, some of them will.
Battling it out with a team that is senior stacked is tough when you are trying to get something going in the later part of the season. As for Parma, they were lead by the performance of Kyle Lyon and Mark Post for most of the game.
---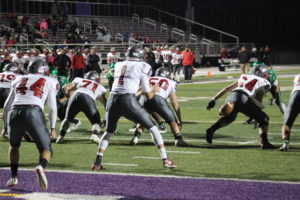 ---
The second quarterwas mostly quarterback Joe Carter throwing and running the ball. Carter was 8 of 13 for112 yards passing, 1 touchdown, and 4 rushes for 27 yards in the first half.
---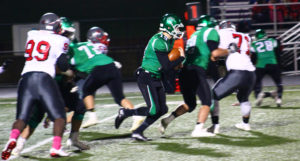 ---
Here is a video of the first and only touchdown of the game by Holy Name QB Joe Carter on a 28 yd run.
The second half belonged to #25 Jake Stolar. Stolar had 19 carries for 86 yards onoffense, but on defense he recorded 3 interceptions tonight. He put this team on his back when they needed him the most and helped the Green Wave find the much needed victory tonight.
It's remarkable the energy these two teams have to play so hard on offense and defense. These two teams were marching back and forth battling it out tonight and they executed their game plans effectively in the first half.
---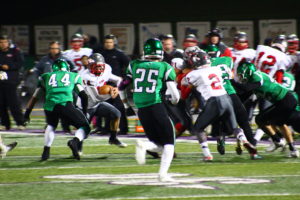 ---
There were a vast array of penalties. Everything from roughing the passer to holding to unnecessary roughness during this dual in The Great Lakes Conference. The referees seemed to be having a hard time agreeing on things. Below is an example.
The defense of both Holy Name and Parma held each other deep in each of their own territories when on this particular series it was 3rd and a bunch on the one inch line, Parma ball and The Green Wave crashes the line and gets a safety, but it wasn't called. You be the judge…
---
---
---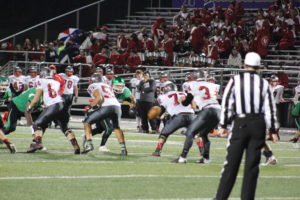 ---
In the 4the Parma made a switch at quarterback and put Mark Post in as QB with the stronger arm to throw into the wind and the Catching abilities of Kyle Lyon make fans think that Coach Saban should have done it sooner in the strong winds as the athletic Lyon made three great plays before ultimately turning the ball over.
---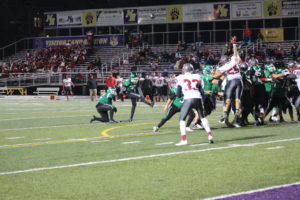 ---
There was also a blocked field goal attempt in this one too as Holy Name tried to close the lid on this one and it was knocked down by Theo Melendez to keep the score at 7-0, since 7:26 remaining in the 1st half.
Parma has Bay Village next week and they are focused on the game at hand. The Redmen fall to 5-4 in the Great Lakes Division and hope to get healthy soon. Next game October 28 at 7:00.
Final score 7-0 @HNGreenwave over @ParmaHighSports @NEOSportsInside @AM930WEOL @FOX8FNTD @3HSsports

— David Sprouse (@NEOSI_Sprouse) October 22, 2016
Just before posting this, Week 9 computer points were updated leaving The Green Wave sitting in No. 10 with them going into next week 6-3 heading to Rocky River. Next game October 28 at 7:00.
Looking forward to all the high school football action coming your way next week as we bring you complete coverage. Continue to follow NEOSI for all of you up-to-the-minute updates of all things sports in The Land and follow David Sprouse @NEOSI_Sprouse on Twitter. All photographs are property of David A. Sprouse.
Contributing writer in tonight's article is Kipp Cullin, follow him on Twitter @KCullin65.
This article is presented by The Book Shelf LLC.

NEO Sports Insiders Newsletter
Sign up to receive our NEOSI newsletter, and keep up to date with all the latest Cleveland sports news.