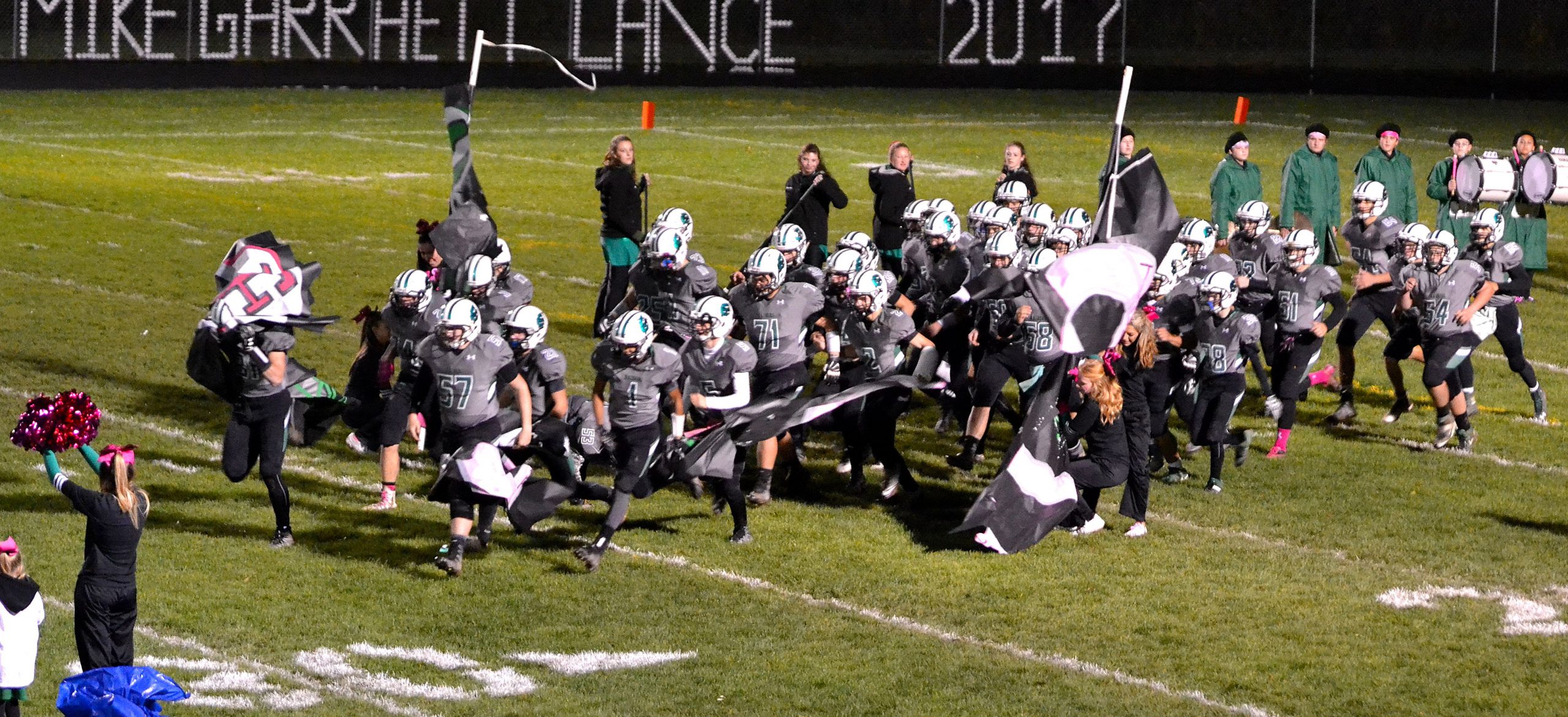 This game recap is brought to you by B.A. Sweetie Candy Company, located at 6770 Brookpark Road, Cleveland, Ohio.
COLUMBIA STATION – The Columbia Raiders played their way to at least a share of the Patriot Athletic Conference, Stripes Division title Friday night by beating Fairview, 40-15, at Columbia High School Stadium.
The win put Columbia at a perfect 4-0 within the division, and 6-3 overall, with one game remaining on the regular season schedule.
The Raiders jumped out to a 21-0 lead on touchdowns from the running game, through the air and a defensive score. The scoring started with a 5-yard touchdown run from star tailback Brandon Coleman, who carried the rock 23 times for 220 yards and three touchdowns on the night. Defensive back Austin Sahlica then took a Fairview interception 53 yards to paydirt. Schwartz got in the scoring frenzy when he tossed an 8-yard touchdown to wideout Lance Boise.
"I couldn't have grabbed that pick-six if it wasn't for my teammates on that play," Sahlica explained. "I was a decoy for where I usually play, and they threw the ball, and I was just there to grab it."
Sahlica also capped the scoring on the night with a 61-yard touchdown reception in the fourth quarter.
"On the touchdown reception, honestly, it was just going out there and doing what you are supposed to do," he added.
Columbia head coach Jason Ward knows that the guys in the trenches are the real reason for the offensive output.
"Our offensive line has played a lot better these last few weeks," Ward said. "They're really starting to gel, which is really good for our football team, because – like everybody else – we are trying to play our best football come week 10."
The offensive line had to gel quickly, after losing last year's seniors to graduation.
"Coach Ward told us at the beginning of training camp that this season was all on us," Raiders center Garrhett Wheatley said. "We couldn't rely on any of last year's seniors coming back. Even the sophomores on the line had to step up this year. We have worked really hard at practice, on the sleds and working on double teams."
Fairview (3-6, 3-1) made a push to get back in the game after going down 21-0. Filkill threw a 43-yard touchdown to Marty Rehor, and Jack Provenza intercepted a Schwartz pass and took it 20 yards for a score. Schwartz ended the night with three interceptions, while Filkill threw two.
GAME STATS:
Columbia 40, Fairview 15
Columbia 14 7 13 6 – 40
Fairview 0 15 0 0 – 15
SCORING
© Brandon Coleman 5 run (Cody Schwartz kick)
© Austin Sahlica 53 interception return (Schwartz kick)
© Lance Boise 8 pass from Schwartz (Schwartz kick)
(F) Marty Rehor 43 pass from Josh Filkill (Ryan Grealis 2-point pass from Filkill)
(F) Jack Provenza 20 interception return (Elion Bendo kick)
© Coleman 4 run (Schwartz kick)
© Coleman 4 run (kick failed)
© Sahlica 61 pass from Schwartz (kick failed)
Team Statistics C F
First downs 17 12
by rushing 16 6
By passing 1 6
By penalty 0 0
Yards rushing 319 77
Yards passing 213 149
Total offense 430 226
Passes att./comp. 6/15 11/31
-Intercepted by 3 2
Fumbles/lost 1/1 1/0
Penalties/yards 8/60 3/20
Individual statistics
RUSHING – © Brandon Coleman 23-220, Adam Alten 7-27, Mike Jacobucci 6-39, Cody Schwartz 6-33; (F) Josh Filkill 19-57, Marty Rehor 4-14, Jack Provenza 2-6, Jason Sassano 2-0, Ryan Provenza 1-2, Adam Perkins 1- (-2).
PASSING- © Schwartz 6-15-111-2-3; (F) Filkill 11-30-149-1-2, Provenza 0-1-0-0-0.
RECEIVING- © Austin Sahlica 3-73, Coleman 2-30, Lance Boise 1-8; (F) John McQuate 4-50, Marty Rehor 3-63, Ryan Provenza 2-31, Jack Provenza 2-5.

NEO Sports Insiders Newsletter
Sign up to receive our NEOSI newsletter, and keep up to date with all the latest Cleveland sports news.