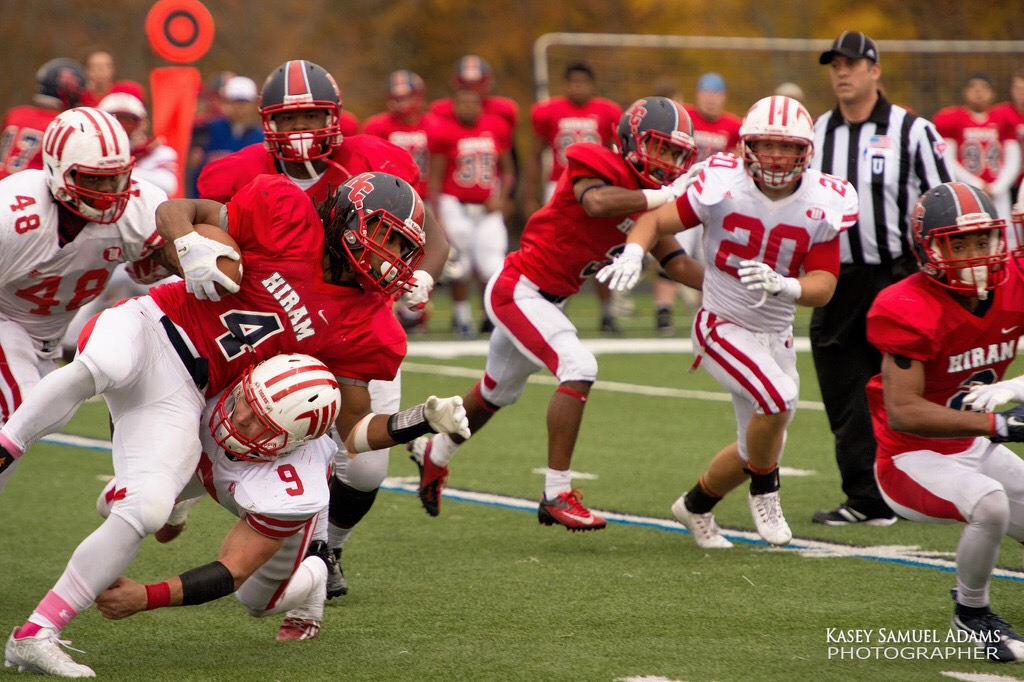 BY: JAMES CROSS
Hiram College, Hiram (OH) – The Hiram College Terriers fell this afternoon to the Wittenberg University Tigers with a final score of 59-17.
The Terriers scored first of a monstrous 75 yard run from senior running back Danny Robinson, setting the score to 7-0 in Hiram's favor.
Wittenberg would retaliate with two straight scores, one with a 13 yard pass from Jake Kennedy to Liam Duncan. The second score would be on a 27 yard interception return for a touchdown by Keenan Wilson with the score being 14-7 with the Tigers of Wittenberg out front.
Hiram would kick a 19 yard field goal from senior kicker Sam Conway, closing the cap to a 14-10 deficit.
Wittenberg would go on a tear for the rest of the second half, Scoring one field goal and three touchdowns to finish off the first half. Wittenberg would total out 336 yards in the first half to push a dominant start of 38-10 over the Terriers.
Wittenberg would go on a tear in the third quarter, scoring 21 unanswered points with highlights of a 71 yard pass from Liam Duncan to Jake Kennedy and two touchdowns inside 10 yards. The score at the end of the third quarter was 59-10 in favor of the Tigers.
Hiram would be the team to score last in this matchup with a two yard touchdown pass from Junior wide receiver Luther Fortson to finish the game out with a final score of 59-17.
Wittenberg would improve to 5-0 overall and a 4-0 record in North Coast Athletic Conference play. Hiram would fall to 1-4 overall and 0-4 in NCAC play.
The Terriers will face Kenyon College at their place on Saturday, October 14 at 1:00 p.m.. The Tigers of Wittenberg will face Allegheny at home on Saturday, October 14 at 1:00 p.m..

NEO Sports Insiders Newsletter
Sign up to receive our NEOSI newsletter, and keep up to date with all the latest Cleveland sports news.