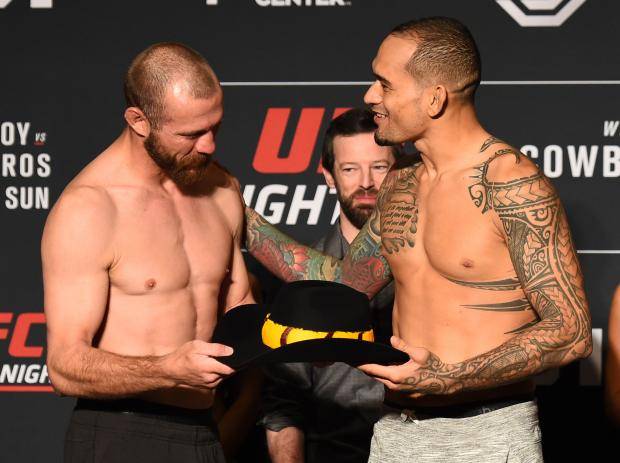 They say everything is bigger in Texas, tonight the UFC was out to prove just that with a great card on free television courtesy of FS1.
The main event was gatekeeper and knockout artist Donald Cerrone versus rising star Yancy Medeiros.  The card packed plenty of action and some great highlights.  Also, some lowlights.   What stood out the most?  Let's get right to it!
Lowlight – Jimmy Smith is horrible in his quest to be a Joe Rogan remake.  He has styled himself from everything from the look to the way he talks after Rogan and it is embarrassing.  It may have worked for him in Bellator, but now that he is on the same brand as Rogan, he needs to make some major changes.  He calls the fights in a desperate plea to sound just like the UFC fan favorite.  Bellator scored big in securing Mike Goldberg and allowing the incredibly bad Smith to walk out their doors.  The UFC better never make the mistake of having Rogan and Smith call the same card together, then it will be very obvious just how bad he is.
Highlight – An action packed and highlight reel undercard!  For the fights only the diehards saw, they weren't let down one bit!  The house crowd and those watching on Fight Pass were treated to a vicious Oskar Piechota knockout over Tim Williams.  That blood bath was followed by a great submission win from Alex Moreno over Josh Burkman. For Burkman, his 15-year career appears done after his fifth straight loss and no improvement in sight.
Highlight – The prelims on FOX Sports 1 also proved to be worth watching with 3 decisive finishes.  The undercard on Fox saw upset submission wins by Roberto Sanchez and Geoff Neal.  It also saw Carlos Diego Ferreira knockout over Jared Gordon.  Once again, the UFC undercard comes up in spades.
Lowlight – Not sure, if anyone does it benefit having cards on a Sunday night that start at 9 or 10pm?  Way too late when most of us have to get up and go to work tomorrow.  Not sure why the UFC continues to run cards late on Sunday nights, or in countries on Fight Pass card that no one is watching.  Again, this was a solid card well worth losing sleep over, but still doesn't make much sense.
Lowlight – Sage Northcutt continues to struggle.  Despite the narrow decision win tonight, he has not at all lived up to his billing.  Northcutt is now 5-2 in his UFC stint, but it has been nothing at all to write home about.  He has shown little to no heart in his victories, and looked dismal in defeat.
Highlight – James Vick is a dangerous man.  Now 9-1 in the UFC and one of the best fighters not too many people are talking about.  After another convincing decision win tonight over Francisco Trinaldo, Vick is one to be taken very serious moving forward at 155lbs.
Highlight – Derrick Lewis is excellent on his feet striking with his heavy hands.  If he keeps the fight on his feet, he is deadly.  There is only one problem…..
Lowlight – Derrick Lewis on the ground and everywhere else.  If Lewis ever hopes to improve and challenge for a title, he needs to work on so many other facets of his game.  He just looks lost with no endurance when he is not punching someone.
Highlight – Great main event with 5 straight minutes of excellent action.  It ends in a wild scamper that see's Cerrone knockout Yancy Meidoros.  Despite the loss, Yancy is still very good and will be in the title picture within the next 2 years.  As for Cerrone, no doubt about it, that man still has a lot of dynamite left in those fists!

NEO Sports Insiders Newsletter
Sign up to receive our NEOSI newsletter, and keep up to date with all the latest Cleveland sports news.