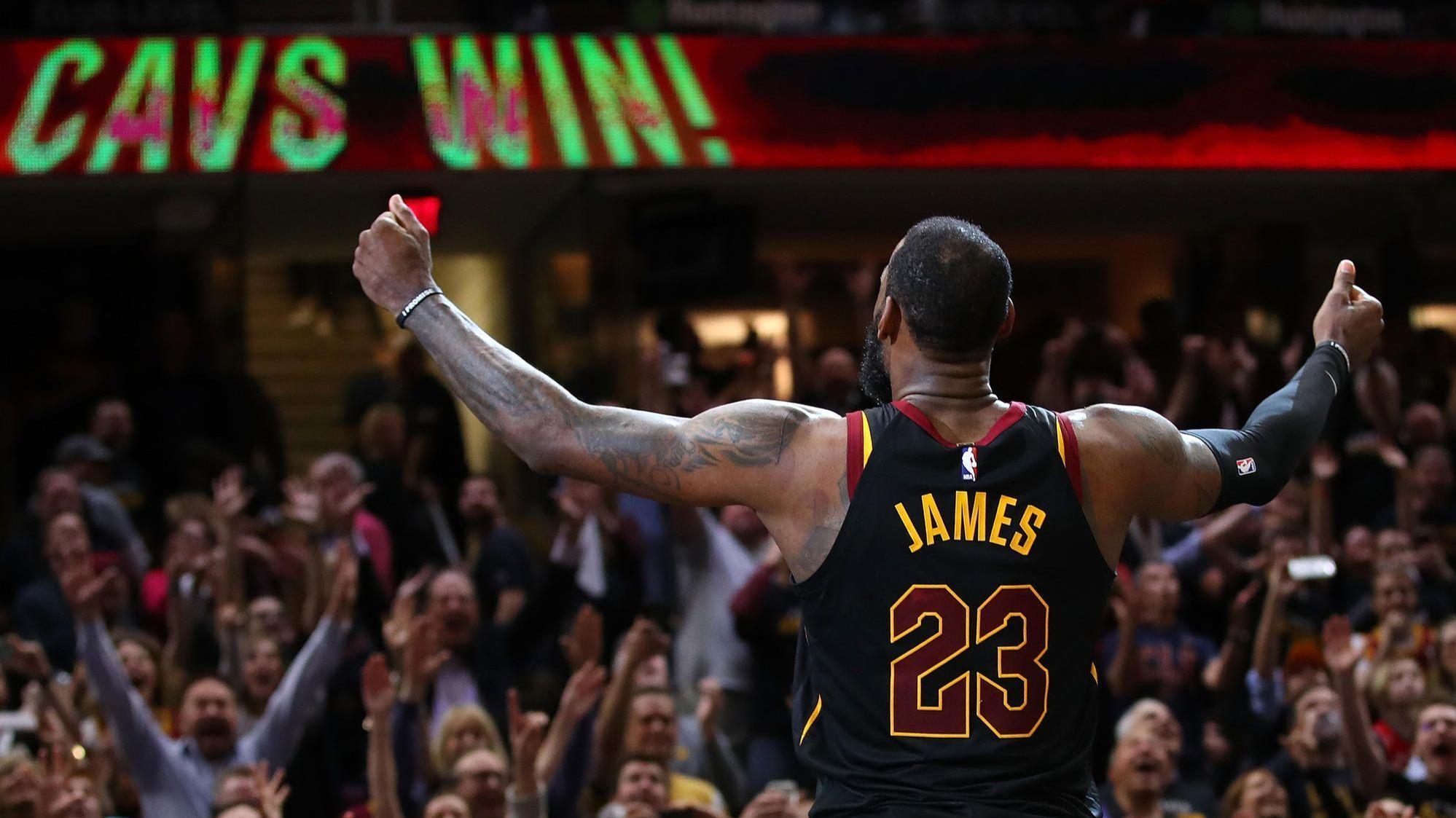 As expected, Northeast Ohio has expressed nothing but gratitude to LeBron James in the 48 hours since he announced his latest decision to take his talents westward to Los Angeles. He's earned it, after fulfilling on his promise to bring a championship to Cleveland.
Truthfully though, James' departure isn't all the rainbows and butterflies thankful fans are making it out to be.
That's not to say it's anywhere near as painful as watching the future Hall of Famer ditch Cleveland on national TV like he did in 2010. (Thank God for 2016) But lauding him as a saint while he walks away yet again, is laughable.
LeBron would be the first to tell you his decision to join the Lakers is about more than basketball. The glitz and glamour of Hollywood were simply too much for the aspiring entrepreneur to pass up.
What's ironic is the kid from Akron who, without a father, survived the slums to reach the pinnacle of basketball, is already bigger than basketball in Northeast Ohio. A diety even, now that he's bestowed this plagued sports city with its first championship in 52 years. Off the court, he's admired for his willingness to give back to the community that raised him, with projects like the I PROMISE school he'll open in Akron later this summer. Then there's the trickle-down economic impact his mere presence brought, as restaurants, bars and hotels reaped the benefits of LeBron-mania each season.
Perhaps to a fault, Northeast Ohioans are more financially and emotionally invested in LeBron James the person than anyone. This is home. He's one of them, which is why his exodus hurts more than anyone is letting on.
The King had it good in Cleveland. And he knows that all too well, considering he took advantage of it.
Look no further than his eagerness to sign a four-year deal with the Lakers immediately, something he so conveniently avoided doing with the Cavaliers these last four years. Not committing long-term here, was a power move by James. Dangling the threat of losing the best player on the planet a second time, ensured that Dan Gilbert would do whatever the four-time MVP asked. That uncertainty had consequences, maybe most notably in driving away Kyrie Irving, who was exhausted by the circus James created.
Ultimately, Gilbert probably could have handled the Kyrie Irving situation much differently last summer – the same can be said for David Griffin's contract negotiations – by making him stick it out through training camp to see if the relationship was tenable. Regardless, James – mighty as he may be – is not without fault.
If there's one thing Gilbert does deserve credit for it's been his willingness to spend well over the cap and pay heft repeater tax fees to remain a title contender. Keep in mind, it was pressure from James that turned the Cavs payroll into the albatross it is right now. That five-year, $82 million deal Tristan Thompson signed in 2015, the one that probably makes you want to smash your head against a wall , yeah, you can thank LeBron for that. On top of James sharing an agent with Thompson, in Rich Paul, he was adamant about locking up the durable center that summer at whatever cost necessary. The same can be said for J.R. Smith's ludicrous four-year, $57-million contract that's on the books for two more years. Yet another gift left behind James so thoughtfully left behind.
For four years, LeBron essentially held the organization hostage, forcing their hand on moves he wanted, draining the team of its assets and creating this mess of a payroll. Like the little boy in the book, The Giving Tree, LeBron took and took and took until there was nothing left to bare. Then he bolted. It's not a coincidence that he followed a similar strategy fleeing Miami four years ago, once they ran out of assets and had maxed out their checkbooks on an aging roster.
There was hope that in Cleveland he'd see things through though. In that famous letter announcing his return home in 2014, James said he, "always believed he'd return to Cleveland to finish my career." Overjoyed by the news of his return, fans ate it up. So much for that, for now anyway.
James was cleverly and cutely able to paint his first departure as "four years away at college, learning how to become a champion." This time around it's not that simple. Yes, it's his prerogative to pursue his lofty business aspirations outside of basketball, while still seeking out a better basketball situation. But you can't ignore the role he had in making the Cavs an undesirable basketball destination to begin with.
In today's cruel business of professional sports, loyalty is hard to find, but for emotionally invested fans, loyalty is everything. After James brought home a title, that's really the only thing Cleveland wanted from him. Loyalty, which is why this second departure is more complicated than it seems.
The championship, of course, stays here and protects James from leaving a pariah like he did in 2010. Filled with memories of from the day The King returned home, the night that championship was won and four consecutive runs to the finals, this golden era of Cavs basketball will always be looked back on with gratitude, as it should.
But ultimately, LeBron's habit of forcing teams to exhaust all their assets, then plotting his exit strategy once the shelves are bare is as much a part of his legacy as his three championships, four MVPs and 14 All-Star nominations. No amount of sappy thank yous and social media tributes can erase the fact that he abandoned his hometown team for a second time, once again leaving things in shambles. Sure, it's the price you pay for doing business with LeBron. There's a Larry O'Brien Trophy to hang your hat on. That doesn't make it any less of a bad look, and deep down it should bother you.
Even if he never won another championship, staying in Cleveland and riding off in the sunset was the perfect Hollywood ending to LeBron's iconic career. Instead, the 33-year-old's final chapter will take place with Hollywood as a backdrop, to the Western Conference where an absolute gauntlet of teams out makes the path to the NBA Finals murky. How will history perceive LeBron coming up short of more rings after chasing greener pastures yet again? This move could do more harm to his legacy than good. Only time will tell.

NEO Sports Insiders Newsletter
Sign up to receive our NEOSI newsletter, and keep up to date with all the latest Cleveland sports news.