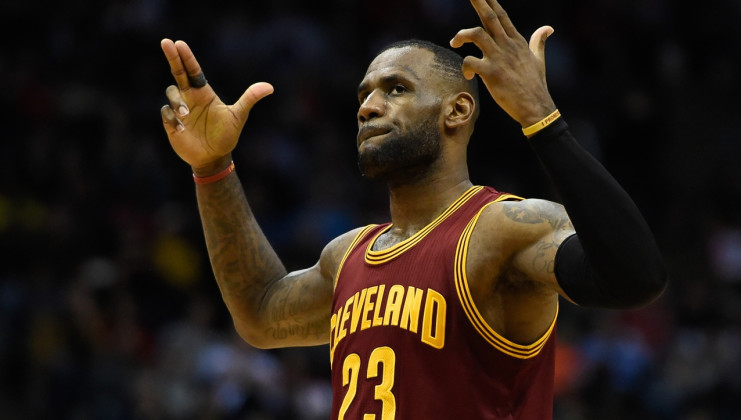 Yesterday, a report spread like wildfire all over the Internet, saying that LeBron James will leave the Cavaliers after the 2017-18 season.
As quickly as it was up, it was refuted by Joe Vardon of cleveland.com
For what it's worth (damn it, I'm on vacation), three sources close to LeBron said this latest tweet about him is 100 percent false

— Joe Vardon (@joevardon) August 16, 2017
All of Cleveland is in for a long year when it comes to LeBron James' impending free agent status, and there is an incredibly high probability that Cleveland will have to endure a high quantity of these reports over the next 11 months.
With all of the drama surrounding the Cavs this off-season, (e.g. letting David Griffin walk, Kyrie Irving's trade request) these rumors are likely to increase in frequency.
Eleven months is an incredibly long time to worry about the future of the Cavs franchise. And as we all have to endure these rumors collectively as a city, everyone would be well-off to remember the following: Anyone claiming to know what LeBron James' next move is, doesn't.
In fact, there is a high probability that even James himself does not have his mind made up.
When James left the Cavs in 2010, and the Miami Heat in 2014, both of those decisions came down to the wire. As executives sat through meetings in Cleveland and Las Vegas, respectively, all were left wondering what James would do.
Both times James' plans were kept under wraps until the actual announcements themselves. Yes, reporters and those around James' orbit had hunches and "sources," but most of the time these were not based in 100 percent truth.
James has a tight knit circle, and there is no way that long-time friend and business partner Maverick Carter, or his agent Rich Paul, are going to leak things to the media a year in advance of his free agent status, if at all.
That is not how his camp operates, and anyone who has followed James' career knows this.
James will make his 2018 intentions known as late as possible, when he wants to. In fact, when he made his return to Clevleand, the Cavs organization was kept in the dark until the last minute, and learned of his intentions just before his "I'm Coming Home" essay was posted by Sports Illustrated.
Now, this isn't to say that there is no chance that James won't leave after this upcoming season. Anytime a player is not locked up in a long-term contract, there is a chance he could leave his current team. However, we are far too early into the process to panic with each rumor.
These rumors will always make news and headlines, because LeBron James' every move will always create news. He has the most potential out of any NBA player to command a news cycle, for better or for worse.
But the bottom line remains this: It is way too early to panic about these rumors, because they remain just that– rumors.
And anyone who claims they know anything about James' long-term plans, doesn't.

NEO Sports Insiders Newsletter
Sign up to receive our NEOSI newsletter, and keep up to date with all the latest Cleveland sports news.