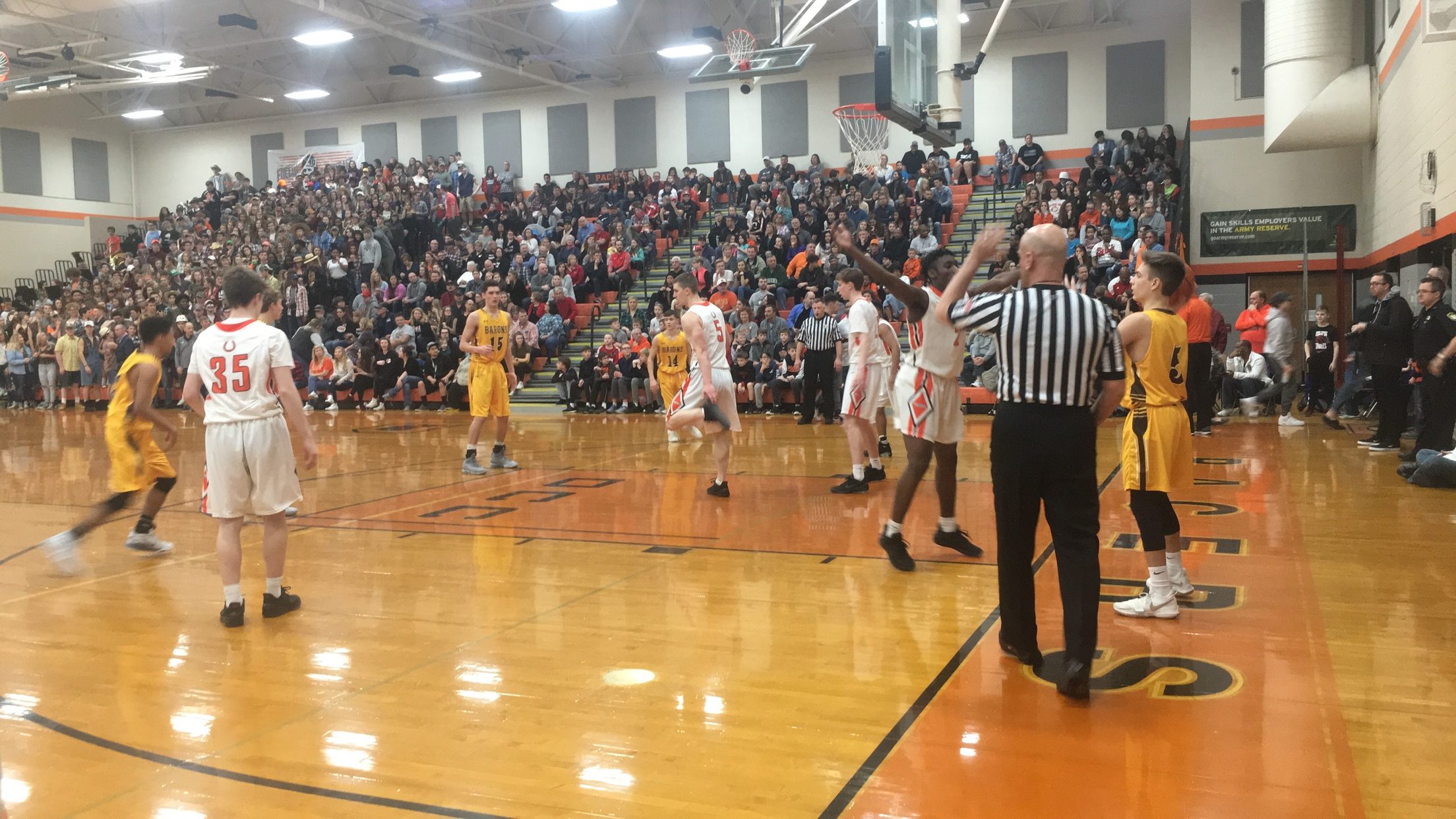 By Logan Kelleher
DELAWARE, OHIO– The first quarter started off with split free throws from Terin Kinsway, and then Dylan Herbert made a three to start for the Barons. The scoring was back and forth right up to the end of the quarter, and it was Ryan Smudz who made a basket to make it 17-13 at the end of the first quarter.
By the end of the quarter, Kinsway, Paul Burris and Terin Kinsway each had four for the Pacers, while Herbert had seven for the Barons.
The second quarter started off with Kinsway making a basket and making two from the line to make it an eight point game, before Max Stokey scored for the Barons.
Herbert continued with his good shooting, getting 10 points in the quarter, putting him at 19 at halftime. Kinsway and Griggs had six and five for the Pacers, to put their scoring totals at 10 and nine.
At halftime, Buckeye Valley only trailed Delaware Hayes by two, with the score 30-28.
Herbert had a quiet third quarter, finishing with two points, but Elijah Jackson and Max Stokey made three three-pointers for the Barons, but Griggs got a confidence boost at halftime.
Griggs had 13 in the quarter, while Kinsway and Burris combined for the other six points in the quarter. The score at the end of three was still in favor of Delaware Hayes, 49-39. Herbert had 21 for the Barons, and Griggs had 22 for the Pacers.
Herbert got back on a role in the fourth, scoring eight to help Buckeye Valley get back into the game, but his efforts, along with his teams, were not enough, as the Pacers held on to win 66-59.
Dylan Herbert led Buckeye Valley with 27 points, and Elijah Jackson added 14. For Delaware Hayes, Nate Griggs led with 28, and Kinsway had 21, along with 13 rebounds.

NEO Sports Insiders Newsletter
Sign up to receive our NEOSI newsletter, and keep up to date with all the latest Cleveland sports news.