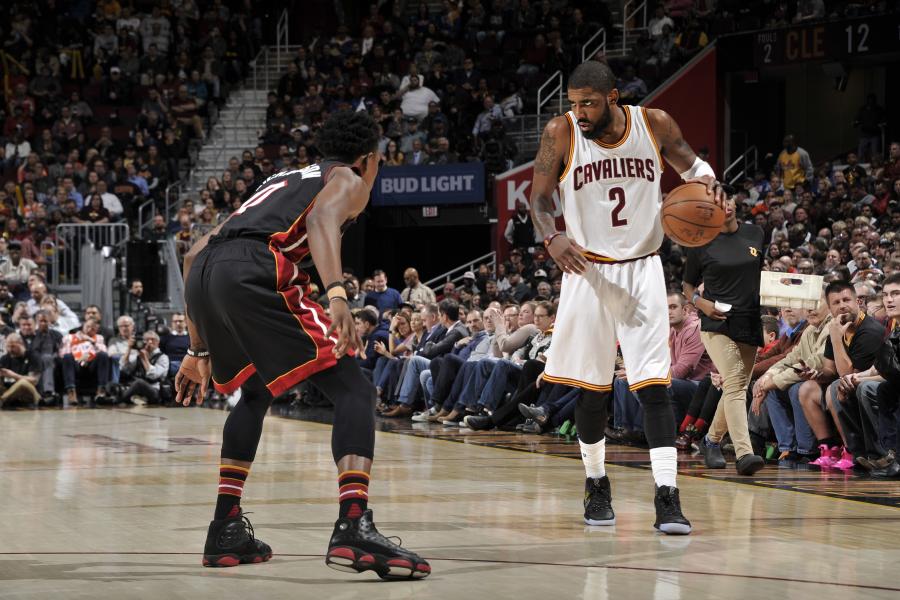 The Miami Heat are refuting report from ESPN's Adrian Wojnarowski, which indicated the Heat were one of at least six teams which made an offer to the Cleveland Cavaliers for Kyrie Irving. Wojnarowski's report noted the Heat were willing to trade Goran Dragic and Justise Winslow.
Miami beat writer Ira Winderman of the Sun Sentinel put out a report a few hours later saying the Heat have "publicly denied" the report and are unwilling to include Winslow in a deal for Irving.
According to a party familiar with the situation, the Cavaliers' current demands exceed what the Heat, and apparently several other teams, believe is feasible in such a transaction.
There are numerous factors working against a Miami-Cleveland deal, which Wojnarowski, Winderman and just about anyone who's followed the relationship between Pat Riley and LeBron James are well aware of.
For starters, the Heat don't have a trade-able first round draft pick until 2023. With the limited assets Miami could offer in a trade, especially considering the news that Winslow is off the table, a first round pick in the near future would have obviously been a better trade chip to throw into an offer.
So far, there have been no indications Miami would trade Hassan Whiteside for Irving. Dragic seems like a more realistic option and his name has been included in reports by Wojnarowski and Zach Lowe as one of the players who could be a "starting point" of a deal. He would be able to play point guard in Cleveland, Irving would take his position in Miami.
However, even if the Heat had the types of assets to package along with Dragic to make a deal worthwhile for Cleveland, the tension between LeBron and Riley would be a significant factor to keep such a trade from happening.
LeBron doesn't want to help Riley. Riley doesn't want to give LeBron anything that helps him either.
Keeping all of this in mind, with teams like Minnesota, Phoenix and others who have deeper pools of assets to choose from, along with star players like Andrew Wiggins and Eric Bledsoe, Miami appears to be a highly unlikely option to land Irving.
It's also worth noting that because Irving mentioned Minnesota as a "preferred landing spot" the Timberwolves could be more willing to offer a significant package than a team like Phoenix, which would have less certainty of re-signing him in 2019.
As of now, Irving's close friendship with Butler would give the Timberwolves a fairly high level of confidence that both players sign extensions to stay long-term.
For Phoenix, it could be a two-year rental and he'd be more likely to enter free-agency than he would be with Minnesota. At least the way things are looking now.
For that reason, the Suns might be less inclined to offer a significant package, like one that included Josh Jackson. The Suns have reportedly made Jackson unavailable in trade talks, but as Dan Gilbert and Koby Altman stated in Wednesday's press conference: "it's a fluid situation," all the way around.

NEO Sports Insiders Newsletter
Sign up to receive our NEOSI newsletter, and keep up to date with all the latest Cleveland sports news.