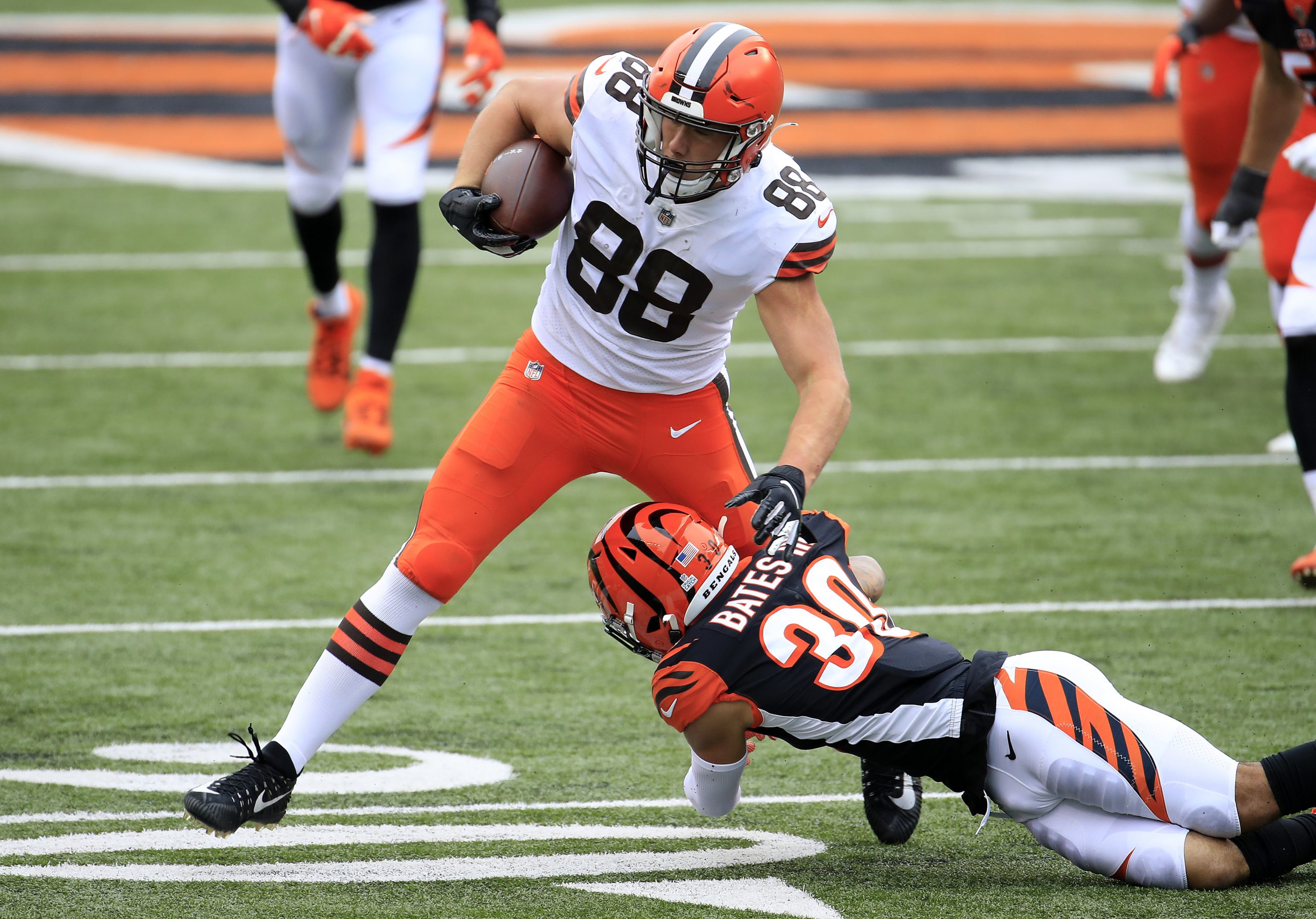 Harrison Bryant gained 13 pounds in the offseason, increasing how he can be useful in the Cleveland Browns offence. Coming from the Florida Atlantic University, the American football tight end has been useful as an H-back and a wing in the rookie season. He might also play in space, pull, shift and block with angles within the formation. That sounds impressive for sports fans, many of who are glad that the FanDuel Sportsbook is finally here for some betting fun ahead of the 2021 NFL season. A well-known operator offering tons of sports and leagues to bet on.
During the season, Bryant had some challenges maintaining his weight and fell seriously ill by the end of the season. The tight end has proven to be a hard transition in the NFL, as it calls for the player to catch passes and run routines while blocking players like J.J Watt, who Bryant faced and tried to block in his rookie season.
Although Bryant had a great rookie season, the tight end position is mentally and physically demanding. Bryant had some critical blocks during the season, recorded 24 passes in 238 yards and touchdowns within 15 games.
Bryant is heading into the second year heavier, but he's confident that he hasn't lost any athleticism as he can potentially prove useful in the offense. The American player often played in the space and H-back, but his increased strength and size make him a viable inline option that can create more situations for him to play and offer his services as a pass-catcher.
Thanks to his length, Bryant is well suited for playing inline, and he has more strength. That enables Bryant, David Njoku and Austin Hooper to play each aspect of the position, says tight end coach Drew Petzing.
Last year, all the three tight ends in the Browns' squad missed games at points, so having Bryant in his current state improves their depth and increases their options when the three are healthy. For instance, Cleveland could choose to attach both Bryant and Hooper on one end of the offensive line and put Njoku out wide to get a strong look for the run and pass.
With Stephen Carlson, Cleveland appears set on the tight end this season, and they might keep Conor Davis on their practice squad because his length and size make him a lightweight tackle. Nonetheless, Bryant's strength makes the group better and competitive than ever.
Depending on the training camp's day, the tight ends pecking order might vary. Hooper is the number one option, but Bryant and Njoku excelled in the Brown and Orange scrimmage on Saturday. However, that might change the day Hooper stands out above the two. There is a slight difference in athleticism, but Cleveland's tight end groups are talented and interchangeable.
If Bryant can build on his rookie season to become a well-rounded threat this year, Cleveland will be in great shape this season and the future. Regardless of how Cleveland handles Hooper's contract and Njoku's free agency, Bryant's rookie deal doesn't expire until the end of the 2023 season, making him a vulnerable player.
The wide receiver position shows that the Browns should use more personnel groups with three or more playing at a time. The tight-end group with the bulked Harrison Bryant continues making a compelling case for continuing to use a considerable amount of several tight end formations.
The preseason is almost over! Follow Browns odds and try online NFL betting today at BetRivers online sportsbook.

NEO Sports Insiders Newsletter
Sign up to receive our NEOSI newsletter, and keep up to date with all the latest Cleveland sports news.