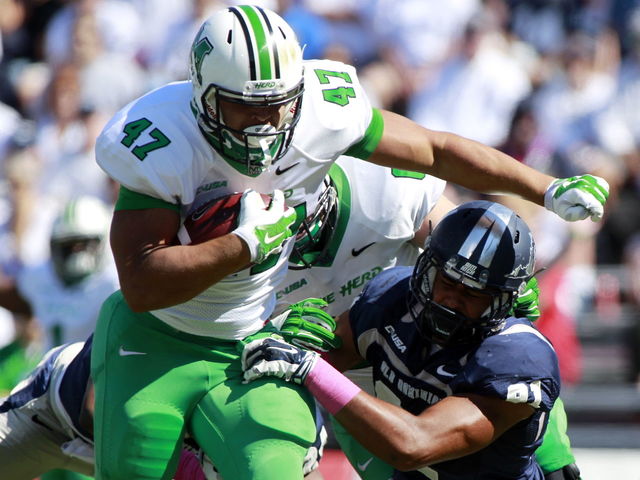 "We've got to control the line of scrimmage, get to the second level. They've shown a lot of different looks on defense and we've got to be able to manage and identify those looks. The think they do most is use different personnel to throw you different looks so it's about identifying odd, even and the looks they give us."
Though the line is on the smallish side, bruising running back Devon Johnson makes up for some of the size. A converted tight end, Johnson is 6-1 and weighs 244 pounds. He rushed for 1,767 yards last season with 19 touchdowns, averaging 8.58 yards per carry.
This season he has carried the ball 54 times for 381 yards and three touchdowns.
Johnson is a big fan of the Golden Flashes' defense.
"I'm going to try to run like I do every game," he said. "They have a great defense, and just seeing that, the way they run, fly around and make plays…it's fun to watch their defense go at it on film.
"They make plays. They fly around and their linebacker corps is very athletic and they're going to hit you. They're downhill and side-to-side. Most teams we've faced so far are either just downhill great or side-to-side and they do it very well. They attack the run and defend the pass equally well.
"As a running back I will have to put my foot in the ground and get north as quickly as possible. That's our main goal as a running back unit…to play fast and get upfield as fast as we can."
The player handing the ball to Johnson remains a question. Junior Michael Birdsong and true freshman Chase Litton are both listed as possible starters on Marshall's depth chart. Birdsong, a transfer from James Madison, was lost his job to Litton after a difficult 21-10 road loss to Ohio University in which he completed just 16 of 33 passes for 106 yards with no touchdowns and two interceptions. He also lost a fumble.
Litton, a highly-touted 6-foot-6, 207 pounder from the Wharton School in Tampa, Florida, was impressive in his debut against Norfolk State, completing 24 of 31 passes for 270 yards and four touchdowns and no interceptions in the Thundering Herd's 45-7 victory.
No matter who takes the snaps for Marshall, Haynes knows his defense will have its hands full.
"Even more than Illinois, I feel like this is a more challenging offense for our defense," Haynes said. "We're going to have to have a bunch of guys step up their game and make a bunch of plays.
"You watch what they did last week and it was all the same. They get the ball out so fast that it's tough to get a lot of pressure on them at times. Regardless of who is playing quarterback, we've got to do what we do. We're going to find out the best game plan we can possibly have. They have threats on the outside and have a very good running back. That's why they're so good."
Kent's offense, on the other hand, has been abysmal this season. The numbers don't lie, and the story they tell could mean trouble this weekend if things don't change.
Kent is last in the MAC in points per game (18.3), total yards per game (293), third down efficiency (10 of 51, 19.6 percent) and red zone offense (five scores in eight trips).
Haynes thinks a lot of Kent's problems on offense are self-inflicted.
"I feel good about the offensive line," he said. "There are some individuals getting better. What's been hurting our offense is penalties. Our first two drives (at Minnesota) we were doing a good job of moving the football and had a couple of plays…we were at the 45 and had penalties that took us back to the 19.
"We're killing ourselves with sack yardage and penalties.
"The struggles we've had have been self-inflicted. Penalties have killed us and those are the hidden yards you can't get back. We can't overcome first-and-25."
The game kicks off at 3:30. The Golden Flashes begin conference play Oct. 3, hosting Miami (Ohio). Marshall returns home Oct. 3 to host Old Dominion.

NEO Sports Insiders Newsletter
Sign up to receive our NEOSI newsletter, and keep up to date with all the latest Cleveland sports news.