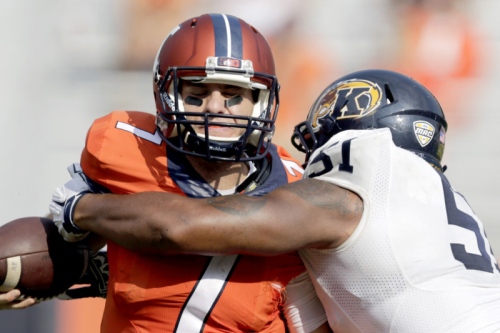 Every NFL season, as the teams break camp, there are almost 100 former Mid-American Conference football players that survived final cuts and are getting ready for opening weekend. The list of former MAC players currently playing with the big boys is extensive and distinguished…here is just a sample of NFL players either drafted or signed out of the MAC:
Pittsburgh Steelers quarterback Ben Roethlisberger (Miami) and wide receiver Antonio Brown (Central Michigan), New England Patriots slot receiver Julian Edelman (Kent State), Cleveland Browns receiver Andrew Hawkins (Toledo) and San Diego Chargers tight end and future hall of famer Antonio Gates (Kent State) all played college football in the Mid-American Conference.
Some others: Brandon Marshall (Central Florida), Ahmad Bradshaw (Marshall), Greg Jennings (Western Michigan) and Khalil Mack (Buffalo).
In 2014 the MAC had two players selected in the first round…Mack out of Buffalo went fifth overall to the Raiders (we saw what he can do this weekend against the Browns) and strong safety Jimmie Ward (Northern Illinois), who was selected 30th by the San Francisco 49ers.
With the 2015 NCAA football season at the quarter pole, here is a look at some of the NFL prospects in the Mid-American Conference, focusing on those that have significantly helped their NFL stock this year.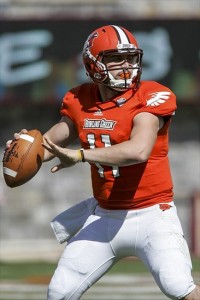 Matt Johnson, QB, RS-Sr., Bowling Green (6-0, 219 from Harrisburg, Pennsylvania)
Johnson has torn up college football this season, making up for the time he lost last season when a hip injury wiped out his entire season. It should come as no surprise Johnson is on a record-setting pace in college…he rewrote the record books at Bishop McDivett High School in his prep career, throwing for 7,944 yards and 85 touchdowns in his career.
Johnson leads the nation in a number of passing categories, including attempts (207), completions (134), yards (1,760) and passing yards per game (440). His 13 touchdown passes is fourth-most in the country.
Johnson has a big arm, solid pocket presence and is mobile (his 116 rushing yards is third on the team). This season Johnson is the only quarterback in the country to eclipse 400-plus yards passing in all four games he started.
Why he will get drafted: Johnson has a strong arm and does not shy away from the moment. He has engineered road wins over Power Five conference opponents Purdue and Maryland and had a strong showing against Tennessee in Neyland Stadium, albeit in a 29-point Bowling Green loss. A team leader, Johnson has the respect of his teammates who have bought in to the Falcons' offense with him at the helm.
Working against him: At just 6-feet tall (possibly shorter…the official combine measurement will tell the truth), Johnson is not your prototypical quarterback. NFL talent evaluators salivate over quarterbacks that are 6-6, 240 or bigger. Cardale Jones at Ohio State will get drafted on his size alone, as will Utah's Travis Wilson who, at 6-7, 233, is rocketing up draft boards despite throwing for just 171 yards per game and three touchdowns in three starts this season.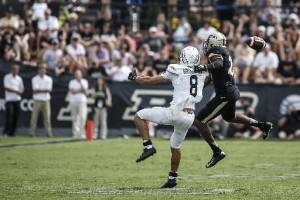 Daniel Braverman, WR, Jr., Western Michigan (5-10, 177 from Mirimar, Florida)
Braverman has great hands and can fly, once carding a 4.30 40-yard dash in high school. A member of the University High School track team in Broward County, Braverman also clocked a sizzling 10.6 in the 100m dash.
A dual threat receiver, Braverman is a precise route-runner that is a possession receiver as well as a deep threat. He has grabbed 50 passes through four games this season, racking up 521 receiving yards (fourth in the nation) and four touchdowns. Braverman probably has the best hands in the conference.
Why he will get drafted: Braverman is the kind of player that coaches love…a hard worker that can contribute within the framework of the offense as well as on special teams. Braverman can return kickoffs and punts and, during his freshman and sophomore seasons, spent some time as one of the gunners on the Broncos' punt team. Braverman is versatile, talented and (most important) fast.
Working against him: Size. Generously listed at 5-10 and 177 pounds, Braverman doesn't cut a very imposing figure in pads. The thing is, he looks physically unimpressive as he flies past you and makes a play. One of the nation's best-kept secrets.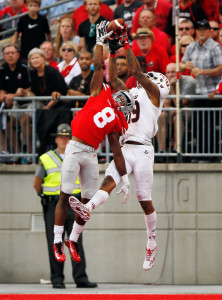 Kenny Golladay, WR, RS-Jr., Northern Illinois (6-4, 205)
Golladay is the anti-Braverman. He looks great in pads but is not blessed with above-average speed. A massive receiver that looks bigger than his listed size, Golladay transferred to Northern Illinois after two seasons at North Dakota. He earned Big Sky honorable mention honors last season and, in two years with the Fighting Sioux, caught 98 passes for 1,313 yards and nine touchdowns. He leads the Huskies this season with 22 catches for 383 yards, but has disappeared against Northern Illinois' big-time opponents. Caught just three passes for 19 yards against Ohio State and just two for seven yards against Boston College. In the Ohio State game, sophomore cornerback Eli Apple played him very physically and shut him down.
Why he will get drafted: Golladay looks big in pads, has very good hands, long arms and does not shy away from contact. He's a receiver that will go over the middle and secure the football while absorbing the hit. Like the old saying goes, "You can't teach size." Golladay has it and knows how to use it.
Working against him: Speed and quickness. Golladay, though not slow, is not blessed with elite speed. He also is a bit of a truck…meaning it takes him too long to reach top speed. He doesn't have the burst you would like to see from a receiver. While that is correctible it means he may have to spend a year on a practice squad. He also does not play special teams, one of the easiest ways for big, physical players to make NFL rosters.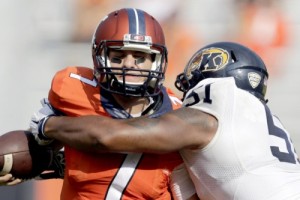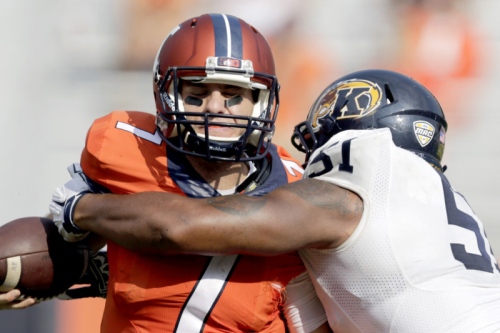 Terence Waugh, DT, Jr., Kent State (6-1, 262 from Atlanta)
Waugh has come out of nowhere to sit second in the nation in sacks after four games. His three against Marshall in Week Four give him 6.5 this season. Waugh is a high-energy pass rusher that uses leverage and speed about as well as possible for a defensive tackle. Against the Thundering Herd, two of his three sacks came against redshirt senior tackle Clint Van Horn, a 6-5, 322-pound Conference USA first team candidate. Waugh simply does not give up on a play…he goes until he hears the whistle.
Why he will get drafted: Waugh is the kind of instinctual, high-energy defensive players that can be disruptive. He has all the moves a pass rusher could want…and has a knack for finding the quarterback. This season he has gone against among the best offensive linemen in Conference USA and the Big Ten and has more than held his own.
Working against him: Waugh is too small to play defensive line in the NFL. He will have to learn how to come out of a two-point stance and there are players that struggle when they are stood up. Waugh also is not much of a run-stuffer. A defensive lineman in the NFL has to eat up blocks to allow his linebackers to make plays…something I don't see happening for Waugh at this point. If he can add about 30 pounds of muscle while losing none of his quickness Waugh could play his current position in the NFL. If not he will have to adjust to being either an inside linebacker if he wants to be a three-down player or a pass rush specialist.
Others to watch as the season progresses: Cooper Rush, Jr. QB (Central Michigan); Roger Lewis, So. WR (Bowling Green); Jatavis Brown, Sr. LB (Akron), Shawun Lurry, So. CB (Northern Illinois), Boise Ross, So. CB (Buffalo); Darius Phillips, So. CB (Western Michigan); Kareem Hunt, Jr. RB (Toledo); Blake Frohnapfel, Sr. QB (UMass); Jarvion Franklin, So. RB (Western Michigan); Paris Logan, RS-Sr., CB (Northern Illinois).

NEO Sports Insiders Newsletter
Sign up to receive our NEOSI newsletter, and keep up to date with all the latest Cleveland sports news.