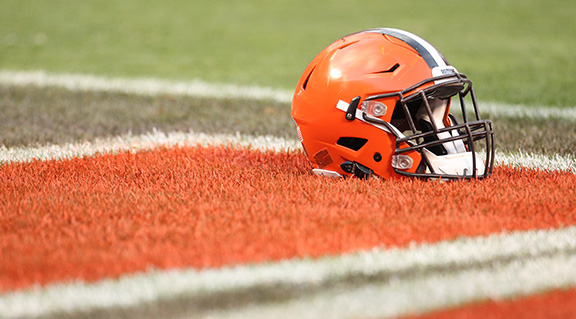 With two preseason games in the books, the Browns roster continues to take shape. This year's preseason doesn't  feature the highly-touted position battles of the past, which in retrospect is a breathe of fresh air for the long-plagued franchise.
Still, there are notable competitions at right guard, left-side cornerback and kicker. Those battles and others for key backup and special teams roles will continue to sort themselves out over the next two weeks, before the required roster cutdown day on August 31.
Based on what we've seen so far though, here is a halfway through the preseason, 53-man roster prediction:
Quarterback (3)
Baker Mayfield, Drew Stanton, Garrett Gilbert
Cut: David Blough
I'm convinced Freddie Kitchens is keeping three quarterbacks. His comments about losing both quarterbacks on the roster during his time with the Cardinals certainly would suggest he wants to avoid that here in Cleveland. A wise move for a guy in his first year as a head coach. Kitchens has already established that Stanton is the team's primary backup and Gilbert has been a nice surprise coming from the now disband AAF. Blough is the weak link of the group.
Running Back (3)
Nick Chubb, Dontrell Hillard, D'Ernest Johnson
Suspended: Kareem Hunt (8 games)
Cut: A.J. Ouellette, Trayone Gray, Joe Kerridge
Had they kept Duke Johnson, the Browns would be faced with an interesting dilemma with their running back room. The emergence of Dontrell Hillard made moving on from Johnson an easier pill to swallow. Then came D'Ernest Johnson over the weekend averaging 5.3 yards per carry on the ground while catching three passes for 26 yards and a touchdown. Those two should be able to hold down the fort behind Nick Chubb until Kareem Hunt returns from his suspension in Week Eight. Don't be surprised if John Dorsey looks to add a fourth running back though, especially with the uncertainty of Hunt staying out of trouble to consider.
Wide Receiver (5)
Odell Beckham Jr., Jarvis Landry, Rashard Higgins, Jalen Strong, Derrick Willies
Suspended: Antonio Callaway (4 games)
Cut: Ishmael Hyman, Dorian Baker, Damion Ratley, Damon Sheehy-Guiseppi, D.J. Montgomery
There's a case to be made that wide receiver is the Browns deepest position group right now. Deciding who deserves those fourth, fifth and possibly even sixth spots on the depth chart won't be easy. With Antonio Callaway set to serve a four-game suspension, it may open the door for someone who was on the bubble originally. The way things sit currently, I think solid preseason performances from Jalen Strong and Derrick Willies make them the two likely candidates. Don't sleep on Ishmael Hyman though, who could be the sixth man at wideout to make the roster should they decide to keep that many. Hyman could be solid special teams contributor. Unfortunately for Damon Sheehy-Guiseppi (incredible as his story is) he's on the outside looking in right now. Granted I think he's an obvious practice squad option.
Tight End (3)
David Njoku, Demetrius Harris, Rico Gathers
Cut: Seth Devalve, Pharaoh Brown, Stephen Carlson, Mik'Quan Deane
The first two are no brainers. The third tight end role is more complicated. Ultimately, I think it comes down to availability here and despite Seth Devalve having some great upside, the Browns can't keep waiting around for him to finally stay healthy. I'm giving the nod to Rico Gathers for now.
Offensive Line (9)
Greg Robinson, Joel Bitonio, JC Tretter, Eric Kush, Chris Hubbard, Drew Forbes, Austin Corbett, Kyle Kalis, Kendall Lamm
Cut: Willie Wright, Bryan Witzmann, Brad Seaton, Travis Vornkahl, Brian Fineanganofo
Offensive line depth is a huge issue for the Browns already so keeping their roster equipped with nine bodies there seems likely. The starters seem pretty settled at this point, with Eric Kush slated as right guard consistently. Disappointing as Austin Corbett has been, his versatility in playing any of the interior offensive line spots saves him for now. The tackle spots are probably the two weakest so keeping both Drew Forbes and Kendall Lamm makes sense as well. Expect John Dorsey to scour free agency the weekend of roster cut-down to look for depth upgrades too.
Defensive End (5) 
Myles Garrett, Olivier Vernon, Anthony Zettel, Chris Smith, Chad Thomas
Cut: Wyatt Ray, Jarrell Owens
Again, another position that seems pretty self explanatory. Chad Thomas is the one questionable name I have making the team. He seems to be testing his patience with the Browns brass but is only in his second season. Giving up on a third-round pick so soon seems kind of abrupt. Also, Thomas is a versatile option to have on the D-line. Same goes for Zettel, who can play both inside and outside.
Defensive Tackle (4)
Larry Ogunjobi, Sheldon Richardson, Trevon Conley, Devaroe Lawrence
Cut: Brian Price, Brandin Bryant, Carl Davis, Daniel Ekuale,
Having depth at defensive tackle is so important and the combined groups at defensive end and defensive tackle give the Browns plenty of depth and versatility. Carl Davis is one dimensional so I gave guys like Zettel and Thomas the nod over him here. D-line went from one of the Browns weaker position groups in 2018, to arguably it's strongest in 2019.
Linebacker (7)
Joe Schobert, Mack Wilson, Sione Takitaki, Christian Kirksey, Genard Avery, Ray-Ray Armstrong, Adarius Taylor
Cut: Willie Harvey, Anthony Stubbs, Dedrick Young III
From one of the strongest areas on the roster to one of the weakest. Even with the potential of rookies Mack Wilson and Sione Takitaki behind starters Joe Schobert, Christian Kirksey and Genard Avery, the Browns linebacker room lacks depth and experience. Adarius Taylor was added this offseason in free agency and feels like a safe bet to make the team. while Ray-Ray Armstrong serves as the most experienced member of the group. Could also see Willie Harvey potentially make this team as the seventh backer, if for nothing else for a role on special teams. At the very least he'll be a practice squad guy.
Cornerback (6) 
Denzel Ward, Greedy Williams, Terrance Mitchell, T.J. Carrie, Phillip Gaines, Donnie Lewis Jr.
Cut: Jhavonte Dean, Robert Jackson, Lenzy Pipkins, Tavierre Thomas
Denzel Ward, Terrance Mitchell, Greedy Williams and T.J. Carrie seem like pretty obvious locks. The Browns could ultimately opted to only carry five corners but in today's NFL where defensive sub-packages reign supreme carrying six is smarter. For me, the last two spots went to six-year veteran Phillip Gaines and seventh rounder Donnie Lewis Jr.
Safety (5)
Damarious Randall, Morgan Burnett, Eric Murray, Sheldrick Redwine, Jermaine Whitehead
Cut: Juston Burris, J.T. Hassell, Tigie Sankoh
11 defensive backs is one too many than teams normally carry, so the Browns may instead retain 10 DBs and opt for keeping another running back or wide receiver in stead. But the five safeties I have making the roster are all guys who could contribute. Damarious Randall and Mordan Burnett are the expected starters. Eric Murray was signed this offseason to serve as the primary backup to Randall, while Sheldrick Redwine was a fourth-round pick with some potential. Just making the cut is Jermaine Whitehead who survives because of scheme since Steve Wilkes likes using a hybrid safety/linebacker in his sub-packages.
Kicker (1)
Greg Joseph
Cut: Austin Seibert
Do I have to pick? Greg Joseph and Austin Seibert have both had an abysmal training camp and preseason. Joseph has been slightly better (I guess) so based on the guys on the roster I'm saying he makes the team, but ultimately I think the Browns find a kicker elsewhere and neither of these guys are in Cleveland by Week One.
Punter (1)
Britton Colquitt
Cut: Jamie Gillan
Sorry, Scottish-Hammer. Freddie Kitchens wasn't impressed with his 74-yard punt over the weekend. This job is Colquitt's to lose.
Long-snapper (1)
Charlie Hughlett
Who else is gonna do it?

NEO Sports Insiders Newsletter
Sign up to receive our NEOSI newsletter, and keep up to date with all the latest Cleveland sports news.