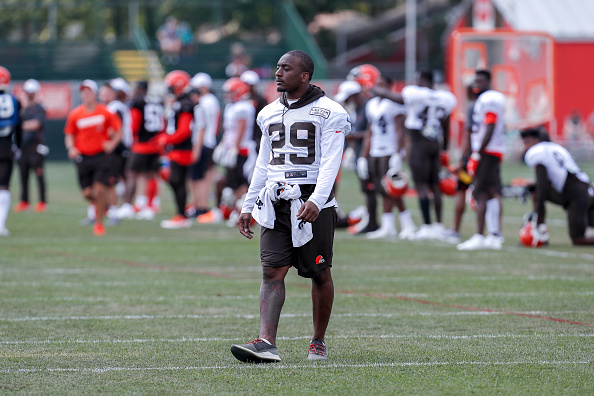 The standoff between Duke Johnson Jr. and the Cleveland Browns came to a sooner than expected end on Thursday. Hours before the team took the field for their first preseason contest, general manager John Dorsey swung a deal with the Texans to send the unhappy running back to Houston in exchange for a 2020 fourth-round pick that could become a third rounder.
It was a somewhat surprising move considering Dorsey himself had reiterated for weeks that Johnson was an important part of the team.
In the end, the 25-year-old's very public trade request was too much for the Browns brass to ignore and Dorsey held out long enough to get what he saw as fair value for Johnson in return. While head coach Freddie Kitchens admitted he hates losing good football players, he defended his GM.
"Duke was a good football player, he is a good football players," Kitchens said. "It's hard to let good football players go but we did what was best for the organization. What John [Dorsey] did felt like what we needed to do. It truly did. Duke was drafted in the third round so it was a good opportunity to help us out down the road in the future. We wish Duke nothing but the best."
Before being shipped to Houston, Johnson had drawn some err form fans after injuring his hamstring and sitting out the majority of training camp practices. The situation raised questions over whether or not Johnson was actually injured or just playing up the injury as part of a larger scheme to force his way out of Cleveland. Kitchens was quick to shoot down that conspiracy theory.
"Do not question Duke's professionalism. Duke had a pulled hamstring," Kitchens asserted. "As an organization, you do not want him come back on a pulled hamstring and he pulls it again he is out for a month. We were trying to get him ready for the season. We were not trying to get him ready to play tonight."
Regardless, with Johnson out of the picture the Browns turn their attention toward finding Johnson's replacement. With that eight-game suspension looming for Kareem Hunt come August 31, it's a role with immense importance from a depth standpoint behind top runner Nick Chubb.
Kitchens has the rest of the preseason to figure out who will fill those shoes. Based on Thursday night, Dontrell Hillard is the current favorite and he even received Kitchens' endorsement.
"I do like him to fill that role," Kitchens said of the rookie.
Hillard finished the night with nine carries for 19 yards, while hauling in three passes for 34 yards. That included a 14 yard reception with the first team offense on the opening drive of the game. Still, a fumble on the goal line and a costly holding penalty made for a disappointing night by Hillard overall.

NEO Sports Insiders Newsletter
Sign up to receive our NEOSI newsletter, and keep up to date with all the latest Cleveland sports news.