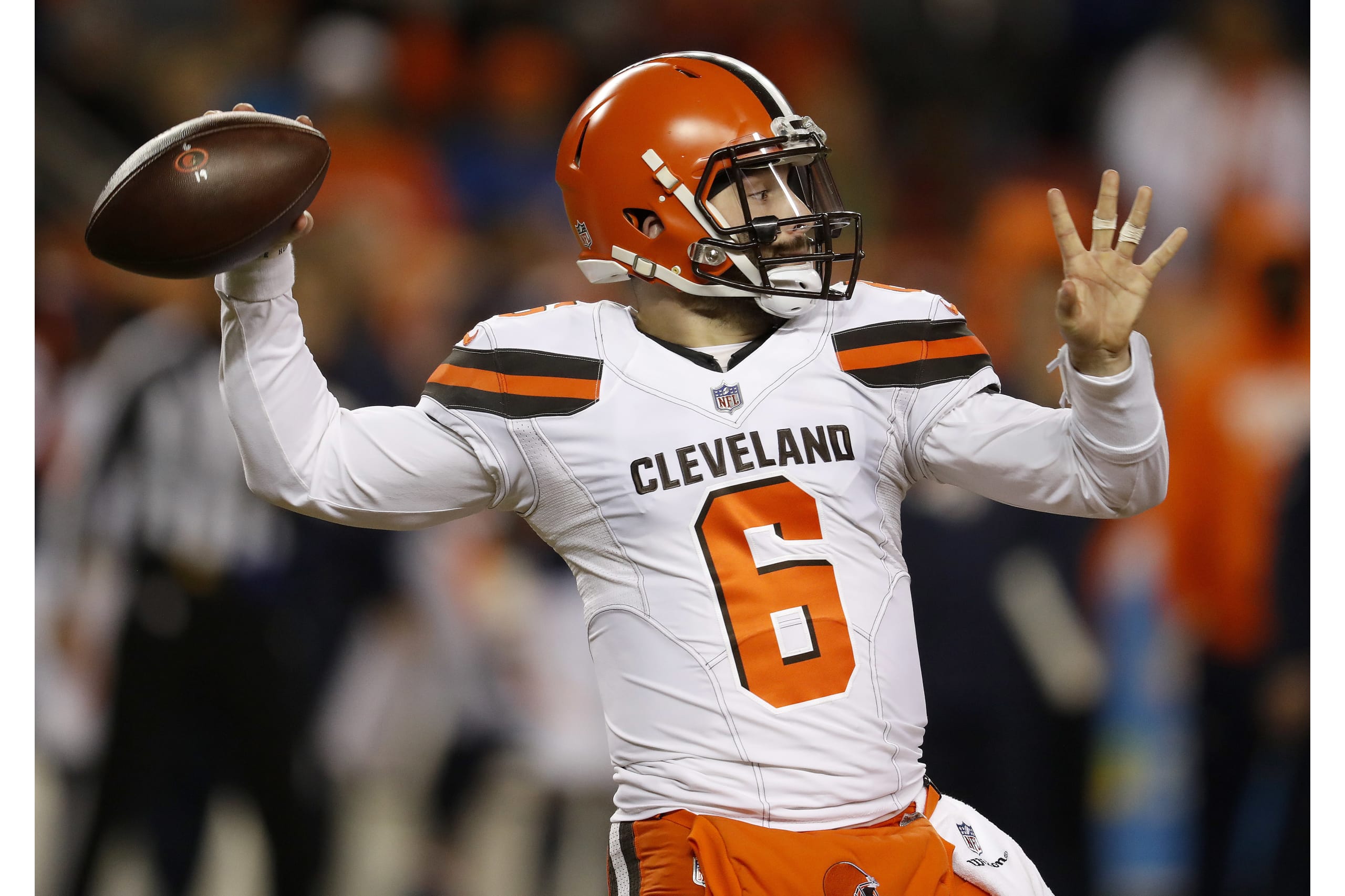 It didn't technically count, but the first rehearsal of Browns football at First Energy Stadium was a good one for the fans in attendance. They even got to see most of the starters for a series.
Highlighted by scoring plays in all three phases of the game, the Browns easily handled the Redskins 30-10 in their preseason opener. From a wild opening drive, rookies shining and position battles sorting themselves out here was plenty to see on the field Thursday night.
Here are five takeaways from the first game of the preseason:
1) That was quick
Generally, pro sports teams save the fireworks for after the game. Not the Browns though. Their firework show came on the first drive of the game. Not only did the offense come out with the majority of its starters – only Jarvis Landry and Odell Beckham Jr. stayed on the sideline – but Baker Mayfield and company made quick work of their one series of action, moving the ball 89 yards in seven plays for a touchdown. The drive actually started with an incompletion, before the Browns picked up four straight first downs, then a 24-yard strike from Mayfield to Rashard Higgins for a touchdown. The sequence went: 11-yard pass, 14-yard pass to Nick Chubb, a 12-yard run by Chubb, another 14-yard pass to Chubb, a third straight 14-yard pass (this time to Dontrell Hillard) and finally the TD pass to Higgins. They did all that in just 2:13 seconds as Freddie Kitchens used the drive as a mock two-minute drill. And remember, they did it all WITHOUT Landry and Odell Beckham Jr. It was just a small taste of how electric this offense can be.
.@bakermayfield makes quick work 😳

Mayfield to Higgins for SIX!#WASvsCLE pic.twitter.com/382STt7TXk

— Cleveland Browns (@Browns) August 8, 2019
2) Pick-six machine
If rookie Mack Wilson gets his hands on an interception you might as well book him a reservation for the end zone. Wilson had three straight practices with a pick-six over the last week and he went ahead and did it in his first NFL game. His 40-yard pick-six of fellow rookie Dwayne Haskins is a sign that the fifth-round pick is picking things up at the NFL level. Just in case you weren't convinced though, he went ahead and picked Haskins a second time in the fourth quarter. Wilson continues to impress and looks like an absolute steal for the Browns. It's a travesty that this guy was still around in the fifth round. The two picks were obvious the highlights of his night, but Wilson played well into the fourth quarter and stuck his head in on several other plays throughout the game. He finished with three tackles.
To.
The.
House.@5mackwilson1 with the pick-6! pic.twitter.com/49ARjVj5dG

— Cleveland Browns (@Browns) August 9, 2019
3) The kick is…

The kicking competition between Greg Joseph and Austin Seibert is one of the most concerning position battles of camp so far. Neither kicker has shown any kind of consistency. Joseph though has been slightly better. The competition continued into the first preseason game as Freddie Kitchens had the duo alternate kicks. Joseph received the only field goal attempt of the night and nailed the 43-yarder. Unfortunately, he ended the night on a bad note as he clanked his second extra-point attempt off the left upright. Rookie Austin Seibert meanwhile was two-for-two on his extra-point attempts. That shouldn't be overlooked cause missing PATs is a no-no and Joseph had issues with that last year. Still, without Seibert attempting a field goal this one remains too close to call for now.
4) Stock rising, stock falling

Damon Sheehy-Guiseppi. Get familiar with that name cause the speedy, rookie wideout showed off his 4.38-forty speed on an 86-yard punt return touchdown in the fourth quarter. The Browns have been plagued by bad special teams play for years and are in need of a reliable returner. Sheehy-Guiseppi took a big step toward potentially being that guy with his big play.

In April, Damon Sheehy-Guiseppi was sleeping outside and had to talk his way into a workout with the @Browns …

Tonight, he scored a TD in his first #NFLPreseason game and his teammates were hyped 🧡 (via @thecheckdown)pic.twitter.com/CO6R5vnktl

— ESPN (@espn) August 9, 2019
While one rookie saw his stock rise, another saw it fall. No one served to benefit more from the Duke Johnson trade with Houston than Dontrell Hillard, but his first chance to showcase his talent on the big stage was pretty lackluster. A fumble on the goal line late in the first quarter and an ill-advised holding penalty that pushed the Browns out of field goal range just before halftime were the two lowlights of his performance. On the bright side he did see the bulk of the work at running back, playing well into the fourth quarter. That said, his 2.1 ypc average was nothing to write home about. He did play with the ones on the opening series of the game, catching a pass from Mayfield, and finishing with three total receptions for 34 yards. Hillard certainly still has time to prove himself and in fairness, he has looked good throughout most of camp. That said, in the aftermath of the Duke Johnson trade the Browns probably wanted to see more from him.
5) Kush-it real good

As the old saying goes, actions speak louder than words. And while Freddie Kitchens may continue to say the starting right guard position is still a "fluid situation," it's becoming pretty apparent that there's a favorite for the job. Eric Kush has obviously surged ahead of Austin Corbett in that position battle. In fact, not only was Kush the first man up at right guard with the ones, he stayed at right guard for several series with the twos. Meanwhile, as Kush continued to get reps at right guard, Corbett took the field right next to him at center with the second team. That's pretty telling. Kush is the leader in the clubhouse and it looks like he's starting to pull away. That should be a welcomed signed for Browns fans as one key position battle seems to be sorting itself out. On the flip side, Corbett is starting to look like a rare botched draft selection by John Dorsey. Can't hit on them all, I guess.
What's Next: No rest for the weary. The Browns are right back at it tomorrow in Berea for Day 12 of training camp. They'll practice again Saturday and Monday before heading to Westfield, Ind. for a pair of  joint practices with the Colts on Wednesday and Thursday.

NEO Sports Insiders Newsletter
Sign up to receive our NEOSI newsletter, and keep up to date with all the latest Cleveland sports news.