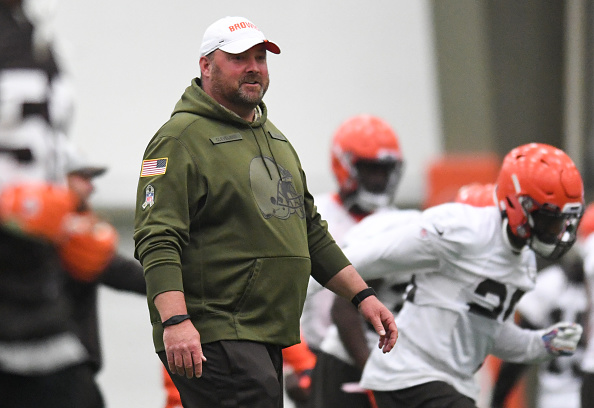 "We go till we get it right."
This was Freddie Kitchens' response when asked if yesterday's training camp session – his first as head coach of the Cleveland Browns – went on a bit too long.
To be fair, there was reason to question the length of practice. After all, Kitchens had his team work for a little over two hours Thursday. It'd be understandable for the team's first day back to be a bit shorter, especially after a lengthy hiatus.
Kitchens took a different route, insisting he plans on pushing his team right from the get-go. His aforementioned explanation for doing so hammers home the fact that, so far, he's taking the right approach when it comes to getting this Browns team in shape.
This especially important when you remember what we witnessed at this time last year.
When former coach Hue Jackson opened camp last summer, he did so with a much more laid back method than what we've seen from Kitchens so far. His first day was about an hour shorter, as he utilized an overly cautious approach to ensure his players avoided soft tissue injuries. Eventually, this evolved into Jackson giving off days to anyone who exhibited so much as a hang nail.
If you'll recall, Kitchens was one of the coaches on Jackson's staff who tried convincing him to toughen up his tactics. He was then infamously reminded who "drives this bus."
In Jackson's defense, this approach helped in terms of avoiding key injuries before the season started. What it didn't help with was general preparation.
The end result of Jackson's training camp was a team which, at very crucial points of the season, appeared woefully unprepared. Even worse, nobody on the team looked like they knew how to tackle.
This is one of the key reasons why Kitchens' first day of camp came as a breath of fresh air. The days of marshmallow soft practices needed to be a thing of the past, if only to ensure we don't see the same mistakes from the past few seasons.
Not only will Kitchens' stricter approach to practice eliminate the numerous miscues we saw from last year's team, it'll also help when it comes to one of the biggest hurdles the Browns are facing this year.
The hype surrounding Cleveland ahead of this season is impossible to ignore. Just about 19 months after this team failed to win a single game, it's now become the trendy pick to win the AFC North. Some are even uttering the words "Super Bowl" when it comes to the Browns this season.
As exciting as this is for the NFL's resident punching bag, it's also extremely dangerous. Considering how young this roster is, it'd be completely understandable for players to get caught up in their own headlines and suddenly believe all they have to do to win on Sundays is show up.
It sure doesn't sound like Kitchens is going to allow that kind of thinking.
Running a more intense training camp is a necessity when it comes to ensuring these players know they haven't earned a single thing yet. Kitchens knows that, despite all the buzz surrounding the team, Cleveland's record is still 0-0. Just because the world is dreaming big about the season ahead doesn't mean playoffs are a guarantee.
As a result, he's not going easy on his players, nor is he opening things up with a few laid back practice sessions. The goal isn't to hand out off days left and right the second players stub their toes. Instead, it's to ensure his team is as prepared as it can be when it comes to kicking off this incredibly important season.
By the looks of his first couple days, it seems that's what Kitchens is aiming to accomplish.
It'll be interesting to see how camp develops from here. It's extremely difficult to walk the fine line between a cupcake training camp and a football dictatorship, even more so for a first-year head coach.
That said, the players learned right off the bat that Kitchens is going to have them practicing as long it takes in order to get things right. In a year as big as this one, it's tough to complain about that approach to camp.

NEO Sports Insiders Newsletter
Sign up to receive our NEOSI newsletter, and keep up to date with all the latest Cleveland sports news.