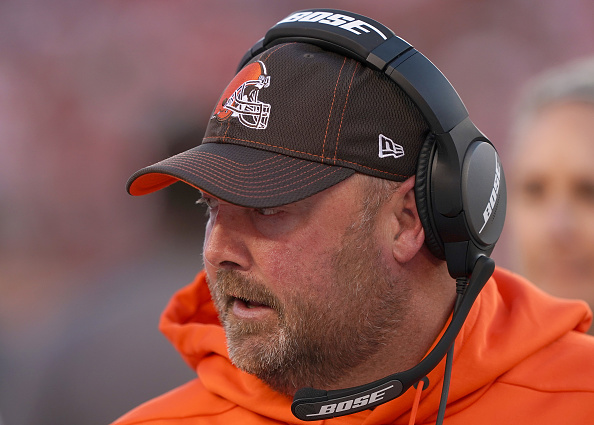 Another week of inconsistencies, penalties and poor game decisions left the Browns coming up short against an NFC West opponent for the third time this season, as the Seattle Seahawks rallied from down 20-6 to take topple the Brown and Orange 32-28. The officials didn't help much either, in a game that at times resembled the three-ring circus more so than a football game.
Ultimately, the loss dropped Cleveland to an underwhelming 2-4 on the season, an even uglier 0-3 at home and despite the fact that a softer second half of the season looms, the Browns will have their work cut out for them if they hope to fulfill those playoff aspirations surrounding the team.
It wasn't all bad, but here are five takeaways from the Browns second consecutive loss.
1) Dog Check
On a team and franchise symbolized by dogs (or dawgs) there can be only one alpha male of the pack. It's Nick Chubb, folks. After a day where Chubb racked up 122 yards on 22 carries it's pretty clear that this high-powered offense goes as he goes. While everyone is so enamored with Baker Mayfield and Odell Beckham Jr. – the two stars of the team – Chubb often goes unnoticed. The Browns may only be 1-2 in games where he receives 20-plus carries but a stat like that is deceiving. It's certainly not his efforts that are resulting in losses and if not for an untimely challenge from Freddie Kitchens, the Browns would have one because of him.
.@NickChubb21 is IN for his second TD of the day! pic.twitter.com/Pb4zQkGQD3

— Cleveland Browns (@Browns) October 13, 2019
2) The touchdown that wasn't
If fans weren't clamoring to can Freddie Kitchens before, they may be jumping on the train this week. His latest coaching blunder came with the Browns facing a fourth-and-one from the Seahawks one, trailing 25-20 with just over five minutes to go and it literally took a Chubb touchdown off the board. First, was a mindnumbing third-and-one screen pass to Jarvis Landry that wound up being fumbled into the end zone and recovered by the Browns but by rule, the ball couldn't be advanced. No facing fourth-and-one Kitchens stayed aggressive sent the offense out on the field and right as the ball was snapped on a play that wound up being an untouched TD run for Chubb, Kitchens threw the red flag. Upon further review it looked as though Landy, on the previous play, had actually extended the ball over the plane but in a game that was criminally over-officiated, of course the refs upheld the call on the field. No touchdown, Kitchens essentially iced his offense in the process and of course the ensuing fourth-and-one play was stuffed in the backfield. Maybe the Browns still lose if Kitchens doesn't throw the flag and Chubb is able to score. But it's the latest blunder by Kitchens who faces another week of heavy criticism.
3) Fast start
Entering Sunday, the Browns had scored an opening-drive touchdown on just once this season – on their first drive of the season against the Titans. They had also only scored a touchdown in the first quarter twice – the aforementioned TD in Week One and against Baltimore in Week Four. Against Seattle they earned both an opening drive touchdown (shoutout to Dontrell Hillard for te 74-yard kickoff return to set it up) and TWO first quarter TDs. On that opening drive, it was Nick Chubb doing the honors on a seven-yard TD run a mere two minutes into the game. Baker Mayfield punched in the second first quarter score on the Browns next possession from 10 yards out. For what it's worth, Cleveland cashed in for six on their third possession of the game as well – a 31-yard TD pass to Ricky-Seels Jones – six seconds into the second quarter, just missing a third first quarter trip to the endzone. For a team that has struggled to produce early in games, it was exactly the kind of start the Browns needed after last week's disastrous offensive display. Unfortunately, it didn't end up mattering as the Browns wound up blowing a 20-6 lead.
4) Mayfield
While everyone is ready to turn on Kitchens, fans will obviously show more patience with Mayfield, who they hope is the Browns franchise QB. Six weeks into the season though, it's safe to say he's in a sophomore slump. He was 22-for-37 today for 249 yards, a touchdown and three interceptions, granted only one was truly his fault. That one that was absolutely on him came in the red zone as well for his league-leading third red-zone INT. Last year he didn't throw a single red-zone interception. There may not be a single stat that frames his sophomore slump better than that one. Mayfield's weapons have done him no favors in recent weeks with a handful of drops, several of them that turn into interceptions. Still, too many of his throws are erratic. Now, one thing you can't knock is his toughness. After heading to the locker room to have a hip injury evaluated early in the third quarter Mayfield didn't miss a series. He was walking gingerly throughout the rest of the game but toughed it out regardless. Luckily he has the upcoming bye week to recover before that Week Eight showdown with New England.
5) Hit the laundromat
Make it nine more penalties for the most penalized team in the NFL today and despite Kitchens continuing to plead that he doesn't let his team practice penalties, at this point it falls on the coaches when a team is this undisciplined. You can be undisciplined and win – Kansas City was the most penalized team a year ago, the year the Seahawks won Super Bowl 48 they led the league in penalties. But to be undisciplined and lose won't fly.

NEO Sports Insiders Newsletter
Sign up to receive our NEOSI newsletter, and keep up to date with all the latest Cleveland sports news.