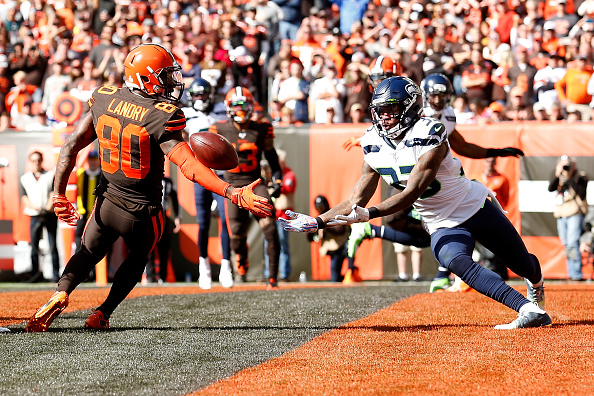 For a minute there, it seemed like the Cleveland Browns were about to bounce-back from last Monday's embarrassment in epic fashion. A 31-3 drubbing appeared to be getting shoved into the rear-view mirror, with the Browns on the verge of heading into the bye week at 3-3 despite a severely uneven season.
Then, they reloaded that gun they've had aimed at their foot all season long and pulled the trigger.
The Browns turned what could've been a momentum-building victory over the Seattle Seahawks into another example of why they're their own worst enemy. In today's 32-28 loss, they just provided more evidence the only thing they've been good at this season is getting in their own way.
It really felt as though that wouldn't be the case in this one. The Browns raced to a 20-6 lead over Seattle. The offense was humming, the defense was holding its own. Hope, which took a gut-punch Monday night, appeared on the verge of being restored.
That is, at least, until the mistakes which have plagued this talent-rich team reared their ugly head once again.
Cleveland built a two-score lead, then followed it with four turnovers. While it won't count as much in the box score, a blocked punt could arguably serve as a fifth. Suddenly, a 20-6 lead turned into a 25-20 deficit.
Essentially, it was more of the same. More of the same ill-timed giveaways. More of the same questionable play-calls from coach Freddie Kitchens. More of the same blunders which have officially become a theme for this incredibly hyped up season.
Even when it appeared as though Cleveland was going to overcome its woes, retaking the lead late, the defense let Seattle coast right back down the field to go back ahead. Wrap it all up with a Baker Mayfield interception – his third of the game – on the ensuing drive, and you have yourself another opportunity this team tossed away by constantly tripping over itself.
Fans will blame the refs for this one, and I'll agree the officiating was a wreck in this contest. Several calls were questionable, others were downright awful.
But the refs didn't hand the ball over four times. The refs didn't fumble away a 14-point advantage. The refs didn't seize a late lead only to spoon-feed it right back. The refs aren't the reason the Browns can't seem to function in the red zone.
The officiating was bad, but it's impossible for Cleveland to win if it keeps playing undisciplined and unorganized football. It's impossible for this team to live up to its sky-high potential if it spends every game self-destructing.
Sadly, this has become a bit of a routine for the Browns. Any progress they show is being undone by bonehead mistakes. Their resounding defeat of the Baltimore Ravens, which appeared to be the jump-start they so badly needed, feels like it was years ago.
Instead of rallying from said resounding win, the Browns head into their bye-week with a 2-4 start and nobody but themselves to blame for it. They're wasting away one of the most talented rosters this franchise has had since 1999. They're a sloppy, mistake-prone group, and even worse, they don't look capable of overcoming said mistakes.
The team also heads into a much-needed bye week forced to answer some sobering questions.
Why does an offense with so many weapons so often look disjointed?
Why do the Browns save their worst-decision making for the most crucial points of the game?
Why have we now heard Kitchens admit he needs to be better at play-calling multiple times this season?
Most importantly, are the Browns ever going to be able to put an end to this self-destructing habit?
Provided they do, they can recover from this brutal start. Mayfield said as much after the game, claiming "If we don't hurt ourselves, this team can go where it wants to go."
The problem is the Browns have been constantly hurting themselves for the majority of the season, with no indication they'll be stopping anytime soon. They have just two victories on the year, but frankly, they've spent almost every single week beating themselves.

NEO Sports Insiders Newsletter
Sign up to receive our NEOSI newsletter, and keep up to date with all the latest Cleveland sports news.