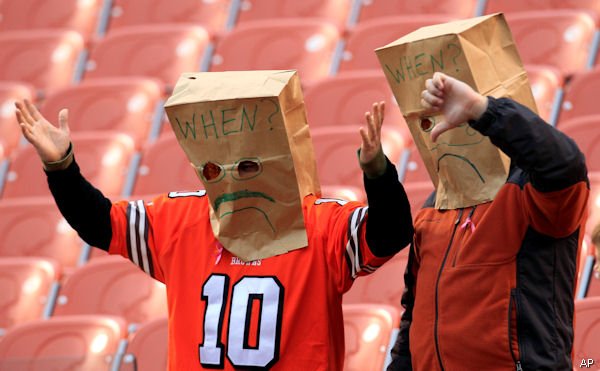 The Browns have been rife with seasons of disappointment since the franchise was reborn in 1999. But, at 2-10 with four games left in the season following a demoralizing 37-3 loss at home to the Bengals, this year might be the worst.
The last time the Browns won just two games in a season was that first expansion year of 1999, but that team wasn't expected to do much. They went 2-14 with a pair of last-play miracle wins against the New Orleans Saints (a Tim Couch "Hail Mary" TD pass to Kevin Johnson) and the hated Pittsburgh Steelers (a 39-yard field goal by Phil Dawson into the wind at Three Rivers Stadium with no time on the clock) on the road.
That team benched all of its veterans for rookies and second-year players and took its share of lumps.
For me, I'd have to back to 1990 to find a season as demoralizing as this one. The Browns had just come off their third AFC Championship Game loss in the last four years and fifth-straight playoff berth.
They had Bernie Kosar entering his sixth season as a starting QB. They had Bud Carson, who had come one game from a Super Bowl in his first season as a head coach and had an attack defense that had most offenses on their heels all season. They had a lot of talent returning from those playoff teams.
Instead, that team slumped to 3-13. It was like the bottom fell out of the fanbase. Carson was fired after just seven games when he mishandled a potential quarterback controversy between Kosar and long-time backup Mike Pagel. The team ran off several popular veterans, including Hanford Dixon, Matt Bahr, Bob Golic and Mike Baab, among others, and struggled to find their replacements.
That 1990 season has kind of served as the line of demarcation for Browns fans. The glory days of the 1980s, in which the Browns went to the playoffs seven times, winning five division titles and had one other 9-7 season (1983) that resulted in a postseason near-miss, was over.
The Kardiac Kids ushered in the 80s and Bernie's Boys got the franchise on the doorstep of the one thing that Its never reached – the Super Bowl.
From 1990 on, the Browns have only had two playoff berths, no division titles, one playoff win, three winning seasons and four others with at least seven wins.
Bill Belichick is lauded as this generation's Vince Lombardi, and even he couldn't consistently win with the Browns, going 6-10, 7-9, 7-9, 11-5 and 5-11 in his five seasons before Art Modell fired him over the phone shortly after the franchise was cleared to move to Baltimore.
This season seems to be reminiscent of that 1990 season because there was a certain degree of optimism brewing. The Browns went 7-9 – only their second 7-9 season and fourth season of at least seven wins since 1999 – last season and led the AFC North division after nine games.

NEO Sports Insiders Newsletter
Sign up to receive our NEOSI newsletter, and keep up to date with all the latest Cleveland sports news.