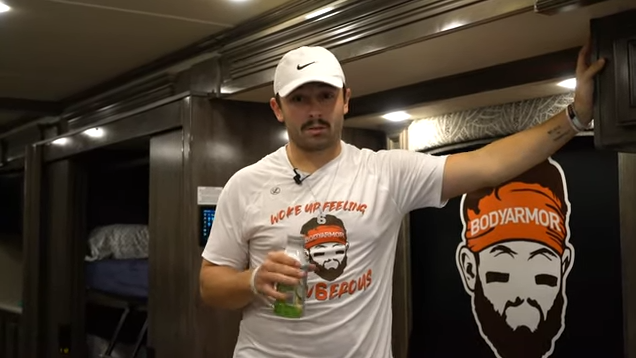 by Luke Wondolowski
Baker Mayfield announced a sponsorship agreement with BodyArmor on Thursday, making him an official spokesperson and stakeholder with the company. But the partnership comes with one more perk for the Browns QB.
Remember in Hard Knocks last year with the RV he brought to camp, and how he brought a nicer one to camp this year? Well, it so happens that the people at BODYARMOUR liked the idea so much that they decided to give him his own Mayfield and BODYARMOUR inspired RV.
Mayfield gave fans an exclusive tour of his new ride in a YouTube video for the company. You can check it out for yourself below.
In a seperate video interview, Mayfield talked about why he decided to team up with BODYARMOUR. Believe it or not, his Mamba Mentality played into it.
"Kobe Bryant was one of the first people to be involved in the company, who I've always looked up to mentality-wise in terms of competition, being your true self, and working for your success," Mayfield explained.
Baker says that he did not want to rush things as well and that he wanted it to be a natural fit. He also added that, "eals these days look corny, and that's not what I want to do. If I make a deal, it has to be something that I truly approve, and I can be proud to say that I use it."