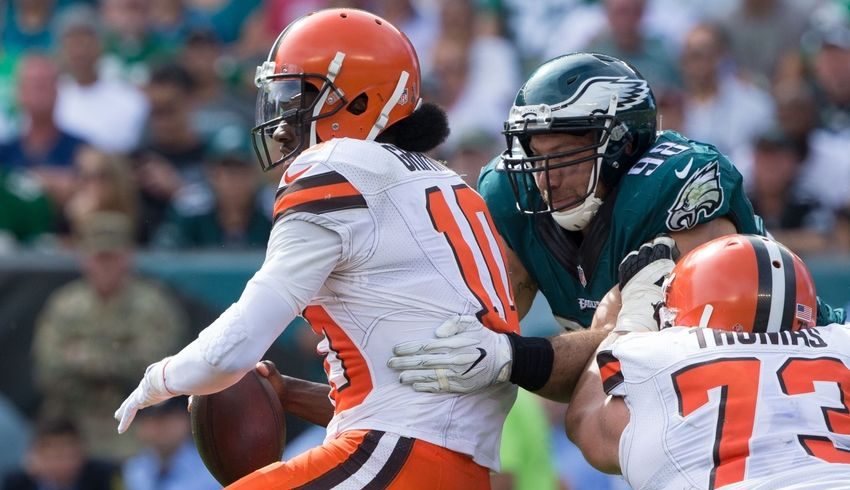 The Cleveland Browns faced the Philadelphia Eagles in a week one matchup to start their 2016 season. Fans, coaches, and even the media did not expect this Browns team to do so horrific.
This organization has been trying to find a winning formula for a long time and it just hasn't happened yet. During the offseason, the Browns hired former Bengals offensive coordinator Hue Jackson and picked up Redskins quarterback Robert Griffin III in hopes that they could begin winning football games.
In the first game of the season the Browns fell to the Eagles. It was a terrible game by the offense and especially the defense. Eagles quarterback Carson Wentz played in his first NFL game and looked stellar. The Browns defense made Wentz look like Tom Brady out there – and it kind of shocked me. Yes, it's the Browns but I thought younger talent would make this defense shine. I guess not.
Let's take a look at five takeaways from this loss to the Eagles and how the Browns can improve next week.
5. Wide Receiver Terrelle Pryor Does it Again… Terrelle Pryor, the once sensational Ohio State quarterback, had to make a difficult change to receiver after his struggles in the NFL. Yesterday, Pryor caught a 44-yard pass from quarterback Robert Griffin III. This play was the spark that led this team to get some points on the board. His transition has been completely outstanding. He finished the game with 3 receptions for 68 yards. Expect Pryor to continue to succeed in Hue Jackson's offense. He is a bigger athlete who has the ability to high point the football and make big splash plays.
4. Defensive End Carl Nassib Was INCREDIBLE: The Cleveland Browns drafted defensive end Carl Nassib in the third-round of this year's NFL draft. The product from Penn State just really wants to make an impact on this Cleveland Browns roster and had a very successful regular season debut. Nassib accounted for one sack and three total tackles. He was all over the field and was a truly dominant force on this struggling defense. Expect Nassib to continue to grow, as this was only his first NFL game.
3. Defense WAS HORRIFIC: The overall Browns defense was like watching a high school football team fold right before your eyes. The Eagles started rookie second overall pick Carson Wentz and he had a terrific game. Wentz threw for 278 yards and earned two touchdowns. He completed 22 out of 37 throws for a passer rating of 101.0. If the Browns want a shot at winning just one football game this year, this defense needs to step up. The running backs were gaining huge chunks of yards and Wentz looked like Tom Brady out there. It is totally unacceptable.
2. Offense Needs To Stop Running Gadget Plays: When your offensive coordinator and head coach decides to run a couple of gadget type plays to start the football game, that is just terrible. Yes, a "gadget" play is allowed when you want to catch the defense off guard, but to try and do it a few times on back to back drives? That is not going to work. The Browns offense was just plain horrific. RGIII went 12 for 26 for 190 yards and an interception; a 55.0 passer rating. Cleveland's running backs were just okay. Isaiah Crowell ran the ball 12 times for 62 yards and a touchdown. He averaged 5.2 yards per carry. Duke Johnson, Cleveland's other running back, was mainly used in the passing attack and had a solid game. He earned 50 all purpose yards. If this offense wants to have a chance at being just decent, the running game needs to open up early and often.
1. Robert Griffin III sustained a key injury.. Out for 8 weeks: This is the main story line for today as the Cleveland Browns come off of their 29-10 loss to the Eagles. During this football game, RGIII injured his shoulder and was placed on the injured reserve this afternoon. Griffin, 27, has worked extremely hard to perfect his craft and be a successful Browns quarterback. This injury will keep him off of the field for several weeks, as he is eligible to return in week 9 if he is healthy.
Conclusion:
With the loss of Robert Griffin III this team looks poised to win about 3 football games in 2016. Griffin was no mastermind but truly will be missed. He was the main quarterback during training camp and has solid chemistry between his receivers. The Browns will now have Josh McCown as their starting quarterback. McCown, 37, had a successful season last year when he threw 12 touchdowns to only one interception before getting injured for the year.
This team's future looks very slim but if McCown can just win a couple of games while RGIII is out, and fix the mistakes on defense, this team just might have a chance to win 6 games in 2016.

NEO Sports Insiders Newsletter
Sign up to receive our NEOSI newsletter, and keep up to date with all the latest Cleveland sports news.