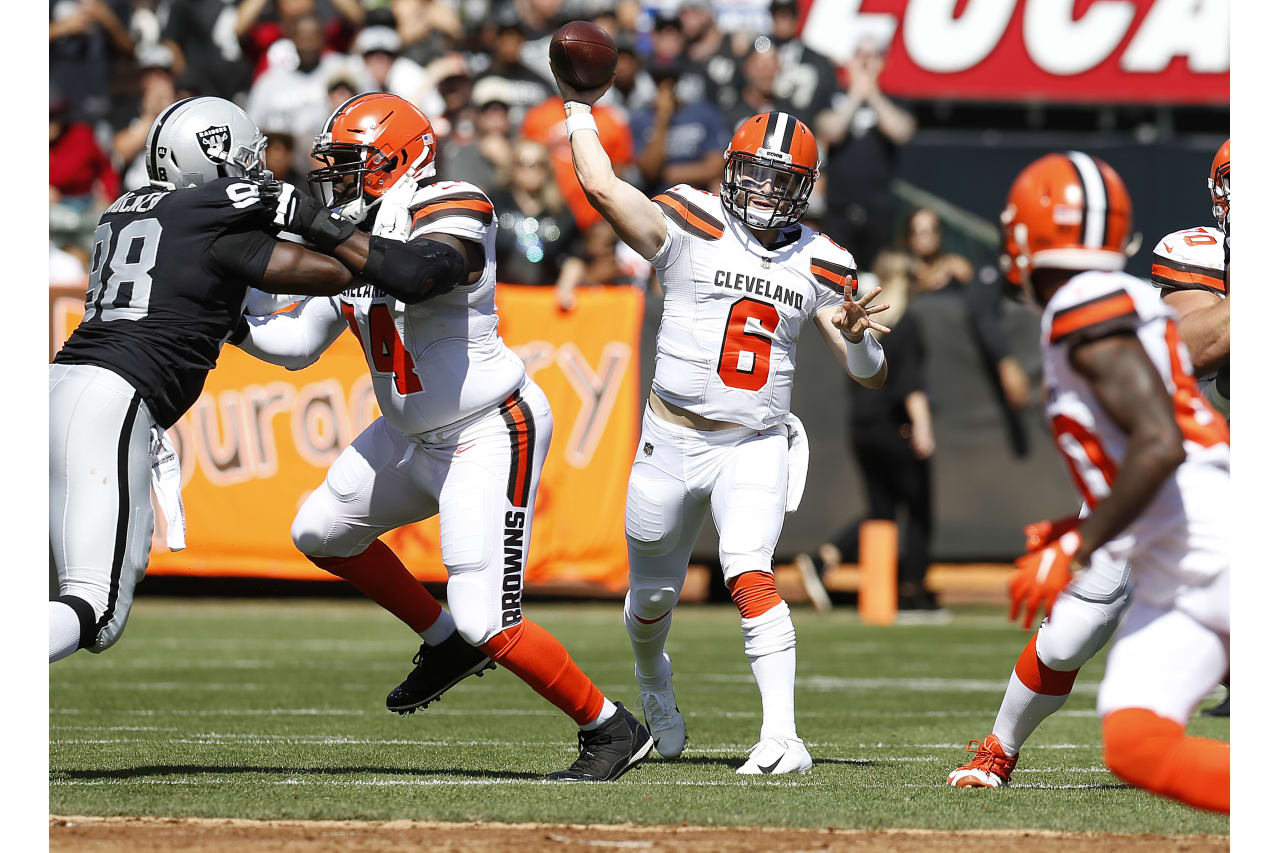 If there was ever a time for Baker Mayfield to step into his potential, it's now. The top overall pick in the 2018 NFL Draft enters his third season under center for the Browns with a chip on his shoulder.
Mayfield delivered a fine first year in the league en route to a Rookie of the Year finalist nomination. Then came his great sophomore slump of '19 and the Browns disappointing 6-10 finish.
Mayfield remains the Browns QB of the future. He's eager to prove last season was a fluke while establishing a winning foundation in Cleveland. New coach Kevin Stefanski and a retooled offensive make the mission a little easier for the former Oklahoma standout.
Here are five reasons why Mayfield can turn things around in 2020 and lead the Browns to their first playoff appearance since 2002.
Case Keenum has his back
It can't hurt Mayfield that he has the closest version of himself as a backup. Both Mayfield and Case Keenum are undersized but capable of stunning accuracy and a thirst for pressure situations.
Keenum, who entered the league in 2012 after a brilliant NCAA career at Houston, serves as something of a mentor to Mayfield.
The elder QB knows what a winning campaign looks like having led Minnesota to a 13-3 record in 2017 and the Minneapolis Miracle that propelled the Vikings over the Saints in the NFC Divisional round. Plus, he's great insurance. If Mayfield suffers, Stefanski won't hesitate to put in Keenum.
He's surrounded by a weaponized offense
Mayfield is surrounded by firepower on offense. In fact, the hurler has no fewer than five Pro Bowlers to advance the rock.
Nick Chubb and Kareem Hunt are among the league's most talented running back duos. The receiving corps is well-stocked with Jarvis Landry and Odell Beckham Jr. at the helm.
While David Njoku, likely in his final year in a Browns uniform, landed on the IL after Week 1,  Mayfield still has two-time Pro Bowler at tight end. As long as he gets the ball safely in the hands of his offensive weapons, good things will happen.
The Browns have a head coaching upgrade
Freddie Kitchens may have been a decent position coach, but his one-year stint guiding Cleveland resulted in a collapse we'd rather forget.
Stefanski comes to the Browns with a track record of success in various offensive position coaching assignments in Minnesota. He engineered wins with a cadre of quarterbacks including Keenum, Kirk Cousins, and Sam Bradford. He also brings polish and professionalism to the proceedings.
Will Mayfield/Sefanski develop a prolific Brady/Belichick type of partnership? We can only hope. Their alliance just needs to be strong enough to avoid the dumpster fire we witnessed last year.
Fantasy and sportsbooks are bullish on the Browns
Fantasy football projections and NFL odds have become good prognosticators of how teams and players will perform. The data gets deeply nerdy as more fans turn to these activities for a vested interest in their chosen squad's wins.
Cleveland is getting some deserved attention outside of the diehard Browns faithful in 2020. Mayfield is the main attraction as he draws attention from fantasy football managers and sports bettors. The former Heisman Trophy winner is a top pick consideration in fantasy drafts this year and the driving force behind the Browns trending favorably at US sportsbooks with NFL betting odds against early-season opponents.
He's protected like Fort Knox
Fort Knox-level protection might be a stretch, but a mesh fence is an upgrade considering Cleveland's O-line woes a season ago. Mayfield was consistently clocked coming off the edge and found the wrong end of 40 sacks in 2019.
The Browns have done about as much as a team can do in a single offseason to correct the O-line defect. The effort culminates with adding tackles Jedrick Wills Jr. and Jack Conklin.
Wills joins the Browns via their first-round pick (10th overall) in the 2020 draft. One of four blue-chip OTs taken in the draft, Wills spent his college days at Alabama with the responsibility of keeping Tua Tagovailoa uptight.
Conklin himself was a blue-chip prospect out of Michigan State when he entered the league with Tennesse back in 2016. He enjoyed a monster rookie campaign with the Titans before posting down years in 2017 and 2018. Conklin performed well down the stretch last season and comes to the Browns ready to prove himself in 2020.

NEO Sports Insiders Newsletter
Sign up to receive our NEOSI newsletter, and keep up to date with all the latest Cleveland sports news.