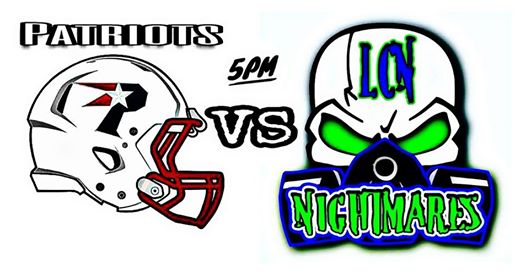 PAFL – The Lorain County Nightmares take to the road this weekend as they visit the Cleveland Patriots Saturday at 5pm. LCN is 2-0 over two other Cleveland teams this season (Rams & Cobras) in PAFL action. I had the chance to catch up with head coach Jamie Ray Adams and ask him 5 questions about this weekend's pivotal matchup.
1 – What will it take to win this weekend?
Consistency. This team has become more and more consistent each week and we just need to continue down our path and focus on getting better. We have top-level talent at every position and being consistent is the key to firing on all cylinders.
2 – Can you provide us with an injury status on Chase Laudato, CJ Powell and Dontez Smith?
All three players will likely be held out of this game. Laudato's knee is not one hundred percent, Dontez Smith is still rehabbing an ankle sprain and CJ Powell is the closest to ready but we want him to be one hundred percent going into the last 4 games of our season, three of which are at home and weighted for playoff seeding.
3 – How explosive has Ty Howell been this season? Who needs to step up and help Howell out this weekend with both Rob Johnson and Powell out?
Ty Howell has been nothing short of consistent for us and him having another consistent performance will be vital. A somewhat hidden weapon on our team that will now come to light and be playing offense for the remainder of the season is Ricky Earl. Ricky is talented, has the football IQ and gives us a deep ball threat to stretch the field.
4 – Why is Sonny "Big Nasty" Hazelwood a different breed of player?
Sonny is a different breed of human lol. Small in-game adjustments are communicated well, and sometimes reminding Sonny that he is human is the best coaching you can give him.
5- How will increased focus help you prepare for another victory this weekend against the Patriots?
Just like you said, Focus. We prepare all week for a short stint of 60 minutes and the result is etched in stone with no recourse. You remind the players that the game is played one play at a time, one drive, one quarter, one half at a time. We need to give 100% for the 4-6 seconds each play lasts.

NEO Sports Insiders Newsletter
Sign up to receive our NEOSI newsletter, and keep up to date with all the latest Cleveland sports news.