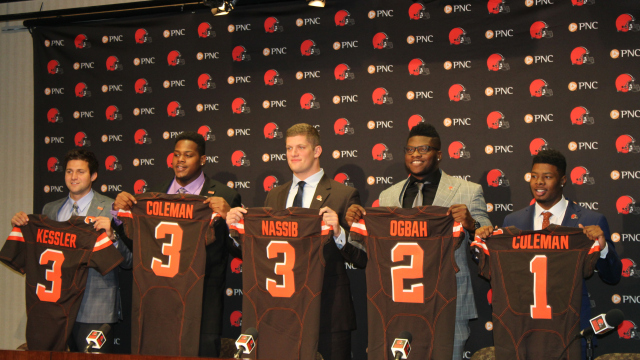 We're past the point of analysis.
The Browns are 0-8, they blew a 20-7 lead to an almost (but clearly not quite) as sorry Jets team and the same process repeats itself each week.
The Browns put forth the effort to hang with teams through three to three and a half quarters, but the talent disparity is too great for Cleveland to keep a lead or keep the game close.
Halfway through the season, it seems wrong to hand out mid-season awards to a winless team, so here are a few players that have shown enough to be brought back next season.
Terelle Pryor, wide receiver: I wanted to stay away from the obvious ones, but this guy is just so good. The Jets secondary may be dead last in pass defense, but Pryor's six catches for 101 yards yesterday was not solely a product of that. The same glide-like strides that made him impossible to defend running the ball at Ohio State leave NFL corners hopelessly chasing behind him now. He's also got some real throw-it-up-and-pray potential because of his six foot four frame and the always cliche announcer quality "he really goes up and gets the football."
Carl Nassib, defensive end: Nassib led the nation in sacks in his final season at Penn State and his 1.5 sacks thus far don't accurately represent how often he's been in the backfield this season (although apparently they don't give that information away for free). Nassib has been largely used as a situational rusher this season, so he hasn't gotten as many chances to go after opposing quarterbacks, but he has been effective. Even when he's not in the backfield, he's affecting the passing lanes, as his four passes deflected will show you.
Briean Boddy-Calhoun, cornerback: Calhoun is an undersized but scrappy and physical player. He's only five foot nine, but that hasn't stopped him from doing things like this:


This hit sent Fitzpatrick to the bench for concussion check and Boddy-Calhoun to the #Browns locker room. pic.twitter.com/TG0ciCmwsG

— Scott Patsko (@ScottPatsko) October 30, 2016

Calhoun is too small to play on the outside, but his tackling ability combined with his three pass deflections and one pick six make him a nice playmaking nickel candidate.

Cam Johnson, linebacker: Johnson got picked up off the street and had two sacks in his first game ever. His production has cooled since, but the Browns think enough of him to start him now, and even if it only comes in burst, that kind of pass rushing talent is valuable. It's too early to tell if Johnson will be able to replicate his opening outburst, but it's also too early to write it off as a fluke.
Jamar Taylor, cornerback: The Browns secondary has mostly been horrendous this season. Taylor is young and has made some mistakes, don't get me wrong, but he might be the best cover corner on the team outside of Joe Haden. Taylor has eight passes defended and two interceptions in eight games, which means teams are throwing at him often and he's responding well. Yesterday, he was running step for step on multiple occasions with Jets receivers,  and while Fitzpatrick through the ball anyways, most quarterbacks are staying away from that kind of coverage.
Honorable mentions: Cody Kessler, Corey Coleman, Christian Kirksey, Emmanuel Ogbah, Joe Schobert, Derrick Kindred, Danny Shelton.
The Browns should and will continue to lean on younger players as the season progresses because reps matter in experience and evaluation.