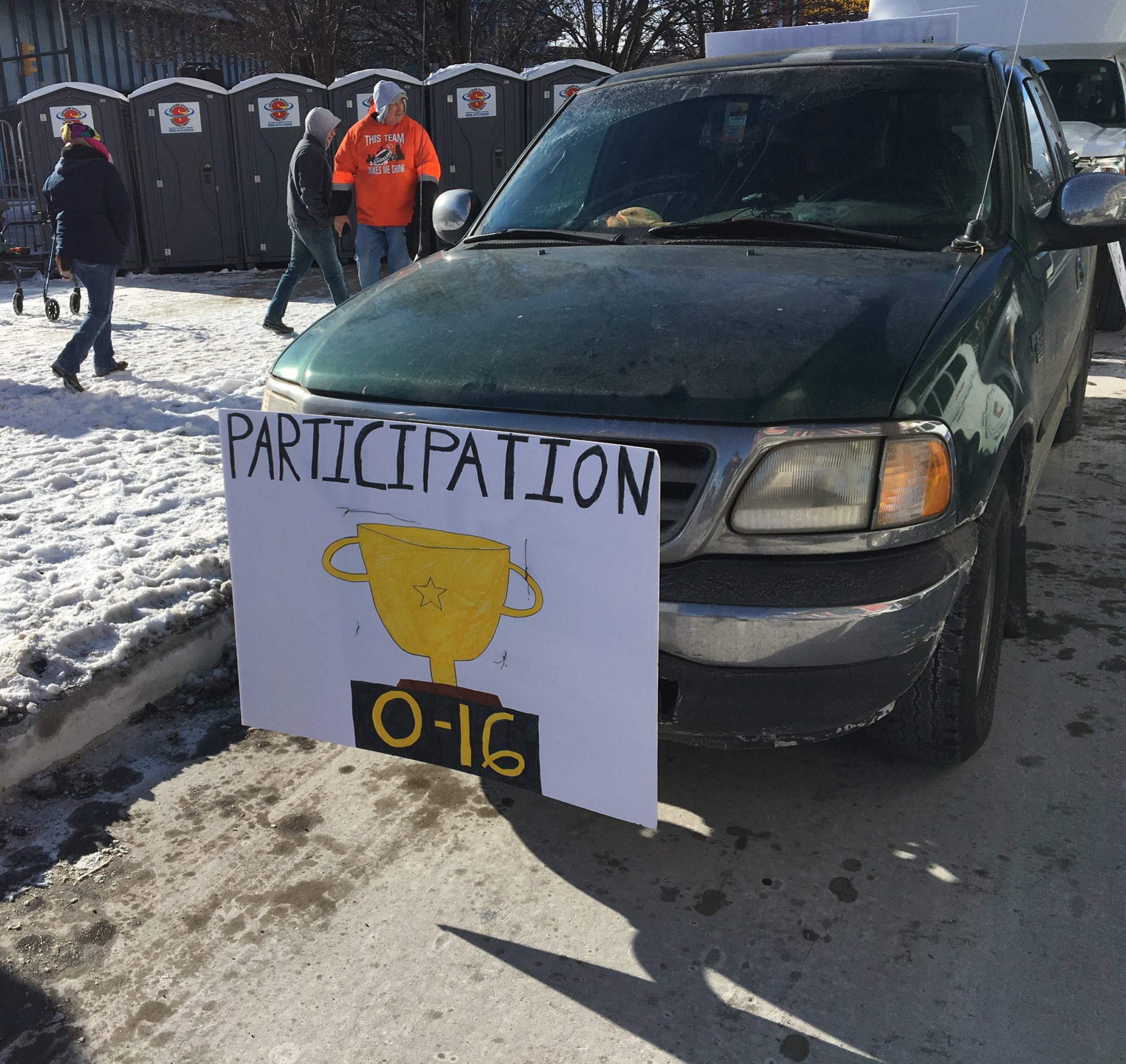 CANTON, Ohio- The Cleveland Browns fans had the Broulis Beat Report thinking all day, "Maybe this parade wasn't such a bad idea after all".
By now, you've all seen the videos and photos from the Cleveland Browns "Perfect Parade" and some also called it a protest. Either way, there were some interesting fans and signs.
Let me start out by saying this. I am a season ticket holder myself. My family has had Browns season tickets since 1963. I went on record on a radio show around a month ago, saying I was completely against this parade happening. My main reasons? I was under the impression, that the people were going to actually celebrate the 0-16 record. I also said that this would make the city of Cleveland look really bad in the eyes of those that aren't from here or have never taken the time to come visit the beautiful city of Cleveland, mainly the national talking heads.
Chris McNeil, otherwise known as @Reflog_18 on Twitter, is the man behind the idea of this parade. A lot of people viewed him as a bad guy just looking for a perfect "Me Me" moment. Turns out, McNeil started something that did a lot of good.
1.
Of the estimated 3,500 that showed up for the parade, McNeil raised $15,000 for the Cleveland food bank, including truckloads of donated food.
2. With the help of the Cleveland police, he was able to create a peaceful environment in which fans all ages were able to display their displeasure for the team in different ways. I see nothing wrong with that.
3. This parade brought out some very interesting comments made by both players and different media members during the day. Defensive linemen Danny Shelton and Emmanuel Ogbah took offense to the fans by calling them "Fake fans". With all due respect to both players, this is, in no way, the fans fault. This falls entirely on the Browns organization. If they would've just shown some signs of progress the past few seasons, this wouldn't have happened. Shelton went on to say that this parade is embarrassing for the team and its players. News flash Danny, how do you think the fans feel? The players are still getting paid, the fans are still PAYING. Big difference.
4.
Danny Shelton also said this parade is "Encouraging players to avoid the opportunity to play here". Again, this parade isn't what's stopping or going to stop players from signing here, the lack of wins and a horribly ran organization is what keeps and will keep top-tier talent from signing here. These fans were simply putting their passion and love for this team on display.
5.
Notice I'm bringing up Danny Shelton a lot. Maybe he'd be better off staying off Twitter. He also said that the fans attending this parade were "disrespecting" their home team. No, Danny, how this team has played since 1999 has been disrespectful and more specifically the way this team has played the last two seasons is disrespectful and embarrassing. This team is lucky that it has as loyal of a fan base as it does. If these players think this is bad, go play in Jacksonville, Tennessee, Miami, Atlanta, Tampa Bay, Carolina or Arizona where the fans don't care nearly as much.
6.
I've asked members of the media from different parts of the country and of different ages how the Browns fan base compares to others. All have told me Browns fan are among the best fans in the world, not just the NFL.
7. For anyone in the media or any players to downgrade the fans in any way is wrong. These fans braved frigid temperatures to let the front office know, this is unacceptable. None of them are fake fans. Fake fans wouldn't have been out on a blustery cold day, to display their displeasure for a team.
8.
The fans had every right to do this, and they kept it very peaceful and, to my knowledge, no one was injured, hurt or arrested during this parade. Therefore, it was a success in two different ways. The fans were able to let out their frustrations about the team and again, nothing bad happened to my knowledge.

NEO Sports Insiders Newsletter
Sign up to receive our NEOSI newsletter, and keep up to date with all the latest Cleveland sports news.