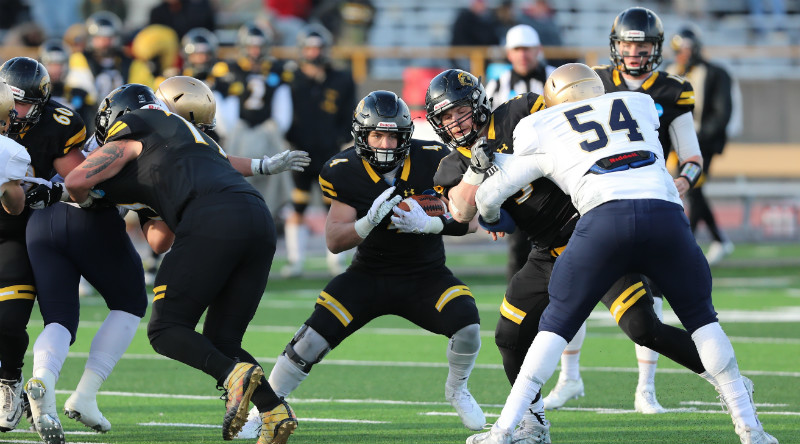 UNIVERSITY HEIGHTS – Three matchups in one year have single-handedly formed a rivalry between fourth-ranked Wisconsin-Oshkosh and eighth-ranked John Carroll.
Tempers flared, whistles blew and a slew of the best players in Division III football toed the gridiron for the first time in 2017.
After a pair of losses last season – including a hard-fought defeat in the 2016 NCAA Semifinals – the Blue Streaks fell to the Titans, 23-17, on Saturday afternoon at Don Shula Stadium in University Heights, Ohio.
Despite a two-quarterback system featuring Anthony Moeglin's 72-yard touchdown to wide receiver Eddie Williamson and Riley Larkin's five-yard scoring strike to tight end Danny Disbrow, the JCU defense fell victim to a ferocious rushing attack from a formidable foe.
Running back Dylan Hecker (pictured) had 28 carries for 186 yards and three touchdowns, silencing a feverish home crowd and halting head coach Rick Finotti's momentum on numerous occasions.
Wisconsin-Oshkosh accumulated 306 yards (6.7 yards per carry) on the ground against a defense that allowed an average of 78.6 rushing yards per game (2.4 yards per carry) last year.
The Blue Streaks were unable to snuff out a fake punt attempt in the closing moments of the fourth quarter, keeping the seven-point deficit intact and spelling out an 0-1 record to start the campaign.
Decision time for QBs, RBs
Aside from wide receiver Brian Kornowski's eight catches for 60 yards, Finotti was desperately searching for answers on the offensive side of the ball.
Moeglin went 8-of-19 for 120 yards and one touchdown before Larkin took over in the second half, completing 9-of-21 passes for 89 yards and one touchdown.
With completion percentages below 50 percent, neither player has a firm grip on the starting job moving forward in the season.
The rushing tandem of Ro Golphin and Sam Kukura combined for 30 yards on 13 carries, an uncharacteristic performance given their track record.
Finding a reliable quarterback and halfback will be a focal point for the defending OAC champions during practice over the next two weeks.
Miraculous catch caps big drive
An underthrown pass from Moeglin to wide receiver William Woods proved to be the play of the contest, as the ball deflected into the air before Williamson emerged and corralled it in triple coverage for a 72-yard gain.
From a potential interception to a game-changing touchdown, the deep ball over the middle was the spark JCU needed heading into the intermission.
Danko makes his mark
Kicker Matt Danko lined a 39-yard field goal attempt through the uprights before chipping in an extra point attempt.
The Boca Raton, Fla. native entered play with a 30.8 percent (4-for-13) field goal conversion rate over his two-year tenure with the Blue and Gold.
Weather and attendance
John Carroll and Wisconsin-Oshkosh drew 3,882 fans on a 60-degree day with occasional periods of light rain.
OAC update
Mount Union (1-0) topped North Carolina Wesleyan, Heidelberg (1-0) beat Olivet, Muskingum (1-0) dominated Waynesburg, Baldwin Wallace (1-0) won their opener over Defiance, Mount St. Joseph edged past Capital (0-1) and Wilmington (1-0) trounced Earlham.
Up next
The Blue Streaks take the week off before battling the Baldwin Wallace Yellow Jackets on September 16 at 2 p.m. from George Finnie Stadium in Berea, Ohio.
Photo credit: Steve Frommell for d3photography.com
John Alfes has covered John Carroll University athletics since September of 2014. Follow him on Twitter 
@JohnAlfes
 for breaking news and in-depth coverage all season long.

NEO Sports Insiders Newsletter
Sign up to receive our NEOSI newsletter, and keep up to date with all the latest Cleveland sports news.