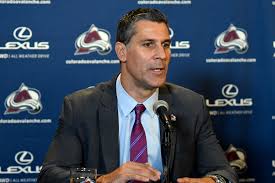 Jared Bednar stepped into Nationwide Arena last night for the first time as the Head Coach of the Colorado Avalanche. It was the first time he was considered the enemy when entering the Blue Jackets territory. Just last June, he was celebrating a Calder Cup championship as the head coach of the then Lake Erie Monsters. As he stood inside the Colorado Avalanche's bench, he looked to slow down players like Zach Werenski, Josh Anderson and Lukas Sedlak. Players he had worked with to be successful last season were now guys he planned to shut down.
It hasn't been the easiest transition for Bednar, who took over the job after the team lost Patrick Roy after he resigned in the offseason. He was joining a team that went 39-39-4-0 and finished sixth in the Central division. He would have to implement the same mentality he instilled into the Monsters when he led them all the way to the top prize in the AHL.
So far, it's been tough. The Avalanche are 9-9 this year and currently are last in the Central division. But after a big win over Columbus yesterday and the team currently on a two-game winning streak, Bednar seems to have his team playing with confidence. Bednar spoke with media after the game about getting to a .500 record. "It's a little benchmark. I think it's important for our team. You get back to .500, now we have a chance next game to go ahead instead of always trying to creep back from two games under. At some point you gotta start winning games and getting above .500"
Bednar also talked about the team's development throughout the season so far, something he is pleased with. "Our game is coming slowly but surely. Guys are doing a better job within the structure of our play and we're getting more consistent."
Something Bednar always preached when in Cleveland was always being mistake-free and looking ahead to the next game. That's something his former players have implemented in the NHL, as Werenski is making a strong case so far for Rookie of The Year while Anderson and Sedlak have been solid additions to one of the most surprising teams this season.
Bednar was happy to get the win over his former affiliate, as he said competing against your friends is what the game is all about. When asked how it felt to see some of his former players play in the NHL, he had this to say. "It was good. Those guys have earned their play and their ice time up here, I'm sure. Through what they did last year in the American League and obviously they must have had good camps and everything in order to make the team here. So it's good to see them doing well."
Even though he's miles away now from the team he helped put on the map, Jared Bednar remains the same coach he was in Cleveland. And for everyone in Cleveland, he'll always be remembered here as the coach that put Cleveland hockey back on the map.

NEO Sports Insiders Newsletter
Sign up to receive our NEOSI newsletter, and keep up to date with all the latest Cleveland sports news.