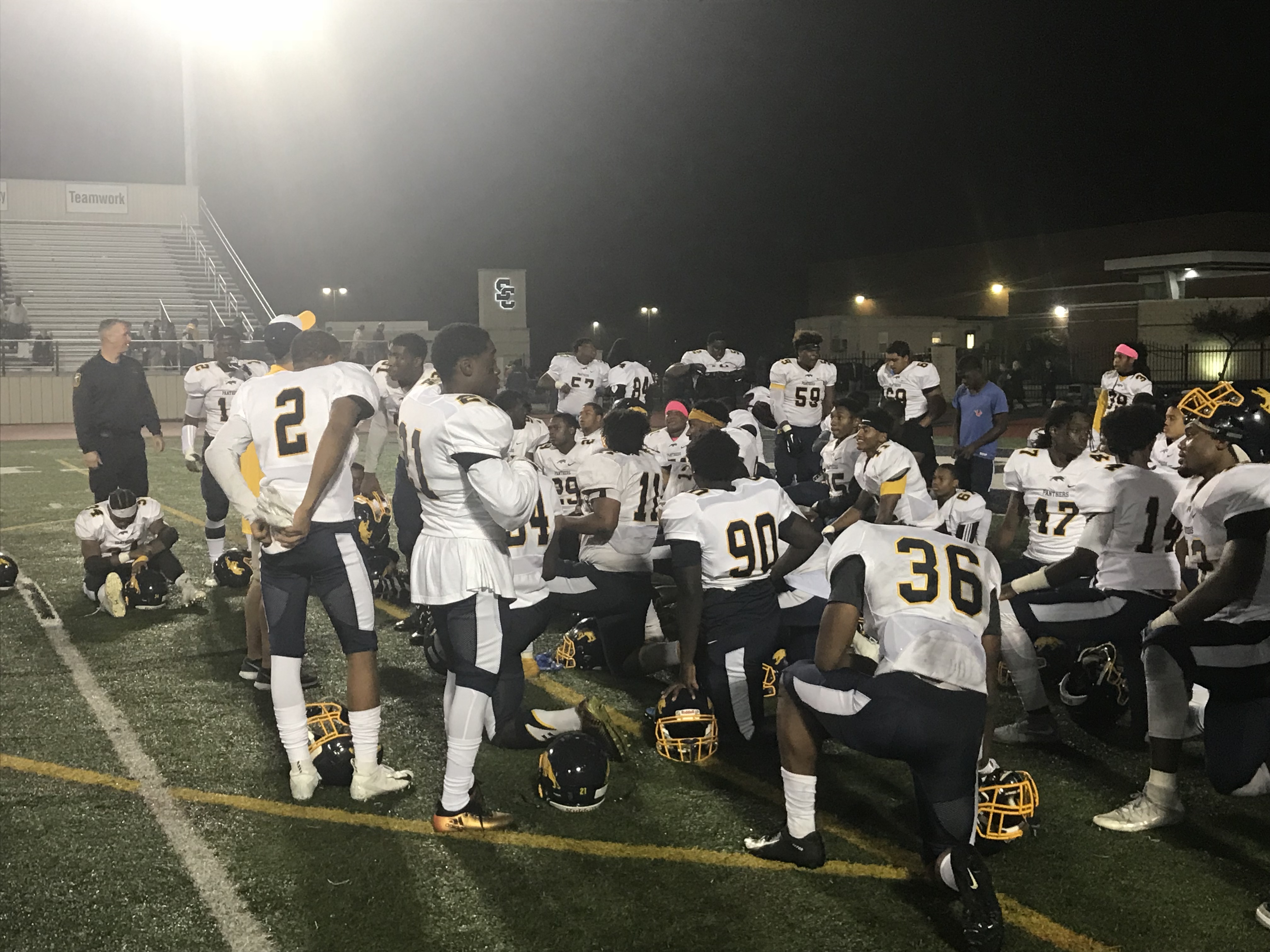 This game report is Brought to you by Nurenberg Paris. Check them out today!
Solon, OHIO- Both Euclid and Solon headed into Friday night's game 3-0 in Greater Cleveland Conference play. It was the stellar defensive performance from Euclid that lifted them past Solon, 21-0.
It was a defensive battle early on in this game as both teams failed to score in the first 12 minutes. Euclid seemed to find some rhythm on the offensive end in the second quarter, leading to the first score of the game. Dion Valentine connected with freshman Claishon Ivory from 29-yards out to give the Panthers an early 7-0 lead.
The score would remain 7-0 heading into halftime. On Euclid's second possession of the third quarter, they started on their own three-yard line. A long catch and run play from senior wide receiver Dre'Von Lindsay would give the Panthers the spark they needed as he would end up being tackled inside the red zone.
From there, Valentine connected with the senior again, this time resulting in a touchdown. The Toledo commit got the Panthers down the field and eventually got rewarded by hauling in an 18-yard touchdown catch to give the Panthers a 14-0 lead with five minutes left in the third quarter.
It's not been an easy road for Lindsay to get here and head coach Jeff Rotsky knows that his hard work is finally starting to pay off.
"He's becoming a young man and I enjoy him so much," Rostky said. "The last thing our job is coaching young men. It's mentoring, it's developing, it's teaching them what it means to be a great team."
Euclid would add in one more score late in the fourth quarter. This time, Valentine connected with senior Treshawn Luton to seal the deal for the Panthers. The 21-0 score would end up being the final score and marks the second time in the past three weeks that Euclid has shut out their opponent.
The Euclid defense held its own all throughout the game, especially in the second half when they got an interception late in the fourth quarter to clear the way for a victory. The Solon offense rarely found themselves in Euclid territory throughout the game, leaving coach Rotsky with a smile on his face.
"We played inspired and our defense was terrific," coach Rotsky said. "This was just a special night for our kids and this was as about a complete game as we played all year."
Solon really struggled to get things going on the offensive end all night. Euclid's defensive unit experienced some injuries throughout the course of the game, leading to younger guys stepping up and making plays on the defensive side of the ball to keep the Comets out of the end zone.
Coach Rotsky knew everyone on his team had to be ready for their moments. He reiterated to his team that they had to be ready at all times on the field, no matter what side of the ball you're playing on.
"If you're going to beat a team like Solon, you gotta play offense, defense and special teams. If you don't do one of those, then you're going to have trouble."
Euclid will get another test next week to try to remain unbeaten in the conference as they travel to play Brunswick. For Solon, they will look to get back on their winning ways next week when they travel to play powerhouse Mentor.