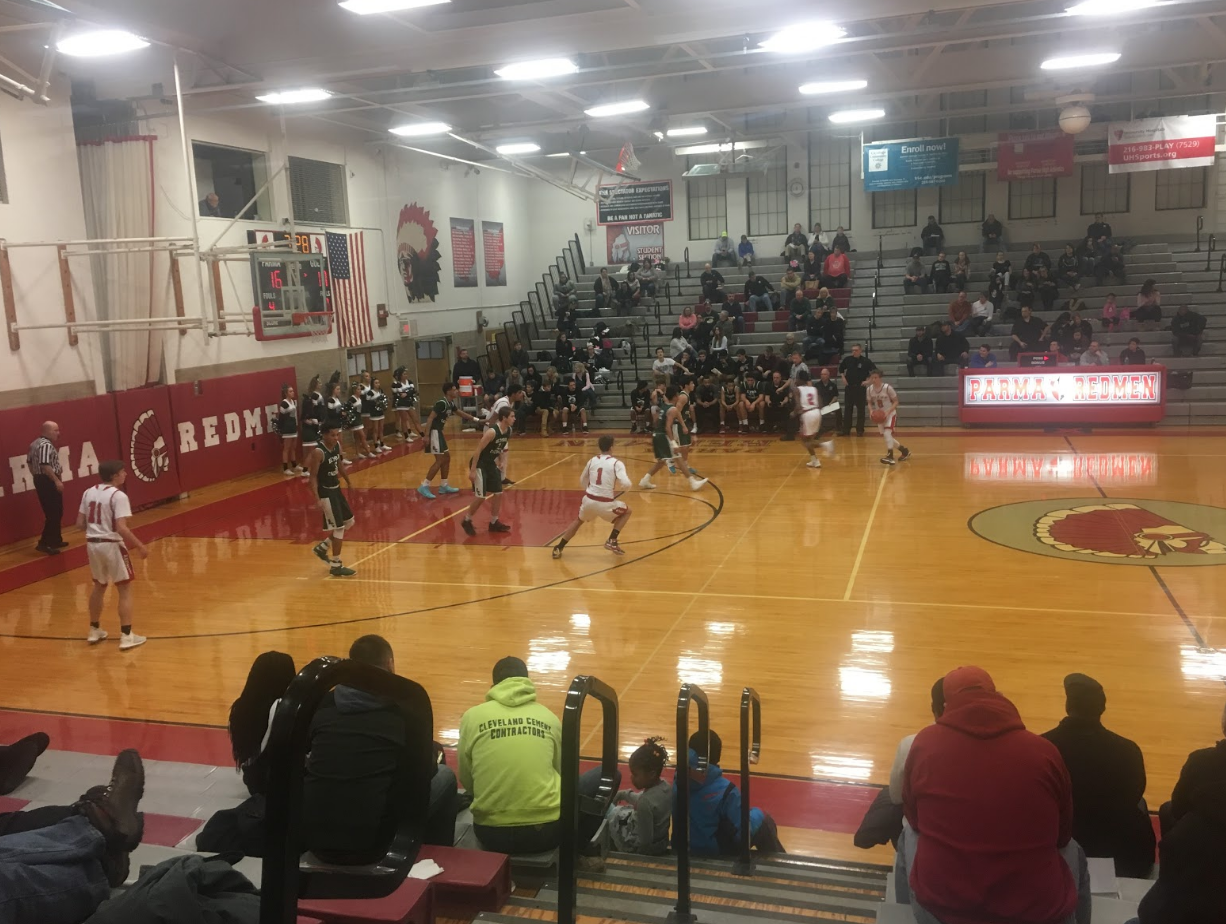 by Cameron Mazurik
PARMA, OHIO– Friday's non-conference battle featured two young teams, the 3-2 Parma Redmen hosted the 2-2 Elyria Catholic Panthers, both were hungry to get the win.
Elyria Catholic was guided by senior guard, Dorian Crutcher (#3) scored a team high 24 points, 18 of his points coming by threes. Sophomore center, Branson Taylor (#33) help led the team to a win with 16 points and being the anchor for offensive and defensive rebounds. They were assisted by junior guard, Jarrod Logan (#23) whom was able to manage 5 points and pull of a few game shifting assists.
Parma's standout freshman guard, Makail Cottingham (#15) was held out majority of the first half due to foul trouble, but still managed 12 points. However, his freshman guard counterpart, Allan Eason (#2) picked up the workload totaling 12 points.
Nonetheless, the presence of Cottingham on the bench and not on the court for the second quarter, wouldn't go left unnoticed with the Redmen mustering only eight points.
The game started off with a bang courtesy of Crutcher with a corner three. Parma answered back with a layup from Eason, followed by with a steal and another layup from the freshman guard. The Panthers were able to get regain the lead, 7-4 with a lay-in from Taylor, as well from Crutcher. Taylor was able to add another point from a free throw made, the center continued his surge by making another layup, which was careful passed to him by senior guard, Donovan Warfield (#2).
The Redmen battled back with their freshman guard duo adding two important layups, yet the Panthers scoring surge was not over, with Crutcher knocking down another corner three.
However, it was Parma ending the first quarter with a three of their own, with the lead being 17-13, in favor of the Panthers. Crutcher and Taylor were both in control of the first quarter for the Panthers, accumulating 15-of-17 points.
Due to foul trouble, Cottingham didn't play at all the second quarter, which was huge factor for Elyria Catholic, whom continued to shoot the ball. As well, as the offensive losing a step with arguably their best player on the bench, the press also faltered a little.
The Panthers were able to break the press, making it easier to find the open man. The Panthers were able to maintain their lead, 32-21, with Crutcher, knocking down two 3s and a dunk; and Taylor continuing his tear with five points and a plethora of rebounds.
Parma looked to turn the table in the third quarter by slowing it down and looking for good shots, but they still had difficulty get anything started. The Redmen were able to total 11 points, 7 of them coming from Cottingham. Although his seven points, the Panthers held a commanding lead, 47-32.
Parma was able to bring the game within nine in the fourth with Cottingham doing everything he could with spin layups to slick passes, to get his team back in it. However, that would be the closest it would get, with the Panthers pulling away with the victory, 55-41.
Following the game Elyria Catholic head coach, Phil Kuchta expressed his team's effort during the course of the game.
"The biggest thing for us tonight was they bought in," he said. "I just felt like there was more buy-in and more effort, just playing basic basketball. Effort on the boards, effort on defense, stop penetration and contest shot."
Coach Kuchta also believes his team played well as a unit.
"Tonight was better night playing as a unit. One thing we struggle with, so far is playing as a group and we talked about playing as a team and sharing the ball. We have a lot of guys that can shoot it, we have size, I feel like we have all the tools. I preach to the guys that we are definitely weaker when we don't play together, than we are when we do. I'm excited what I saw from them tonight on both sides of the ball, on the simply standpoint of defense intensity on one end and making the extra pass on the other end."

NEO Sports Insiders Newsletter
Sign up to receive our NEOSI newsletter, and keep up to date with all the latest Cleveland sports news.