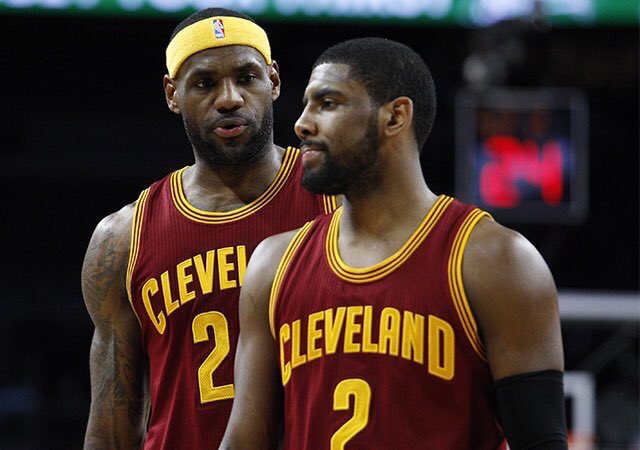 By Jay Alan
In a matter of just 13 months, Kyrie Irving went from the toast of Cleveland, to Judas. This is the man who hit the shot that ended the city's 52 year championship drought, the player at the center of legitimate talks of a statue depicting the new "shot" over hated rival Steph Curry in the finals from two seasons ago, and the hero responsible for, temporarily at least, making all of north east Ohio forget about the "drive", "fumble", "shot", "decision", and "red-right 88". This Cavs fan never thought any star player from a Cleveland team could ever be hated as much as LeBron James was that night on ESPN at the Boys and Girls Club in Connecticut, at least in my lifetime. Oh, how wrong I was, and a mere seven years later.
A lot of what is being said regarding Kyrie's decision to demand a trade doesn't make a whole lot of sense. Since Irving is conveniently in China as all of this has come out, we haven't heard from the man himself, just reports from ESPN which could be fake news for all we know.
Apparently on July 7th, Kyrie Irving sat down with Dan Gilbert during a planned meeting and asked for a trade. Now if the reports are true, Irving wants out of Cleveland after one championship in three consecutive trips to the finals, because he is tired of playing second fiddle to LeBron James, the best player in the world. Irving is reportedly unhappy that the offense runs through James, and LeBron handles the ball more often than Kyrie. This is an outright bogus claim. Kyrie is averaging 1.5 more shots per game than LeBron, which is the first time in James' career he has not led his team in shots,  and also averaged 25.9 points per game, which is a career high. The numbers don't back up what Kyrie is saying, so there must be something else to it.
It has also been reported that Kyrie wants to play somewhere where he can be "The Man". Irving was once the man here in Cleveland before James returned, and with LeBron quickly reaching the end of his prime, it won't be long before Kyrie is the "Man in The Land" all by himself once again. Irving asked to be traded to one of four teams, San Antonio, New York, Minnesota, or Miami. It's funny that San Antonio, Minnesota, and even New York all three have big name players that won't guarantee that Irving will walk in the door and be handed the keys to the franchise. Apparently Irving doesn't remember the early years in Cleveland, because he wants to leave a team that should be a favorite to represent the East in the NBA Finals for the foreseeable future, to join a rebuilding effort, considering that whatever team trades for him will be required to give up significant pieces of their roster.
Now that the bogus claims have been disproven, let's move on to the real reasons that Kyrie Irving wants out of Cleveland….
1. Ego
Word got to Kyrie that he was included in proposed packages to acquire Paul George and Jimmy Butler, and he didn't like that. Irving considered himself to be so important that he should be untouchable in trade talks, and when he found out through back channels that he wasn't, it was a huge blow to his ego. Knowing that LeBron was indeed untouchable, Irving looked at being involved in trade talks as a slight to his ability and importance to the franchise. He thinks that he is as good, and important as LeBron James, but the franchise is sending very different signals.
When David Griffin was still running the show in Cleveland as the general manager, he was known to inform players that they were being included in trade talks. Kyrie wasn't afforded that courtesy, and only found out that he was being offered in trade scenarios after the trades fell apart. To Irving, getting out from LeBron's shadow isn't necessarily a matter of shots per game, or points scored, but about his importance to the franchise that he is playing for. Any player on a team with LeBron James is going to be number two at best, and Irving's ego cannot handle that for any longer.
2. The Summer of 2018
This is probably just as likely the reason for Irving's unhappiness as reason number one, or maybe even a combination of the two. Kyrie is worried that LeBron will leave Cleveland again after next season and leave him to struggle on what is currently the oldest and second shortest team in the league. Irving has seen what a post LeBron James team looks like in Cleveland because he was drafted into one, and struggled mightily in his first three professional seasons.
By remaining in a post-LeBron Cleveland, Irving would still be in the shadow of James because he would have to deal with constant comparisons, and also blame for not being able to have similar success on his own in the absence of the best player in the world. Getting out of Cleveland means that the shadow of LeBron James won't constantly be hovering over Kyrie Irving, even if he does have to play James over the next few years while he is still playing at a world class level.
Where do the Cavs go from here? No one can answer that right now, but one thing is for certain; Kyrie Irving does not have a no trade clause in his contract. New Cavs general manager Koby Altman can decide to keep Irving and force him to honor his contract, or he can completely disregard Kyrie's wishlist, and send him to the team willing to give up the best package in return. In demanding a trade, Kyrie is only thinking of himself, so it is only right that the Cavs consider only their best interests in looking for a trade partner. If no trades produce sufficient pieces to make it worth parting with a perennial All-Star, Irving may just have to sign a new lease for another year on his house and get over himself.

NEO Sports Insiders Newsletter
Sign up to receive our NEOSI newsletter, and keep up to date with all the latest Cleveland sports news.