The NBA landscape is vastly different from four days ago, now that the clear-cut second-best player on the clear-cut second best team has made his intentions known to the world.
Whether LeBron James or someone else leaked the news, Kyrie Irving's trade request has thrown a wrench into everyone's plans.
Before Friday, Cleveland was viewed as the surefire favorite to win the Eastern Conference – but without knowing what types of pieces the Cavs will have on their roster in 2017-18, it's less of a safe bet.
Any team with LeBron James in the East has to be considered one of the front runners, but the entire league will be affected if and when Irving is traded, and depending on what type of haul the Cavs get in return, it could open the door for a much closer Eastern Conference title picture.
Look at what the Bulls received for Jimmy Butler and what the Pacers got for Paul George. Cavs fans are hoping to get a better haul than those two teams, but this is probably a situation where having an experienced general manager like David Griffin would help. That's neither here nor there at this point, but it's hard not to wonder how differently this would have played out if owner Dan Gilbert kept Griffin in the fold.
That situation, much like LeBron and Kyrie's fallout, seems to come down to egos, which get in the way of what seems to make common sense to anyone who cares more about seeing the team successful than worrying about who gets the credit.
So here we are.
Of course whatever team lands Irving in a trade benefits more than the rest of the league, but the domino effect is already taking place around the league.
Let's take a look at the who benefit most from Irving's trade request (before even knowing what team he goes to).
Honorable Mention: Spurs, Knicks, Heat, Wizards, Raptors
If Kyrie goes to the Spurs, of course their championship chances improve. If that doesn't happen, they'll likely be a second round exit or lose in the Western Conference Finals.
If Kyrie goes to the Knicks, basketball becomes fun there again (and that's a huge plus compared to what it's been).
If Kyrie goes to the Heat, maybe a trio of Whiteside, Irving and Waiters would be enough for an Eastern Conference title appearance. By the way, imaging Irving and Waiters re-united at last.
The Wizards and Raptors have a better chance at winning the East now than before, but it's still a long shot in both cases. Washington took Boston seven games last year in the conference semifinals. If LeBron heads out West next summer, Washington and Toronto (on paper) become the second and third most-talented teams in the conference in the short-term, but probably don't have the firepower to dethrone Boston.
Now let's get into the top 7.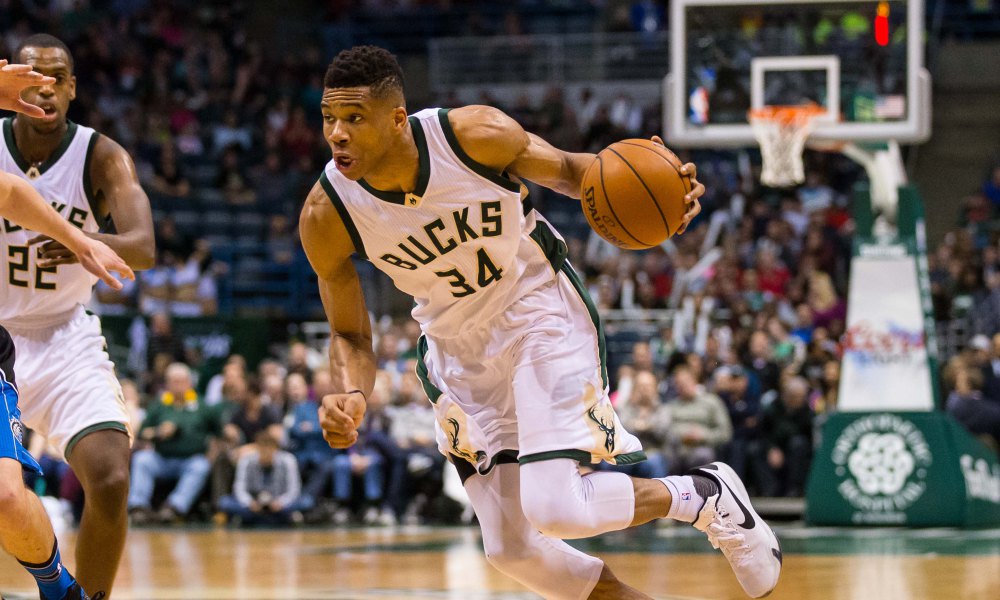 7. Milwaukee Bucks
While the Bucks are far away from contending, they have the second-best player in the Eastern Conference: Giannis Antetokounmpo. When free-agents hit the market in 2018 and beyond, Milwaukee is going to start to become a popular destination for guys who want to win.
The other factor to consider is what happens in the East if LeBron leaves next summer. If he goes to another Eastern Conference team, that team automatically becomes a title contender.
If he goes out West, the East will be up for grabs to a degree that has not been seen since LeBron joined the Miami Heat in 2010.
Although the Bucks are young, a core of Giannis, Khris Middleton, Jabari Parker, Malcolm Brogdon, and Thon Maker is poised to take a big step in the 2017-18 season. Greg Monroe is still in the picture, but probably won't be much longer and getting him off the books will free up space to add more talent. The Bucks had a respectable playoff appearance in 2017, taking the Toronto Raptors six games with a young cast of characters.
Getting that playoff experience is crucial for rising stars like Giannis and he's only going to come out more motivated this season. By the way, he's still only 22 years old.
Although it might be farther down the road, some pictured a Cavs team where LeBron was aging and Irving took over the lead role in the years to come. That's obviously not the plan right now and the Bucks are a team who could insert themselves into the conference race soon.

NEO Sports Insiders Newsletter
Sign up to receive our NEOSI newsletter, and keep up to date with all the latest Cleveland sports news.