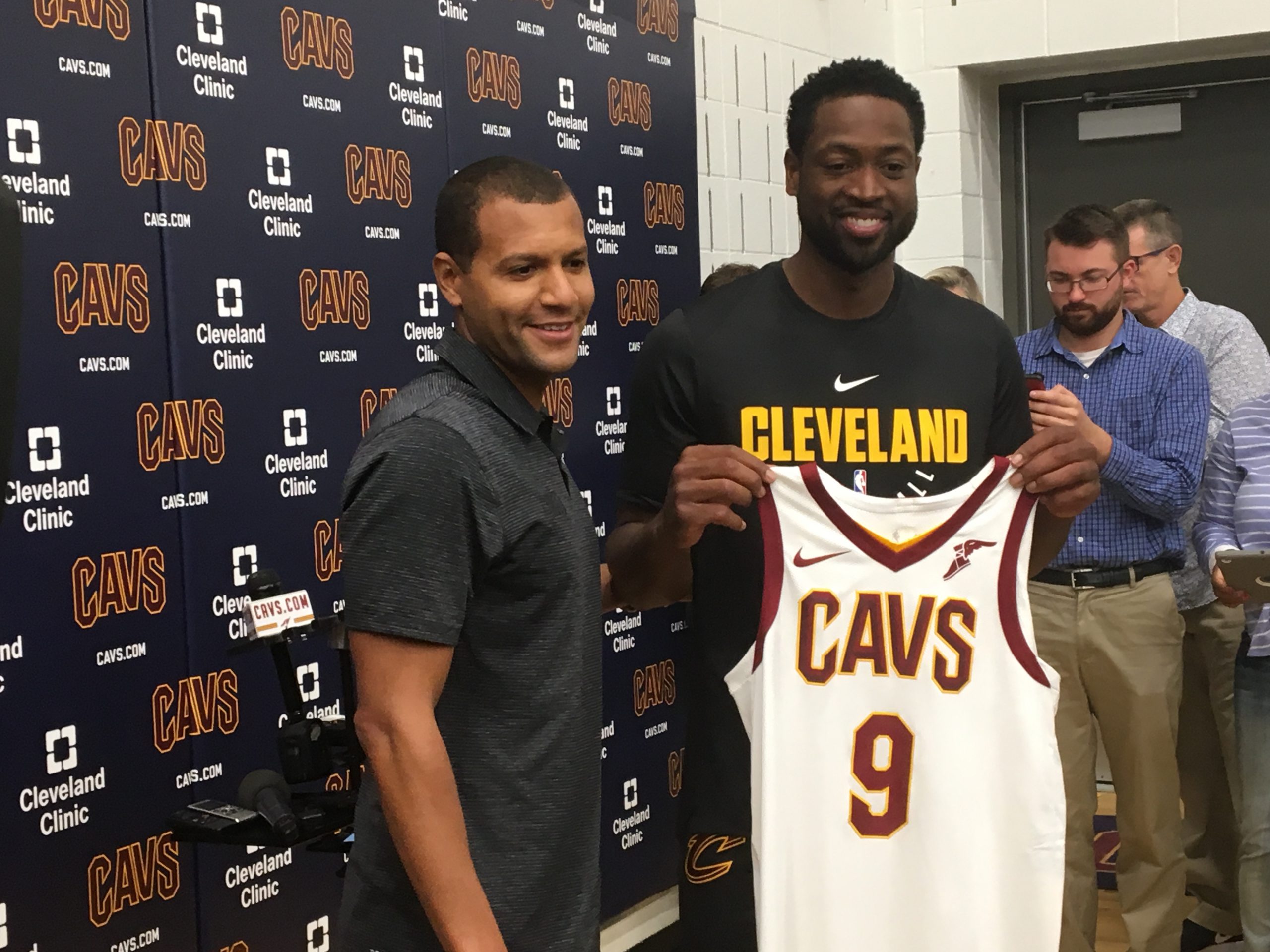 INDEPENDENCE, OHIO– Dwyane Wade is officially the Cavaliers' starting shooting guard, head coach Tyronn Lue announced during his media availability on Monday afternoon.
Lue said he wasn't entirely sure about minutes for tomorrow's preseason game against the Chicago Bulls, but the game would pretty much be treated like a regular season contest, including when it comes to the starting lineup.
Wade, Derrick Rose, LeBron James, Jae Crowder and Kevin Love will be the Cavs' starting five to begin the season, a decision that Lue said he came to over the last couple of days.
"Probably a few days ago, a couple of days ago, I just tested it out," Lue said. "It's really been hard since LeBron's been out [with an ankle injury] but it's something we're going to do to start the season and we'll see how it works."
Ever since the Cavs acquired Wade following a buyout agreement with the Chicago Bulls, there's been plenty of speculation about whether or not Lue would start him over J.R. Smith. A couple of weeks ago, Smith said that he was not concerned with his role as a starter as that was a coaching decision, and that it would only make the team stronger (he also offered up this colorful quote).
"He was fine," Lue said of his conversation with Smith. "It's tough to be in a position where you went to three straight Finals and you've been the starting 2 guard. Like I said, it's about sacrifice and if you want to win, and J.R. was great about it."
Along with the movement to the starting lineup, Lue said that Rose would primarily run point guard for the second unit as well, rather than Jose Calderon or Dwyane Wade. Lue's goal is to have Rose push the pace in the second unit, similar to the way he will with the starters.
"In the first unit him and Bron can push the pace, because we always want to play with pace, play fast, and then getting D-Rose back in that second unit you can push it," Lue said. "Then we'll have Kyle [Korver] and J.R. running the lanes, and then you have Jeff Green fill the lanes so D-Rose can go to the basket. So, he's going to be able to find guys there's going to be a lot of spacing for him and we can still play with pace."

NEO Sports Insiders Newsletter
Sign up to receive our NEOSI newsletter, and keep up to date with all the latest Cleveland sports news.