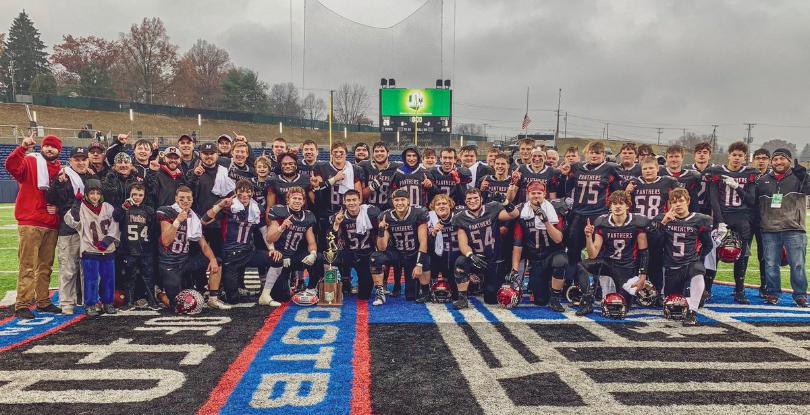 CANTON, OHIO – Day three of State Championship weekend got off to a cold, rainy and slow start as the 6th seeded McComb Panthers pulled off a gutsy 28-3 victory over Trimble. The played old-fashioned smash mouth football and walked away with the title.
For Trimble, it was a long day with little offense as their quarterback Cameron Kittle was picked off three times and held to just 69 yards passing. Trimble was held to only 151 total yards on the day, and a paltry 12 first downs.
The Panthers didn't exactly light up the sky either, only completing three passes all game, for a total of 22 yards. They didn't need to however as they ran the ball for an impressive 216 yards.
The first quarter looked as if we may see a shootout as the Panthers struck quick. They used a four-play drive, only taking 1:38 off the clock when Tanner Schoeder sped through the Trimble defense on his way to a 40-yard touchdown to get the scoring underway. For Schroeder, it was part of a 107-yard, two rushing touchdown day.
Trimble used a short field, following a turnover to get their only points of the game, late into the first quarter. Their lone 3 points came on a 25-yard Max Hooper field goal with 1:18 to go in the first quarter.
The Panthers would extend the lead to 14-3 by halftime with another Schoeder touchdown run. This time they used a grinding 10 play, 67-yard drive, taking 6:23 to get it done. They kept the Trimble offense off the field, and made it count by scoring.
The Panthers stuck to the same formula of defense and ball control to expand the lead in the second half. Scoring 14 more points and securing the blowout win. The Panthers cased in on a turnover, and started a drive at the Trimble two-yard line, scoring one play later on a Jacob Dillion run to make it 21-3 and put the game out of reach.
Congrats to the Panthers!