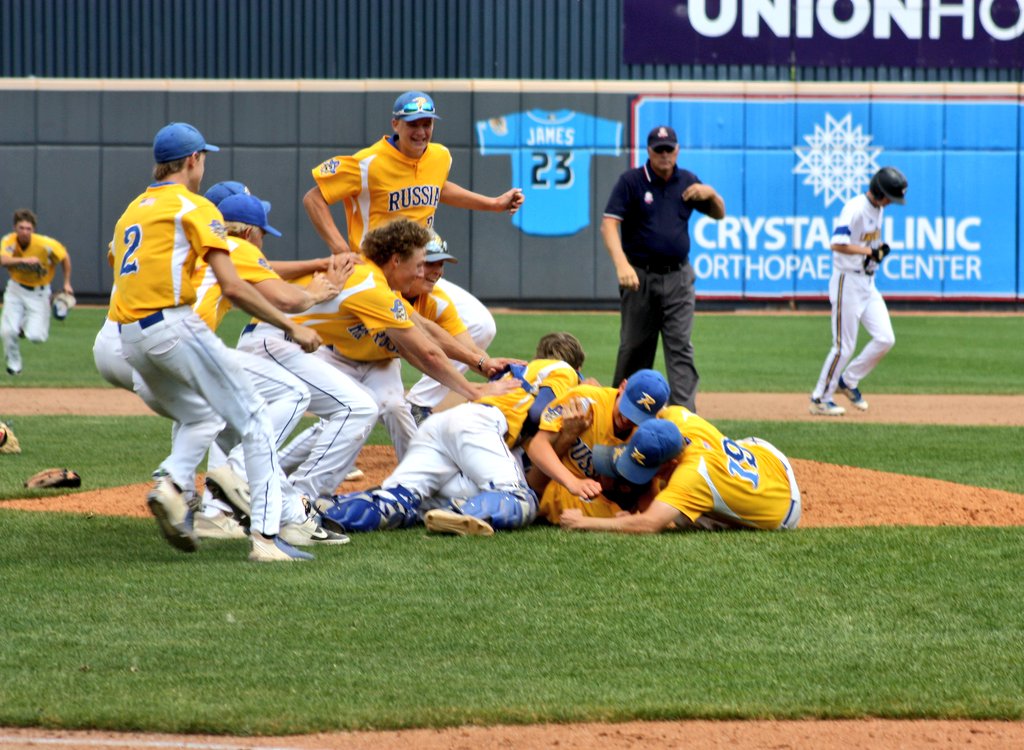 Akron, Ohio 
Things were close for most of the game until Russia (25-6) exploded for seven runs in the bottom of the sixth, taking down the Lincolnview Lancers (24-7) 10-4 to bring home the school's first baseball State Championship in 51 years. Both teams would get singles in the first inning and couldn't bring the run across, but the scoring got going in the second.
In the top half of the inning, Lancers sophomore Austin Bockrath hit a single to left and, two batters later, Brandon Renner hit a single of his own through the left side of the infield to score Bockrath and give Lincolnview a 1-0 lead. In the home half of the second, Braylon Cordonnier led things off with a single and later scored on a Zane Shappie single to left center to tie things up. The Raiders would get one more in the inning when Shappie crossed the plate on a Jude Counts single to right, making it 2-1 Raiders after two.
Lincolnview would get another in the top half of the third when Cole Binkley scored on a fielder's choice and a throwing error after reaching on an error to start the inning. Russia would get one of their own in the bottom half when Aiden Shappie poked a single through the right side of the infield, scoring Hayden Quinter to give the Raiders a 3-2 lead. Both teams would get runners on in the coming innings but were unable to put any runs on the board, leaving the score at 3-2 heading into the bottom of the sixth.
Aiden Shappie led off the inning with a single and the next two batters struck out swinging. Then, both Counts and Brayden Monnin were hit with back-to-back pitches, loading the bases. Xavier Philpot then drew a walk of his own bringing in Shappie to make it 4-2 and leave the bases loaded. Quinter and Grant Saunders would both single and bring home a run each to push the lead to four. Russia wasn't done yet though, as a Cordonnier triple would bring home Quinter and Saunders, and then another Aiden Shappie single would score Cordonnier, pushing the lead to 10-2 Raiders. In the inning, Russia scored all seven of their runs with two outs.
Fresh off of the Raiders' offensive onslaught, the Lancers would get two more of their own from a Binkley RBI triple and an RBI groundout from Dane Ebel, but it wasn't enough, as the Raiders topped the Lancers 10-4 to win the State Championship. It was heartbreaking for Lincolnview as they came to Akron with revenge on their minds following last year's loss to Warren JFK in the final.
🏆⚾️ #OHSAA DIVISION IV BASEBALL CHAMPIONSHIP: Russia scores seven runs in the bottom of sixth, leading Van Wert Lincolnview 10-2.

📽️@NFHSNetwork live stream: https://t.co/REwYCXEt6S
📈Live Stats: https://t.co/REwYCXEt6S@LocalRussia @Lancer_BASE @LHSAthletics2 pic.twitter.com/zz4eQD0zSa

— OHSAA Sports (@OHSAASports) June 11, 2022
Picking up the loss for the Lancers was senior Landon Price, who went 5.2 innings and gave up four earned runs on eight hits and two walks and fanned 12. Cole Binkley, out of the two spot in the lineup, went 2-4 with a triple, an RBI, and a run scored, and Austin Bockrath got it done from the bottom of the order, finishing 2-3 with a double and a run scored.
State Champions for the first time since 1971, Russia got huge contributions offensively from the middle part of their order, with Hayden Quinter going 3-3 with two RBI, Braylon Cordonnier going 3-4 with two RBI, and Aiden Zappie finishing 2-3 with two RBI of his own. Starting pitcher Xavier Philpot went the distance giving up three earned runs on eight hits and a walk, striking out five. While the Raiders will graduate some key contributors, a good portion of their roster will return next year with the goal of repeating as State Champions.
🏆⚾️ #OHSAA DIVISION IV BASEBALL CHAMPIONSHIP: Congratulations to Russia, Division IV State Champions!@LocalRussia pic.twitter.com/E7XfnyOlQZ

— OHSAA Sports (@OHSAASports) June 11, 2022
Full Box Score Here: https://stats.statbroadcast.com/broadcast/?id=408496&_gl=1*6t50uu*_ga*MTAzMTgzNTIxOS4xNjU0NzQxOTEw*_ga_2ZWVK1X7BJ*MTY1NDk4MDU4Mi44LjAuMTY1NDk4MDU4Mi4w
Follow me on Twitter @devinlowe123 for more sports coverage!

NEO Sports Insiders Newsletter
Sign up to receive our NEOSI newsletter, and keep up to date with all the latest Cleveland sports news.