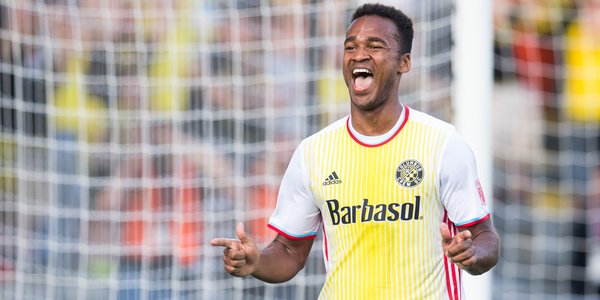 Columbus Crew SC took on the Veracruz Red Sharks in a friendly exhibition game on Wednesday (5/11/16) at Mapfre Stadium in Columbus.
Crew SC suspended their star player Kei Kamara for the game against the Colorado Rapids for publicly criticizing fellow designated player Federico Higuain, which stemmed from a silly little fight over a penalty kick from the previous Montreal match. Neither player, including Ethan Finlay, played against the Red Sharks.
On Thursday morning, the Crew SC announced they have traded Kamara to the New England Revolution.
#CrewSC receives General & Targeted Allocation Money, SuperDraft picks & more in return for the forward. https://t.co/rvVKgF7ZoA

— Columbus Crew SC (@ColumbusCrewSC) May 12, 2016
Back to the game, however. The Crew SC went up 1-0 in the first half of their friendly against the Red Sharks in the 17th minute thanks to a goal from Ola Kamara, assisted by Justin Meram and Cedric Mabwati, which would prove to be the game winning goal.
Ola scores #ForColumbus! Perfect cross, @11CedrickM. #CrewSC pic.twitter.com/b8OrqeCNmB

— Columbus Crew SC (@ColumbusCrewSC) May 11, 2016
Ola could have had a second goal for the Crew but he put a rather wide open opportunity of the post and could capitalize till that crucial 17th minute.
For me, the Red Sharks showed little respect for the attacking power of Columbus seeing as that their stars were not playing in this match. They took the word "friendly" a bit literally. They placed most of their numbers in the attacking zone of the pitch and spread themselves a bit thin on defense, which Columbus was able to take advantage of. With that said, the Crew did take more shots and stopped more attacks from the Sharks just as I had hoped they would. In just the first half, the Crew SC put 8 of 14 shots on goal. The second half would prove to be slightly less eventful.
Veracruz is the first Mexican opponent to visit Columbus since the Crew hosted Tecos UAG back in 2007. The game will be the 20th international friendly hosted by the Crew since the club was established in 1996.
Next up for the Columbus Crew SC is a home match against the Colorado Rapids at Mapfre Stadium on Saturday, May 14th at 7:30 PM. Go Columbus!