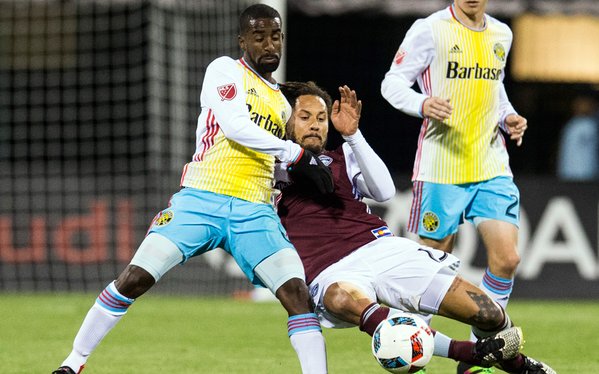 Saturday, May 14th, 2016; The Crew SC let another lead slip away in the second half and end with a draw against the top team in Major League Soccer; Colorado Rapids SC at Mapfre Stadium.
Columbus was without the services of Kei Kamara who was traded at the deadline Thursday morning to Eastern Conference rival New England Revolution who currently is ranked 6th in the conference.
For Kamara, Columbus received general allocation money, targeted allocation money, New England's highest 1st round SuperDraft pick in 2017, New England's highest 2nd Round SuperDraft pick in 2018 and one of New England's international roster spots for the 2016 season.
Crew SC took the early lead Saturday at Mapfre Stadium with Ola Kamara (no relation) starting at the striker position in place of Kei.
Crew SC opened the scoring when mid-fielder Cedrick Mabwati riffled a pass from Harrison Afful in the 23rd minute.
Columbus went into the second half with a 1-0 lead.
However, in the second half, Colorado's Kevin Doyle scored off a header in the 55th minute getting the assist from a Shkelzen Gashi corner kick resulting in the final score of the 1-1 draw. All in all, it was a pretty even match, which is slightly encouraging for Crew SC seeing as how Colorado is the top team team in MLS.
Colorado has extended their unbeaten streak to seven games.
With that being said, Columbus once again let a lead slip away, but didn't take the loss and were still able to get a point from the league point leading Colorado Rapids.
The trade of Kamara could bring about a new vibe for the club, relying on new young talent and "solid" inspirational veteran leadership from players like Federico Higuain who returned to the line up for the Crew SC for their match against Colorado.
Hopefully the trade of Kamara will light some sort of fire underneath the clubs rear ends, and force the younger players to step up and prove that tey belong not only on the Crew roster, but also in the Major League Soccer.
Next up for the Columbus Crew SC is a match in Toronto on Saturday, May 21st, at BMO Stadium for a 7:30 PM kickoff. Toronto FC is lead by USA Soccer stars Jozy Altidore and Michael Bradley.