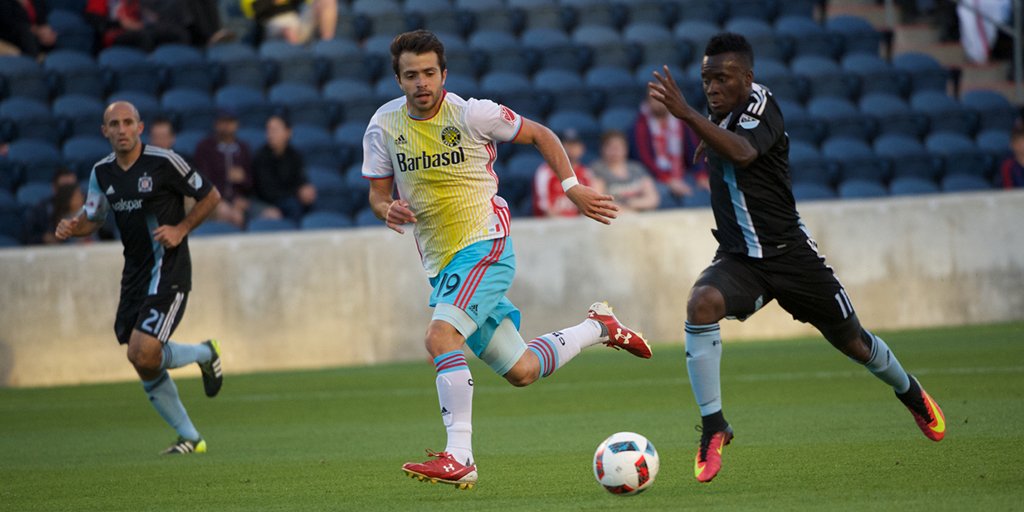 In the 2016 US Open Cup's Round of 16, Crew SC took on the Chicago Fire. The Crew SC was 0-5 vs. Chicago in Open Cup games and was also ranked one position higher than the Fire in the Eastern Conference by 5 points…thankfully the Fire only got 3 points tonight.
The Fire's David Accam would get things started for Chicago burying a shot form distance into the opposite field corner of the net from the left side in the 7th minute to put Chicago up 1-0.
Accam would score again in the 29th minute to put the Fire up 2-0 going into halftime. And despite possessing the ball 35% more than the Fire, and creating 5 more shots, the Crew SC was only able to muster one goal in the 79th minute, off a penalty kick from Ethan Findlay. The final score would be 2-1 Chicago over Columbus.
Needless to say, the Fire made their few opportunities count, while the Crew SC continue to struggle with decision making in their offensive third, and lack communication in the defensive third…that makes for a bad combination as Columbus is now among the ranks of worst teams in Major League Soccer.
The Crew SC's overall record now stands at 3 wins, 6 losses, and 7 draws as this year's disappointing season, especially compared to last season, could be taking a turn for the worse. Let's hope Greg Berhalter and his staff can make something of the rest of the season, like playing for pride and at least fighting for a playoff spot which is slowly drifting away in the distance and out of reach for the Crew SC.
Next up for the Crew SC is an away match in Kansas City against Sporting KC. The match is Sunday, July 3rd, at 7:00 ET. Sporting KC is just on the edge of the playoff circle in the Western Conference, so I expect them to come out with some purpose…let us hope that the Columbus Crew can find some purpose in their own play with the regular season's end approaching.