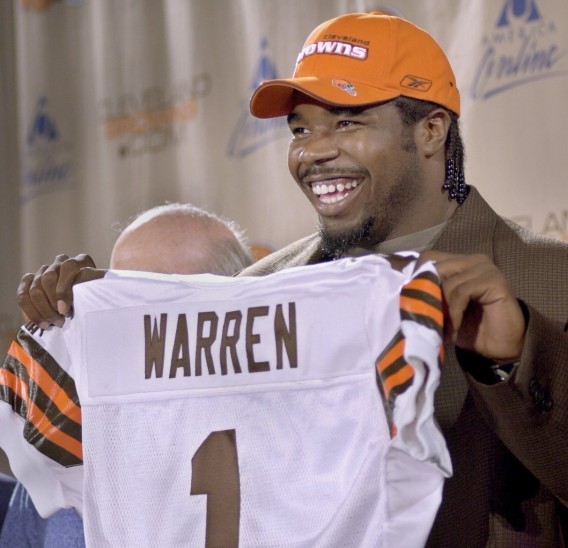 Tomorrow we will reveal the top five biggest first-round busts selected by the Cleveland Browns since 1999.
Just to recap; #10 was Phil Taylor, #9 was Barkevious Mingo, and #8 was Justin Gilbert.
Today, we give you #7 and #6.
At #7, the infamous William Green.
Green was selected 16th overall in 2002, out of Boston College.
He played in 46 NFL games, starting in 29 of them, compiling 2,109 rushing yards in four seasons. He scored nine career touchdowns, and averaged 3.7 yards per carry.
Green's rookie campaign in 2002 gave Browns fans reasons to be optimistic, as he rushed for 887 yards and scored six touchdowns.
He would score three touchdowns in the rest of his career and never eclipse 600 yards rushing in a season.
Green's sophomore NFL season in 2003 was rough, as he played in just seven games and fumbled the ball five times.
In 2004, he was better at holding onto the ball, fumbling three times in 15 games, but only ran for 585 yards on 163 carries.
2005 was a forgettable year for Green, who carried the ball just 20 times in eight games.
And that was the NFL career of the Browns first-round pick. Four seasons. A bit of a three-and-out, so to speak.
To put things in perspective, here are players that were drafted after Green in 2002, future Hall of Famer Ed Reed, Two-Time Pro Bowler and 10-year veteran Cornerback Lito Sheppard, Five-Time Pro Bowl Center Andre Gurode, and perhaps the one that stings the most, star running back Clinton Portis.
It's not as if Portis went on to become a Hall of Famer, but he was a far better running back than Green, but Washington snagged him at 50th overall, while the Browns wasted their 16th overall pick on a guy who was basically out of the league in three years.
Moving down the list, at #6 we have "Big Money" Gerard Warren.
Warren was selected 3rd overall out of Florida in the 2001 NFL Draft.
He showed some promise in his rookie season, accumulating 5 sacks in 15 games, but it was all downhill from there.
Warren lasted four total seasons with the Browns, making 61, 39, 32, and 18 tackles respectively between 2001 and 2004.
His nickname was Big Money, and he signed a six-year $33.6 million contract as a rookie… Note that he only played four seasons in Cleveland.
The #3 overall pick from 2001 was traded to Denver for a fourth-round pick in 2004. But don't despair. He didn't do anything there either.
As for the guys the Browns could have selected rather than Warren in the 2001 Draft, here are some noteables:
LaDanian Tomlinson (Hall of Famer)
Richard Seymour (Seven-Time Pro Bowler, Three-Time Super Bowl Champ)
Marcus Stroud (Three-Time Pro Bowler)
Reggie Wayne (Six-Time Pro Bowler, Super Bowl Champ)
Drew Brees (Nine-Time Pro Bowler, Super Bowl Champ, Future Hall of Famer)
That's enough fun for one day.
Tomorrow we'll run through the top five biggest busts the Browns have selected in the First-Round since 1999.

NEO Sports Insiders Newsletter
Sign up to receive our NEOSI newsletter, and keep up to date with all the latest Cleveland sports news.