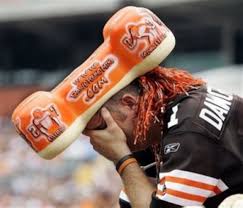 The 2016 NFL Draft is upon us. There's a classic saying, "Those who don't know history are doomed to repeat it."
Historically, the Cleveland Browns have had a long history of throwing first-round draft picks down the drain.
Just to recap, here are my rankings for #10-6 of the worst Browns first-round picks since 1999.
10. Phil Taylor
9. Barkevious Mingo
8. Justin Gilbert
7. William Green
6. Gerard Warren
Next on the list, at #5, we give you the illustrious Brady Quinn. Quarterback. Notre Dame.
Quinn was selected 22nd overall (a theme we will see going forward) in the 2007 draft.
He spent three seasons with the Browns, appearing in 14 games, and starting 12 times.
The Browns went 3-9 when Quinn started.
He completed 52 percent of his passes during his three seasons in Cleveland and his QB rating with the Browns was 66.8.
Quinn went onto hold a clipboard with the Broncos and made eight starts for the Kansas City Chiefs, going 1-7 there.
His NFL career lasted six seasons and he was a member of five different teams, but only saw the field on the Browns and Chiefs.
The Browns traded up to select Quinn. The good news was that they chose Joe Thomas earlier in the draft and one of the few saving graces is that the Oakland Raiders were foolish enough to take JaMarcus Russell #1 overall, so at least Quinn wasn't the worst QB or worst pick in that draft.
Moving down the list to #4, we present the one and only Courtney Brown.
Brown was the number one overall pick in the 2000 NFL Draft, out of Penn State.
He had plenty of promise and potential, but his career was derailed primarily because of injuries.
Brown appeared in all 16 games as a rookie. But after that he played only 5 games in 2001, 11 in 2002, 13 in 2003, and just two games in 2004. So from 2002-2004, he only played in 26 games and collected 8 sacks.
2004 was his last season as a member of the Browns, in which he played only two games. He then went to the Denver Broncos and did practically nothing for a season and then called it quits.
The No. 1 overall pick from the 2000 NFL Draft spent five seasons in Cleveland, and a grand total of six seasons in the league.
A couple of names of players who were selected after Brown in that draft include Jamal Lewis, Brian Urlacher, Shaun Alexander, and LaVar Arrington.
Next on our countdown we have #3 Brandon Weeden.
It's bad enough that Weeden was 28 years old when he was drafted by the Browns (22nd overall) in 2012, but apparently whatever good years of football he had in him were long gone by the time he arrived in Cleveland.
Weeden started 20 games for the Browns between 2012-2013, throwing 23 touchdown passes and 26 interceptions. If it wasn't for Josh Gordon (prior to suspension #2) playing out of his mind in 2013, Weeden's numbers would look far worse.
Weeden's record in his 20 starts in Cleveland was 5-15.
He went on to Dallas and Houston, where he had a combined record of 1-4 in five starts.
Who knows what his next adventure will be, but the 32-year-old grizzled veteran is just another member of the Cleveland quarterback graveyard.
Next up we go to #2. Trent Richardson.
Richardson actually had an encouraging rookie season, rushing for 950 yards and scoring 11 touchdowns.
Beyond that it was all ugly.
T-Rich appeared in two games in his sophomore NFL season before getting traded to the Colts.
Reports of a lack of work ethic, coming to camp out of shape, and a general lack of awareness when he's running the ball all describe Richardson's career in a nutshell up to this point.
He is now a member of the Baltimore Ravens and has reportedly come to work with a new mindset and dropped 20 pounds, so maybe he can make an attempt at a comeback. But for all intents and purposes, the #3 overall pick in the 2012 Draft was a huge bust for the Browns.
What's ironic is that the trade that sent him to Indianapolis resulted in the Browns acquiring possibly the only worst first-round bust of the last 17 years in franchise history..
#1 Johnny Manziel.
Manziel came to the NFL with a ton of confidence, a ton of hype, and did little to warrant either of those attributes.
On the surface, his numbers in a few games were impressive. He had a great win over the Tennessee Titans in the 2015 home opener. He played well in losses against Seattle and Pittsburgh. And had a good win against the 49ers late in 2015.
It was everything aside from those few games that made Manziel the biggest bust since 1999.
His off the field antics are impossible to ignore when analyzing his career.
Maybe he had the arm and the potential to be a solid quarterback in Cleveland for years to come, but every chance he had to make that a reality, his immaturity got in the way.
His trajectory of his actions off the field showed a pattern of bigger and bigger consequences racking up after each blunder.
He missed a Saturday walk-through. No big deal.
He was seen partying in the off-season. So what?
He checked himself into rehab. "Now he's got it together."
Months later, he is involved in a domestic dispute where he admits he was drinking. "It's a free country."
So on and so forth all the way up until he let his partying become more important than earning the privilege of being an NFL starting QB. Next thing you know he's in Vegas in a blonde wig calling himself Billy.
Then he's allegedly hitting his girlfriend to the point of rupturing her ear drum.
The whole pattern of going down and down the elevator to a lower bottom at every level is honestly sad.
Somehow he still thinks he has an NFL future, despite agents dropping him and no teams knocking on his door, but the reality is if he doesn't make major changes, he may not have any future at all.
The sad reality for people who struggle with his problems is that in many cases, the future gets cut short, and the person ends up either locked up or covered up.
It's easy to make jokes about Manziel, but the joke is really on the Browns franchise that was dumb enough to draft him.
Let's hope they learn from their mistakes in the 2016 Draft.

NEO Sports Insiders Newsletter
Sign up to receive our NEOSI newsletter, and keep up to date with all the latest Cleveland sports news.