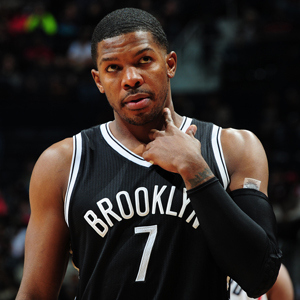 The NBA trade deadline passed Thursday at 3 PM, but the rumors of new acquisitions are far from over for the Cavaliers.
A new report from Northeast Ohio Media Group's Chris Haynes, claims that Joe Johnson of the Brooklyn Nets is a potential target for the Cavaliers.
This isn't the first time it's been brought up, but Haynes' report mentions "sources with knowledge of the dialogue."
Here's a quote from Haynes' report:
"Should Johnson, 34, obtain a buyout of his $25 million salary for the season, Cleveland would be his next destination, sources with knowledge of the dialogue insist to cleveland.com."
This comes just two days after ESPN's Dave McMenamin reported that the Cavs believed Johnson was not seeking a buyout and wanted to sign a multi-year deal with the rebuilding Nets.
So whether something changed in two days, the two beat reporters have two different sources, or one of the two reports is inaccurate, Johnson's future in Brooklyn and possibly Cleveland is up in the air.
Johnson could provide scoring off the bench or possibly start at shooting guard, which would relegate J.R. Smith to a sixth-man role.
It was evident for the past two weeks that Cavs' General Manager David Griffin was looking to add depth at the wing positions and adding Channing Frye may have been enough, but it would not be a surprise at all if the Cavs were not finished there.
Griffin has a relationship with Johnson from their time together in Phoenix and his relationship with Frye played a big role in wanting to bring the stretch-four to Cleveland.
Johnson could possibly provide some minutes for LeBron James. It's no secret the Golden State Warriors are the team to beat in the NBA and the small lineup the Warriors use could be something the Cavs look to matchup with.
The addition of Johnson could give the Cavs one more piece to match up with the likes of Harrison Barnes, Klay Thompson, Andre Iguodala, Leandro Barbosa, Brandon Rush, Ian Clark or Shaun Livingston.
Right now the Cavs most dependable wing players are Iman Shumpert, Smith, LeBron, and Richard Jefferson. Cleveland has two open roster spots at the moment, so aside from the financial cost, which would likely be the veterans' minimum, it wouldn't create much of a burden on the Cavs. Unless you are of the belief that Johnson would somehow mess with the team chemistry.
For a three to four month rental, it makes sense to add some extra scoring to a second-unit that has not been as impactful as some hoped. The depth that we were raving about at the start of the season has diminished to an eight-man rotation for the most part.
These rumors involving Johnson may play out over the course of weeks, but for the Nets and the Cavs, it would make the most sense for something to happen sooner rather than later.